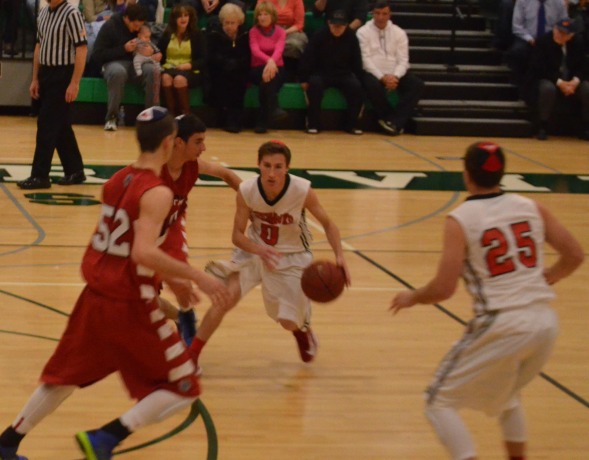 Shalhevet's Varsity basketball team is headed to the division finals for the first time in school history, after defeating San Gabriel Academy in the CIF Division 5 semi-finals playoff game Feb. 23.
Seeded second best going in to the race, the Firehawks had to win four tough games to reach the finals.  Their first game of the playoffs was Feb. 13 against Bloomington Christian, where the the Firehawks cruised to a 61-44 victory. In the second round on Feb. 16, they blew out Armenian General Benevolent Union, otherwise known as AGBU, 73-33.
Then on Feb. 20, the team defeated Valley Torah High School Feb. 20 to reach the semi-finals.
Team captain Jojo Fallas said the victories were more than the team had hoped for.
"It has been a pretty great season – just unreal," Jojo said. "We became much more successful than we expected to be."
The quarter finals match against the Valley Torah Wolfpack was a very hard fought game. Valley Torah tipped in a basket at the end of regulation to force overtime, the tying basket coming after two offensive rebounds that allowed Valley Torah to score with only a few seconds left in the fourth quarter.
In overtime, however, Wolfpack was scoreless, and the Firehawks sealed the deal with a three-pointer to give them a seven point win.
Shalhevet had the lead throughout the whole game against San Gabriel in the semi-finals, defeating them by a score of 71-58.  San Gabriel trimmed the lead to one in the fourth quarter after junior Ariel Sokol fouled out, but the Firehawks were able to pull away in the last minutes of the game.
Freshman Jacob Dauer, also on the varsity team, predicted there would be more wins to come – including at the all-Jewish Red Sarachek Tournament at Yeshiva University later this spring.   Last year, the Firehawks were runners-up at Sarachek, losing in the end to YULA in overtime.
"It feels great to be on a winning team with such great players and chemistry," said  Jacob. "For our team, I think the sky is the limit, and I believe we could win the CIF tournament and Sarachek."