NEXT UP: Firehawks face SAR Sunday in Sarachek semifinal
Firehawks advance by defeating Magen David; SAR game set for Sunday at 1 p.m. Pacific time
The Shalhevet Firehawks are set to face the SAR Sting tomorrow in the 2023 Yeshiva University Sarachek Tournament semifinal game, after defeating the Magen David Warriors of Brooklyn, N.Y., on Friday 59-55. 
This is Shalhevet's first time in the Sarachek semifinal since before the Covid-19 pandemic, when the Firehawks won the tournament two years in a row, in 2018 and 2019.  Last year Shalhevet lost to DRS in the quarterfinal game 56-42. 
The annual New York event, an invitational tournament where teams from Orthodox high schools vie for a national title, was canceled in 2020 and 21. 
On Friday, the Firehawks started off strong scoring 24 points in the first quarter with senior Nathan Sellam scoring a three-point buzzer beater to end the quarter. The Warriors, seeded number eight in the tournament, scored 14 points.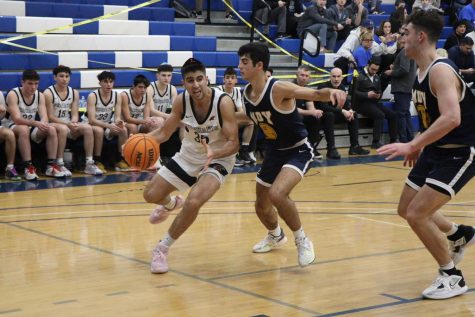 The second quarter also ended with a buzzer-beater by the Firehawks, this time coming from sophomore Aiden Bitran. But Shalhevet scored nine points while Magen David scored 11, but still led Magen David at halftime 33-25. 
Magen David took the lead in the third quarter, outscoring Shalhevet by scoring 12 points. The Firehawks only scored five points and the Warriors led for the first time in the game 38-37. 
The final quarter saw Shalhevet score an additional 22 points while Magen David only scored 18. The final few minutes were tense, the Firehawks being ahead by just two points with less than a minute to play. But Magen David was not able to get ahead and Shalhevet won by four.
Shalhevet, seeded first, will now face off against fifth-seed SAR of the Riverdale, N.Y., at 1 p.m. Sunday Pacific time (4 p.m. Eastern).
The other semifinal game will see the other two California teams in the tournament face off against each other. Second seed Valley Torah will play against sixth seed YULA Sunday at 11:30 a.m. Pacific time, 2:30 p.m. Eastern.