Star athlete wins at sports, school and choir — but especially soccer.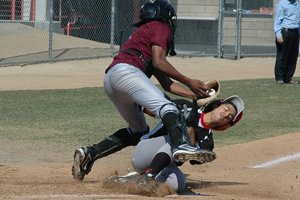 Eitan Rothman, Staff Writer
May 23, 2010
It's a cold winter night as the Firehawks prepare for an 80-minute soccer war with the archrival YULA Panthers. The captains have met at the center of the field and the starters take their places.
Stepping up to defend Shalhevet's net is a strong five-foot-nine junior, his dark complexion making him stand out beneath the lights on the field. The referee blows his whistle and a determined look engulfs the goalie's face. For the next eight minutes, Emilio Lari defends the net like a lion defends its pack, fueling a 2-1 Firehawk victory, just another in Emilio's long list of accomplishments, both athletic and academic.
Emilio is a well-known person amongst the Shalhevet community, mainly because he is connected to different groups through his diverse extra-curriculars.  He is the starting goalie for the soccer team, co-captain of the baseball team, sings bass for the choir, and is loved by everyone who gets to know him.
But as everybody knows, soccer is his first love.
"Soccer is my life," Emilio explained, "I have been playing it all my life and it's just something that I can't live without, like you can't look at me and not think soccer. It's just what I do."
Emilio first got into soccer when he was six years old. There wasn't any rhyme or reason to how he first started playing the sport, but once he started playing, it took over. Now, he looks for a future in soccer.
"Emilio really helps keep the team together, and saves our behinds more times than I can count," said junior and fellow soccer player Shimmy Weinbach after the YULA game on Feb. 6.  "He truly is the essence of a great soccer player. He is the best goalie a team can ask for."
He increased his skill in the game by attending weeklong soccer camps during last summer and the summer before that focused specifically on improving goalie skills.  He will be attending a similar camp this summer as well. In addition, when he plays on teams outside of school, he also plays goalie, giving him more experience guarding the net.
R
ight now I have been talking to colleges to see if I could play college soccer," Emilio said. "I truly want to be a college goalie and — who knows?– maybe even a professional goalie."
His favorite part of the game isn't really the winning or losing; it's being surrounded by "all your teammates playing a sport that you love to play." He explained that it's not about scoring goals, but about non-stop action and constant stimulation.
One of his favorite soccer games is the recent YULA game, in which he had almost too many saves to count, shutting out YULA until the last few minutes of the game.
He is legendary to his soccer teammates as well. Junior Natan Benchimol calls him the "keeper of the century." Sophomore Josh Meisel said that he's a "great soccer player [that] feels for the game, and he has great skill." Current co-captain Meir Cafri compared him to Gianluigi Buffon, widely considered to be one of the best professional goalies in the world.
Baseball for Emilio is a different story. Whereas  soccer is a game of constant stimulation, baseball is a game of intense concentration in which you have to constantly be on your toes and thinking about what you're going to do next.
Emilio first started playing baseball when he was 10. His first season was on the Beverly Hills Little League's Yankees, and it was there that he met his current co-captain, Firehawk star pitcher Saul Rothman.
He still remembers playing with Saul in the championship game for the Little League Yankees. Emilio hit a triple to drive in the winning run, and then Saul struck out the last batter to win the game. Now, united in high school as co-captains, they still team up to crush opponents.
"Emilio's incredible," Saul told The Boiling Point. "He comes in sophomore year, leads the league in home runs, and is the starting shortstop by the end of the year. He's incredible."
Emilio owes baseball but says his favorite part of the sport isn't hitting home runs or getting hits, but just watching his best friend Saul strike out player after player.
"All I do in return is make contact and hope for those home-runs to come," Emilio said. "But I go to watch Saul pitch, and if he ever needs help on the field, I will be there for him to back him up."
This season Emilio has three home runs this year in addition to his team leading seven last year. During their game against YULA even though Emilio did not contribute well at the bat he did have several spectacular plays at shortstop including a whole inning in which he successfully fielded and threw out all the players.
In school, Emilio has successfully retained a 3.5 grade point average despite a rough freshman year and having to balance school, sports, and choir.
Emilio's favorite class is biology and he says that if he doesn't become a goalie, he wants to be a doctor, or a specialist in sports medicine.
"Emilio is a hard worker," said biology teacher Ms. Rosales. "He is always willing to step up to the plate. He is very respectful, and a very easy person to deal with."
A
nd then there's choir, where some have compared Emilio to "Finn," the star football player who takes some taunts and teasing for being a singer on the hit television show Glee.
Choir for Emilio can be summed up simply. "If someone does piano or tennis as like their second hobby, choir is my second hobby," he said "I just love singing."
In choir Emilio is a strong member of the group. Fellow junior and Soprano Ariella Benji describes him as energetic.  "It is one thing to be able to sing the music but it is something completely different to be able to sing it and put a piece of your energy and self into it," she said. "When you look at him singing 'Don't Stop Believing,' you see him put him self into the song… and that's what makes it so special!"
He does get teased for being in choir, he said. A while ago, the soccer team had an important game against Environmental Charter, and the team says they lost due to the fact Emilio was singing at a choir concert. After the game, his teammates hassled him because if he had been their goalie they would have won.
The only thing that seems to hold Emilio back is injuries.
"Injuries suck," he said plainly. "I'm one of those players where if I'm injured on the sideline I just want to run out onto the field and start playing again and helping my team out, so being injured is just a royal nuisance."
Back on the field, Emilio has found himself sprawled across the moist grass, his hands stinging from blocking another shot on goal. He gets up and back in the game, refusing to be deterred. When the game is over, he feels on top of the world.
"It's great to go around and play all those teams, just knowing that you're representing your school," he said.