Firehawks beat Panthers 3-2 in heated rivalry matchup
In their annual rivalry matchup Jan. 11, the Shalhevet Firehawks (3-2-2) beat the YULA Panthers (5-6-1) 3-2 in a game that players said could have gone either way.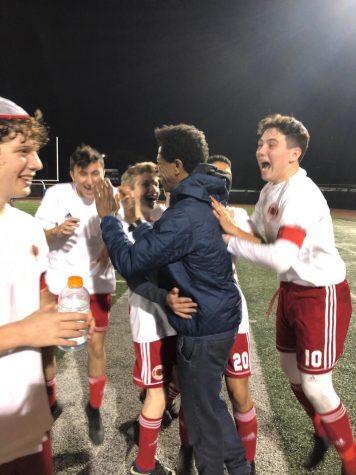 The game, which drew a crowd of hundreds of Firehawk and Panther fans, was played at Santa Monica College's Corsair Field. Shalhevet dominated in the first half, opening the scoring with a free kick goal by midfielder Noah Weindling and a goal on a penalty kick by his older brother Josh, also a midfielder. 
At halftime, the score was tied 2-2 after a goal YULA's Hillel Valensi.
In the second half, Shalhevet forward Jordan Simon scored on a through ball, padding the Firehawk lead to 3-1. The final score was 3-2 after Shalhevet accidently kicked it into their own goal.
With a new leader this year, Head Coach Luiz Dos Santos, the Firehawks played a steady and disciplined game. 
Verbal and physical tensions flared periodically throughout the rivalry game. Though it was difficult to tell exactly what was happening from the stands, there were instances of players having verbal escalations.
Shalhevet defenseman Michael Oelberger credited his team staying united and avoiding unnecessary entanglements. 
"It was a game won by composure," Michael told the Boiling Point. 
Jordan Simon — who scored the third Shalhevet goal — said the team's discipline and communication led them to victory.
"We came a long way this season after having to adapt to a new coach and a new style of play," said Jordan.
YULA's Head Coach Rafael Meghnagi said that YULA played a more structured game in the second half, after an "emotional" start to the game. He also noted that a few of the Panthers' goals were called back due to penalties and offsides. 
"Once we settled into the game, I thought we were the better team in the second half," said Coach Meghnagi. "I thought Shalhevet was the better team in the first half. They ended up with three, and we ended up with two."
After the win, the Shalhevet-YULA soccer rivalry seems to be trending in the Firehawks favor. The Panthers had won every matchup since 2011 until 2018, when they lost 2-1.  Last year they tied 1-1. 
Coach Dos Santos said he hopes to instill in his players a love for the game while stressing individual growth on and off the field. 
"Winning makes you happy," Coach Dos Santos said in an interview. "But at the end of the day, what did you get out of that game?"