Firehawk boys, girls flag football teams trounce YULA in first games since 2019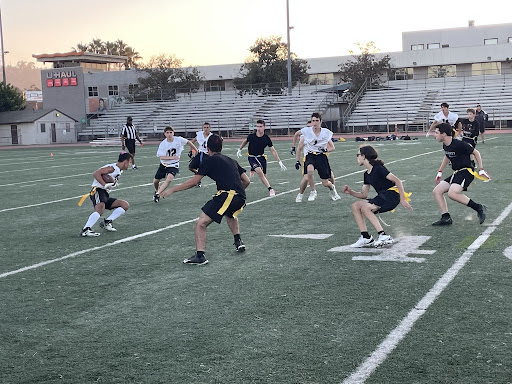 Both boys and girls Shalhevet Firehawks flag football teams came out victorious against the YULA Panthers last month, the girls winning 14-7 and the boys 16-6.
Senior Adam Hertzberg had publicized the Sept. 13 game through Schoology, resulting in approximately 40 Shalhevet students and 85 total fans attending the game at Rancho Cienega Sports Complex in South Los Angeles.
"Last time we were ahead of YULA in football was first game of my freshman year," said Adam, who is Shalhevet's starting quarterback and team co-captain. "We haven't beat them since, and to be in the lead against them felt great."
The girls' team, which played a few hours earlier, didn't publicize their game, resulting in approximately 30 Shalhevet fans being present, according to senior Barbara Seruya, a utility player who is also the team's co-captain. After trailing at the beginning of the game, they came back and scored two touchdowns, double what YULA did.
"As a captain, I was really proud of everybody and I felt like I did my job to get them there and they played extremely well," said Barbara.
The boys' game got off to a quiet start, but the Firehawks caught fire in the second half and were very productive offensively at the same time as shutting down YULA's offense.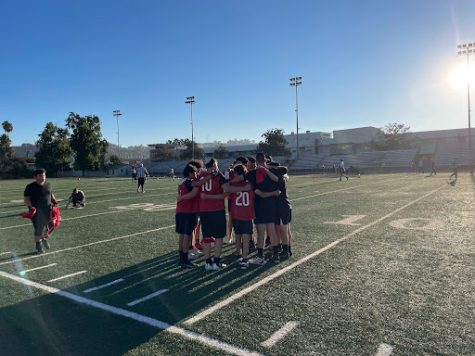 There were some bright moments in the first half, with an interception from senior Joshua Weissman, who plays wide receiver, running back, and some defense. But there were no points to show for them.
Senior Jake Wainberg, who plays wide receiver and cornerback, said that it took some time for the team to work well together and catch up to the speed of the game.
"The first score definitely felt like when we started to get into a good rhythm," said Jake.
"
As a captain, I was really proud of everybody… and they played extremely well
— Barbara Seruya, girls co-captain
YULA started with the ball in the second half, but soon after, Jake caught an interception and ran it to the end zone for a touchdown, giving the Firehawks a 6-0 lead.
Adam said that Jake's interception was the highlight of the game, and it played an important role in the Firehawks' win.
"Coming off a no-scoring first half, to get a pick-six right away and to score on defense, that just turned the game around and gave us the momentum right in the beginning of the second half," said Adam.
Following that touchdown, YULA got the ball back, but the Firehawks sacked YULA quarterback Rueven Hellman on back-to-back plays, one of which resulted in a safety. A safety is when a quarterback is sacked in the endzone, and the team playing defense is awarded two points.
The Firehawks now had an 8-0 lead over the Panthers.
The Panthers continued to struggle, and the Firehawks got the ball back and scored another touchdown, with Adam passing the ball to Jake. The Firehawks also completed the two-point conversion. The score was now 16-0, Firehawks lead.
In the final minutes of the game, the Panthers were able to scratch off some points with Reuven throwing a pass touchdown, resulting in a final score of 16-6.
Adam Hertzberg said that once the game ended it was like a sigh of relief, and the team was proud to have come away with the victory.
"When it was 6-0 it felt good in the moment, but then a second later that feeling kind of subsided and we realized that we had to go finish what we started," Adam said.
"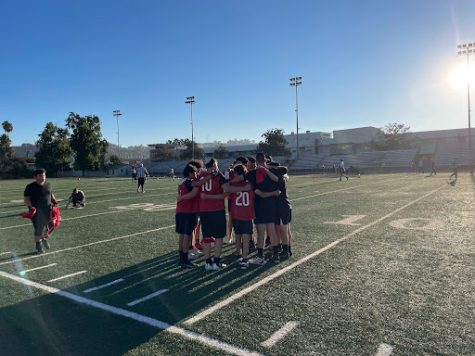 So many people turned up and it was really great… Every single play we had people cheering for us and it was really awesome
— Joshua Weissman, boys wide receiver and running back
Joshua Weissman said the team was happy to have so many fans and loved having people cheering for them.
"The first half of the game nothing was really happening, but then once we got the first score things started to fall into place. Our offense got ramped up and I think that was a great moment for the team."
"It was awesome having that many people at the game," said Joshua. "So many people turned up and it was really great because our sidelines were fully covered with people and the other sidelines didn't really have anyone there. Every single play we had people cheering for us and it was really awesome."
There were about 30 fans on the YULA side.
Junior Asher Taxon, who plays wide receiver, linebacker, kicker, and punter, said that having people cheering them on made the experience more memorable, especially because this was the team's first game since before the pandemic.
"There are a lot of new players, so we definitely have a lot of room to grow, and I think with practice we can become great," said Asher.
Leave a Comment
Meet the Writer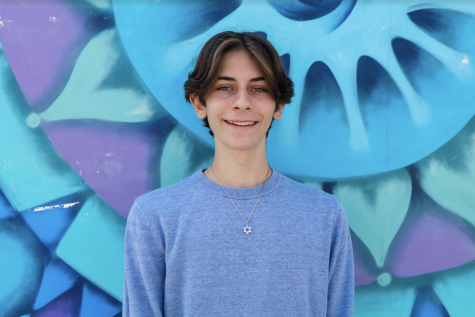 Noah Elad, Outside News Editor
Noah Elad, 12th grade, joined the Boiling Point freshman year as a staff writer and became Sports Editor during the second semester of his sophomore year. He served as Sports Editor throughout his junior year, and now as a senior is Senior Editor and Outside News Editor. Outside of the Boiling Point, Noah is a captain of the baseball team and guitarist for the school band. When not in school Noah enjoys following sports, playing guitar and spending time with friends and family.