'A lot of emotion on this team' — Coach Ryan reflects on a season of records and heartbreak for boys basketball
When Shalhevet lost to the Marina Vikings in the CIF Southern Section Division 3A semi-finals on June 4, most people thought the Firehawks' basketball season was over. 
But it wasn't. 
Because they'd made it all the way to the finals in the Southern Section playoffs, Shalhevet's boys varsity team was automatically entered into the race for the state championship — or, in the case of this year because of Covid, the championship for the entire Southern California region.
All teams that reach the semi-final game in their divisions are invited to the state playoffs whether they win or lose. This year was the first year that Shalhevet had qualified. 
Athletic Coordinator Jeff Remer explained that usually the winner of Southern California would play the Northern California winner, for a true statewide title.
"But due to Covid, Northern California did not have a basketball season this year," said Coach Remer.  "So the championship game was the final Southern Section game."
It was an unexpected finish to what had been an unexpected season — in fact, a season that, due to Covid, hadn't really been expected at all.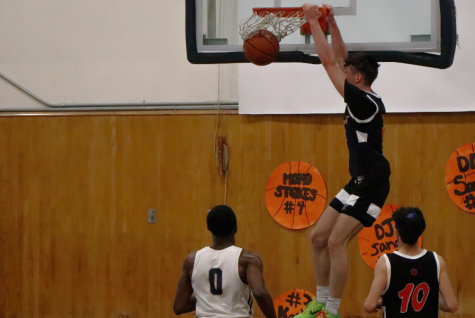 In the leadup to the Southern California championship, Shalhevet was the fifth seed. 
The team played games against schools from a wide geographic area, defeating the fourth-seed Nipomo Titans of Santa Maria in the first round 63 – 43 on June 15.  In the regional semi-finals two days later, they scored a 66-65 over the first-seed Glendora Tartans of Glendora, which is located north of Covina.
For the championship game June 21, school officials arranged busses to take Firehawk fans to Bonita Vista High School in Bonita Vista, which is located near San Diego. Around 70 students boarded busses at 6:30 a.m. due to the long drive and 10 a.m. start time. 
Shalhevet ended up losing to second-seed Bonita Vista Barons 77-71.
Two days later, on June 23,  Boys Varsity Basketball Coach Ryan Coleman reflected on that loss, and on the rest of the season, in a phone interview with Editor-in-Chief Benjamin Gamson.
Boiling Point: So I understand that this is the farthest any Jewish team and Shalhevet has ever gone in the CIF, that's your understanding too, right? 
Coach Ryan Coleman: Correct. 
BP: Why do you think the team accomplished what it did this year, advancing so far? We've had great players before, and you've been the coach for a while. So what was different this year that made the team so spectacular? 
RC: I think it was a lot of things. 
The number one thing I would say is the camaraderie on the team was great. 
You know, in years past we've had personalities, different personalities that didn't necessarily mesh on and off the court, and I think our captains, especially this year, just did a great job of making sure that everybody liked everybody, and they spent a lot of time together off the court in addition to on the court. And I think that that shows during games. 
BP: Were you surprised at all by the number of fans who turned out for the game so early Monday morning? And how did you feel about that turn out? 
RC: Literally the most heartwarming thing. Every time we played, from travelling down to Huntington Beach and Marina during the CIF run and all of our home games, how many fans we were getting, and then at Glendora, in the semifinal game and then right up to the championship game having people wake up at the crack of dawn and drive — I'm sure in traffic — to come watch us play all the way South of San Diego was unreal.  You know, I've said this for a long time: our community is super special and one of the reasons that our basketball team succeeds is from the energy that our fans give us. 
BP: How did you feel about the game overall? Obviously you probably weren't happy with the result, but what do you think about the overall performance of the players, and anything else about the game itself? 
RC: I honestly thought that we overachieved. The team that we were playing against is a great team. It hurt that we had such a good lead, such a big lead and had a chance to win the game. And we kind of let it get away from ourselves. 
But I could not have been more proud. Our kids put their best foot forward and unfortunately we didn't play our best game, and we had one of our worst quarters of the year at the worst of times in the fourth quarter of our last game.
But I'm not disappointed at all — I couldn't be more proud.
"
I think our captains, especially this year, just did a great job of making sure that everybody liked everybody, and they spent a lot of time together off the court in addition to on the court.
— Coach Ryan Coleman
BP: What do you think happened in the final minutes of the game, as you said, in the fourth quarter, that turned the tide against the Firehawks? 
RC: [Bonita Vista's] full-court pressure, their traps. The way that they attacked us on defense. 
They were extremely aggressive and we got flustered, which is not what we've been doing all year in those situations. Almost all year in those situations we've figured out a way to win and unfortunately, this game I think [Bonita Vista's] athleticism and length and speed when they started going into their full-court press — just something that we hadn't seen all year except, maybe against Morningside in the first round of the CIF playoffs — which 
also, we kind of crumbled when they full-court pressed us. 
BP: I heard that Zev got into some foul trouble and was taken out. Was that true? 
RC: Yeah, so he was in foul trouble pretty much the entire game from starting in the first quarter and I pulled him out of the game early in the fourth quarter when he picked up his fourth foul, and I tried to substitute him in a manner in which he would be on offense more. And then when we had a chance to sub him out on defense. We were doing that. 
So we call that an offensive-defensive substitution, and we're trying to sub him in and out of the game to protect him as much as possible. And his last foul was unfortunate. It's a tough call. Pretty could've gone either way and unfortunately went against him. 
And, you know, I'm sure that's not the way that he wanted to end his career. 
I think he felt pretty helpless, and like he couldn't help his teammates, once he'd fouled out of the game. 
BP: How do you think that affected the game? 
RC: Well, not having our captain and senior leader on the floor when our team needed him most — and when all year long he's been the one that we've gone to in those situations — it was a tough situation for our team not to have him out there. And had he been out there I was confident that we were going to find a way to win. 
It's just the situation that all our kids have not been in before, and Zev's been in the program for four years and been in high-leverage situations. And he's come through so many times. 
BP:  Turning to the season as a whole, could you describe the effect if any that Covid had on the basketball program this year, or on the Firehawks, or on you, or on the feeling of the season — just anything in general? 
RC: Yeah, I mean prior, maybe less than a month before the season, nobody thought there was going to be a season — including myself — and then to be blessed enough to have an attempt to have a season and then have the season play out the way it did was unbelievable. 
The only type of effect that it had on the season — and not that it had more of an effect on us than anybody else cause everybody was in the same boat — but everyone was scheduling three or four games in a week and there wasn't a lot of time to practice. So we were fortunate. I think we were actually ahead of the curve because we had so many players that were returning from the previous year. 
But in general I love to practice, and I think that that's when you get better, is when you practice. So when we would have mistakes during the season, we wouldn't have a lot of time to correct them. But outside of that, not having our fans in the stands and you know, not having parents be able to go to a lot of the games was unfortunate. 
But again, we're super blessed to have a season and then have the spectacular season that we did.
"
Having people wake up at the crack of dawn and drive — I'm sure in traffic — to come watch us play all the way South of San Diego was unreal.
— Coach Ryan Coleman
BP: Once you started playing regular games, did it feel more like a normal season? Or did the Covid-caused shortness and later timing make it feel different the whole way? 
RC: It definitely had a different feel this year.  Not having fans at all at a lot of the games was very different. We had to generate our own energy. 
And then there was just little odds and ends that were different.  Not having a locker room before or after the game to get together. It was pretty customary. And then obviously playing this time of year even was very different, especially for a Orthodox Jewish school, when normally we would play games on Saturday night. After Shabbat this year we were not allowed to do that, because CIF doesn't allow games to start that late. 
BP: So what do you think was the most special thing about this year's team? 
RC: Probably our mental fortitude, just not using anything as an excuse and just finding a way to overcome whatever was put in front of us. If it was having to travel a long way for a playoff game or not having fans in the stands or not having a locker room. Any of those things — we never used any of those things as excuses. It was evident that all those things were taking place, but we never let any of those things get in the way of our goals. 
BP: After this season what will you remember the most about it? 
RC: A lot of tears. Lot of tears. 
A lot of emotion on this team.
And for me personally, I've coached a lot of great players at Shalhevet, but Zev — having him for four years and the relationship I have with him and his family, it's truly special.  And you know I love all the seniors. Pofski, Remer and Ean Fish, and I'm going to miss all those guys. But I have a bond with Zev and his family that's truly special. So that's what I'm gonna remember most, watching him succeed and watching him lead and grow up.
BP: Is there anything else that you want to add or say to our readers? 
RC: The only thing I would say is we appreciate everybody who came out and supported us so much. I know I've said that before, but our community and people [who] literally I have no idea who they are who reach out on social media. Or send me text messages, get my phone number somehow. 
It means a lot. And we hope that we're representing our community, in a way. To make everybody proud of us.