Firehawk girls lose in first round of CIF soccer playoffs but win record attention from school and fans
Special schedule ended school early so students could attend, thrilling players
Supported by a Shalhevet crowd of 100 students, faculty and administrators, the Firehawk girls soccer team nevertheless lost to the Oxford Academy Patriots of Cypress 4-1 Wednesday evening, in the first round of CIF Division 7 playoffs. 
Shalhevet's administration had created a special schedule for the day, shortening all classes by 15 minutes so that students could attend the game, which had a start time of 4 p.m. School was dismissed at 3:20 p.m. instead of the normal 4:35. 
It was the first time on record that school had been shortened for a soccer game, and apparently the first time for any sport except basketball. The soccer players were delighted with the show of support, but not all thought it had helped them on the field.  
"Having the fans there was definitely really nice, just because Shalhevet soccer, especially girls soccer, isn't that recognized," said junior Gabby Judaken, the team's left striker. "So finally getting the fans and audience that we worked hard to get, and that it was very accessible for them to come, was really nice."
The team's captain, senior Noa Talasazan, said it meant a lot to have that crowd present but she thought it also made players more self conscious.
"I just think that our team kinda like stopped playing like a team and everybody was just in their head," said Noa. "Because I think it was because one of the first times that we actually had a crowd from Shalhevet watching us and play. Also I think that played a huge mental game on the rest of the players, so there was a bunch of nerves."
"
Even though we lost a part of me still feels like we won, because we never expected to have not even five fans show up, let alone like 100. "
— Adi Liebenthal, goalie
Junior and team goalie Adi Liebenthal said the fan support made the loss feel like a victory. "Even though we lost," said Adi, "a part of me still feels like we won, because we never expected to have not even five fans show up, let alone like 100."
Some fans drove to the game, which was played at Fairfax High School, approximately two miles north of Shalhevet at the intersection of Fairfax and Melrose avenues. Others were driven by faculty members, and some took Ubers. Nobody walked.
There was less cheering than at other Shalhevet sporting events, but during key moments when Shalhevet players were close to scoring or scored, the crowd erupted. 
The Boiling Point could not determine how many fans from Oxford Academy were present due to Fairfax High School students passing by and sitting on the bleachers as well. 
Oxford Academy is located an hour southeast of Shalhevet and 30 miles away from Fairfax High School. Oxford has 1,289 students in grades 7-12, according to the National Center For Education Statistics. 
The game, which was 90 minutes long, started with little offense from both teams. The first goal came from Oxford Academy, and they led 1-0.  There was no time clock present for the public on the field, so the Boiling Point was unable to determine exact minutes of the goals.
Shalhevet's Gabby Judaken came back to score in the beginning of the second half to tie the score 1-1. 
The Patriots then were awarded a penalty kick because the ball touched one of the Firehawks' hands in the goalie box. Oxford Academy scored the penalty kick, and the score was 2-1 Oxford. 
But on the same play, Shalhevet goalie Adi Liebenthal was injured and had to leave the game. Adi said it happened at the moment of the kick itself.
"The other team was taking a penalty kick, and as I was about to dive for it my left leg slipped on the grass, and then I fell on my right knee," said Adi in an interview Friday, wearing a brace. 
She said she was fine but still in a little bit of pain.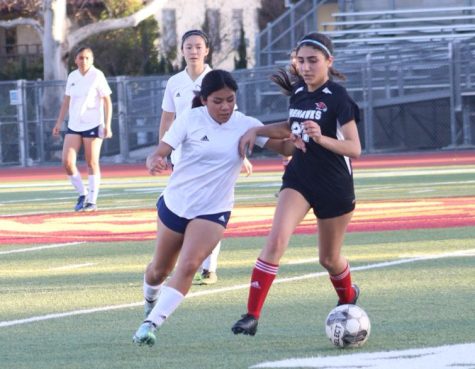 "I'm not sure how long the recovery time will be," she said. "I'm waiting for an MRI, so I'm really unsure until I get that done."
Although Adi was able to walk off the field, she did not play for the remainder of the game. Junior and backup goalie Rachel Shamouni came in to replace her. 
As the second half continued the Patriots scored another two goals, ultimately winning 4-1. 
Three of the Patriots' four goals came from Oxford senior Alma Manzano. 
Alma said in a postgame interview that she felt Oxford had played as a team against Shalhevet and utilized all the chances they were given. 
"It felt amazing," Alma said, "because I've been missing a lot of goals in the past games. So it felt better to come back, especially in CIF."
Toward the end of the game, Shalhevet junior Tomomi Shaw left the game after a player on the other team kicked her in the knee. Tomomi was also able to walk off the field and did not play for the remainder of the game.
Although they lost, Shalhevet head coach Armando Guttierez said he thought his team had played well. 
"Every game is a test for us, it's a lesson for us, so I mean pretty good," Coach Guttierez said after the game. "I think our girls did what they had to do. Unfortunately it wasn't our day, but we did pretty good – I'm happy and proud of our girls."
He said in the future more practice is needed, but he was proud of what the team has accomplished this year and said that they are coming strong into next year.  
"We gotta put some more time on the field we gotta get more games in. You know, it's a process but we're working with the process."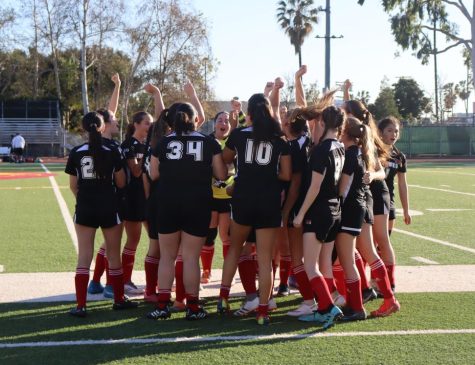 This was only the third time the Firehawk girls had made it to the CIF soccer playoffs, the first being last year when they lost to the Garey Vikings in the first round by a score of 2-1. They also made the playoffs in 2020. 
Oxford Academy Head Coach Joel Bastida attributed his team's win to good defense, but said the injuries Shalhevet players received during the game had helped. 
"My respect to the team, they were a good opponent," Coach Bastida said in an interview immediately after the game. "First half they held us off, but overall I think some of the injuries were used to our benefit. Speedy recovery for the girls. But I do think that the [Oxford] girls played a really good performance defensively and that helped us stay organized overall."
Noa said that the Firehawks played better in the regular season. 
"I don't think that our team played to our full potential," said Noa. "I think we definitely kinda just didn't want it enough – that was the feel I got on the field – which we definitely should have. But we definitely had better games. It was just not our best one."
The Firehawks ended their regular season with a record of 9-3, coming in second place in the Mulholland League where their league record was 5-2. 
Oxford Academy went on to lose 1-0 to St. Mary's Academy in Round 2 of the CIF Division 7 playoffs Feb. 11 .