Soccer teams show that winning isn't everything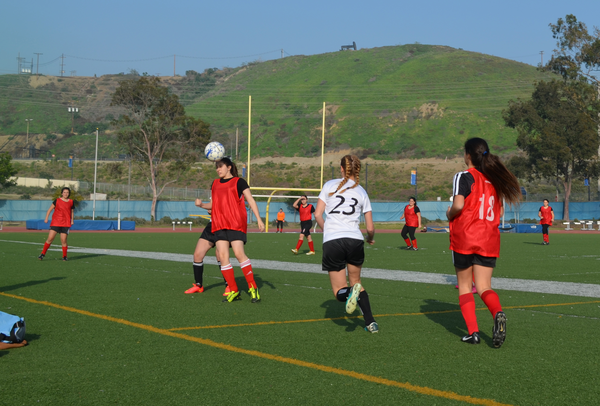 By By Mati Hurwitz, Sports Editor
February 22, 2015
Despite a myriad of blowouts and shutouts over the past few seasons, the Shalhevet soccer teams still play and compete every winter because the players simply love the game.
Some sports teams, such as girls' softball, have skipped some years because of a lack of excitement, success and – perhaps as a consequence — sufficient enrollment on the squads. But soccer has generally been a cornerstone of Shalhevet Athletics, missing only one season since the teams were formed in 2004.
A minimum of 11 players is needed to field a regulation soccer team. This year there are 15 on the girls' team and 15 on the boys'.
During an era which included stronger players, such as Emilio Lari '11, the sport enjoyed success and regular playoff visits. Since then, the boys and girls have continually missed the playoffs and faltered in league games.
Finally, the boys program suffered a one-year hiatus in the 2011-12 season when too few students signed up. The same thing happened to the girls the following winter.
But the teams were resurrected – the boys in fall of 2012 and girls in fall of '13 – and developed a new identity and a different kind of competitive nature.
"When I started, our team was very competitive,"  said senior Jillian Einalhori, girls co-captain, "but we've gotten better at enjoying the game. I think a lot of girls try out just for the sake of trying out, and see that we are a really fun team" she  said of her squad.
Boys co-captain junior Jake Benyowitz also believes his team finds soccer pleasurable.
"We just play because we want to have fun," said Jake.
Even still, both teams struggled last season, at times playing through consecutive games without scoring goals.
Although he recognizes his team's flaws, Jake brings an ardent mentality to the pitch. He believes that just because the chips are down, it doesn't mean you throw in the towel.
"I'm passionate about the game, I want to win," Jake said. "If we keep our confidence up we can win games."
Perhaps that positivity has led to the boys' recent success and a flash of promise.
During the week of Jan. 26, the boys fared 1-0-2 in one week and didn't give up more than 2 goals in a single game.
The girls have not won a match yet, but grinded out a 2-0 loss to Environmental Charter Jan. 29, one of their closest and most competitive matches all year. They had lost 4-0 to that same team on Jan. 15. The team is currently 0-6, including a 1-0 loss to YULA.
As of Feb. 9, the boys look more promising than a year ago, but still have a subpar record of 1-6-2.  After being outscored 17-1 in their first three games, they outkicked the opposition 6-4 in the aforementioned three game stretch, before a 7-0 blowout to Animo and a 5-0 loss to YULA.
The girls have not found the back of the net and have given up 29 goals in six matches.
Not everyone is going to be the next Mia Hamm or Lionel Messi, but team members say each player has the opportunity to play the game he or she loves and has personal reasons for doing so. Some play because they grew up with the sport, while it is family custom to others.
"I have been playing it for eight years," said freshman Amberly Hershewe.
Jake's mom is British; he said soccer is a family tradition.
But their own positivity aside, social media has not always been kind to the soccer teams. After the girls lost 6-0 to New Roads Dec. 15, some alumni and students commenting on a Boiling Point Facebook questioned the existence of the program entirely:
"Damn they suck," former Shalhevet student Adir Hassid commented on the post.
Others stood up for the girls' and boys' rights to play despite their record.
"These girls have put a lot of effort into the team and sure that may not translate into 'winning' but what matters is that they're enjoying themselves," sophomore Micha Thau retorted on Facebook.
It might be worth remembering that Shalhevet's champion basketball team also had some rough years.
Before Coach Flava and Coach Colin Jamerson, combined, took the boys basketball team to the playoffs for six consecutive years – starting in 2009 – they were not competitive and were perennial losers. Since their rise in 2009 they have won multiple league championships along with capturing a Sarachek Championship and a CIF-SS runner-up title in 2013.