Sephardic minyan returns after four year hiatus
Students again organize on their own to create a space for Sephardic prayer and traditions.
At 7:10 a.m. Sept. 12, there was a new sound heard at Shalhevet — the music of a Sephardic minyan.
Every school day since then, about seven girls and 15 boys have met in the small Beit Midrash in Room 305. Upon entering, the boys — who wear a tallit in addition to their tefillin — sit in the larger section on the left, and the girls sit in the smaller section on the right.
Around 7:30, Hashkama minyan — which follows Ashkenazic style, with only married men wearing a tallit — starts next door, in the large Beit Midrash of Room 306.
The tunes are different in the Sephardic minyan — more Middle Eastern sounding — and most prayers are sung aloud, with the voices on the men's side usually being louder than the voices on the women's side. It's longer, which is why it starts 20 minutes earlier.
And since Sephardic Jews originated in Arab nations, they pronounce Hebrew words and some letters, like ayin, differently from Ashkenazi Jews, who descended from Eastern Europeans.
Senior Benny Zaghi, who started the new minyan, says that there is a positive atmosphere in the Sephardic minyan.
"These kids want to daven," said Benny. "Anyone who is there is either davening, quiet, or wants to experience Sephardic culture they haven't experienced at Shalhevet before."
Judaic Studies teacher Rabbi Daniel Bouskila, the Director of the Sephardic Educational Center who now also teaches 10th grade Talmud at Shalhevet, helps lead the minyan and says Sephardic praying is engaging.
"There's no one chazan," or cantor, Rabbi Bouskila said. "There's no rabbi. It's the community that are leading."
The new minyan is at least the third time Shalhevet has hosted a daily minyan according to Sephardic nusach, or customs. The first was in 2001, and a second student-led initiative was started in 2012 and lasted for three school years.
Alumnus Joshua Einalhori '14 helped start that student-led Sephardic minyan when he was a sophomore.  He said the goal was "to pray in our own environment, not have to do the customs that we're not used to."
"There were a lot of issues in the other minyans that were changing also," said Joshua, now a student at Binghamton University in New York. "A lot of the Sephardic community was not with it, so we all kind of made our own davening group."
The minyan was still going when Joshua graduated, so he's not sure why it ended, but alumnus Eric Bazak '16 said it ended in the fall of 2013 because there wasn't enough interest. Eric said the introduction of Hashkama minyan also took attention away from the Sephardic minyan.
This year, the reverse may have been true. Benny Zaghi previously helped lead the Hashkama minyan, which was originally for students who wanted more serious davening.  But he felt it had lost its touch.
"Now it's become a place where kids can joke around and talk and never really expect a consequence, because children are running it," said Benny.
Benny introduced the current effort with a Sept. 8 post on Schoology.
"I want to start up a serious and fun Sephardic Minyan at this school again in the near future and I want to know how many kids are in," he wrote, along with other details.
Juniors Isaac Kahtan and Sam Navon had also been thinking of starting a Sephardic minyan, and when they saw this post, asked Benny if they could be involved in its leadership. Currently, Isaac, Sam, senior Ilan Bouskila, and Rabbi Bouskila — Ilan's father, help Benny run the Minyan.
Students who attend come from both Sephardic and Ashkenazic backgrounds. Many Shalhevet students are used to davening according to Sephardic culture and tradition — not only because of their family backgrounds but also because davening is Sephardic at Gindi Maimonides Academy, one of Shalhevet's main feeder schools.
"I felt like I was back in middle school, because we had Sephardic davening there, and it made me want to daven more than the Ashkenaz minyan," said junior Tara Chriki, who has been to the minyan a few times.
Junior Bailey Mendelson, who is Ashkenazic, also went to Gindi Maimonides Academy, and has attended Shalhevet's Sephardic minyan twice now with her friends. She says she enjoyed it, but that it is very different from the Ashkenaz minyan.
"Sephardic say a lot more things out loud, all the guys have a part and say different things, and it's a lot more energetic," Bailey said. "Ashkenaz is a lot more 'we're gonna daven, and get it done,' but it's not gonna be that energetic unless we're saying Hallel or something special."
Sophomore Natalia Shabtay thanked the school for allowing it.
"We go to a mainly Ashkenazi school," said Natalia, "and it's really cool to see them taking in the minority and making sure that everyone feels welcome and accepted."
Rabbi Bouskila hopes that the new minyan will be a permanent fixture of Shalhevet.
"There's always going to be a lot of Sephardim in the school," he said, "and the school should say, 'We on principle should always have a Sephardic minyan,' not just here and there."
"I think it's really really important that all traditions are represented in the school, and there's a significant … Sephardic population at Shalhevet," Rabbi Bouskila told the Boiling Point. "It's beautiful primarily to see that the students — not me — that the students are the ones who made a part for this, and organized it all and created it."
Leave a Comment
Meet the Writer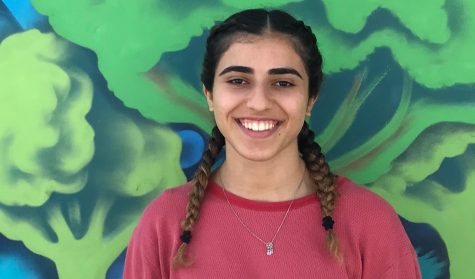 Eva Suissa, Torah Editor
After serving as a staff writer, columnist and Opinion Editor, Eva Suissa is now the Torah Editor for The Boiling Point. Growing up with a father who's also a writer, she has always appreciated the power of words. In ninth grade, she won two national high school poetry contests for a poem titled "Crying With God." Aside from being an editor, Eva is the president of the Remember Us Teen Board, and a member of a competitive dance team. In her free time, she enjoys drawing, playing the piano and spending time with her four siblings.