Spotlight on Sephardic community with new Torah dedication
Shalhevet welcomed its first-ever Sephardic Torah on Feb. 15, Rosh Chodesh Adar. After a schoolwide davening in the gym, students, faculty and family members carried the celebration into the school parking lot, where attendees paraded with the new Torah around the lot as Jewish music blasted through speakers.
Tall and heavy in its ornate silver tik, the scroll was donated by the family of 11th-graders Mikey and Isaac Kahtan and is now read in the Sephardic minyan each week on Monday and Thursday mornings. The Torah itself stands upright while it is read, while in Ashkenazic tradition it lies flat on a table.
Judaic Studies teacher Rabbi Daniel Bouskila, who led the all-school davening that day, said the new scroll would enhance that minyan.
"Symbolically it stands out as a symbol of Sephardic heritage and culture and pride, which I think is a really important piece for the identity of the students who pray in the Sephardic minyan," said Rabbi Bouskila, "and I think it's also important for the identity of Shalhevet."
A Boiling Point survey conducted on Schoology March 5 found that approximately 68 percent of Shalhevet students are Ashkenazic, and about 32 percent are Sephardic. Ashkenaz refers to Northern and Western Europe, while Sephardic Jews originate from most other places, particularly Spain and Northern Africa.
In the past there have been Sephardic minyans, but only Ashkenazic Torah scrolls at school. This year there is a Sephardic minyan in the mornings before first period, at the same time as the popular Hashkama minyan.
The Kahtan family commissioned the scroll about 10 years ago in memory of Shimon Faraj Iny, great-grandfather of Michael and Isaac Kahtan as well as alumna Sarit Ashkenazi '17. Until now, it was housed at Kahal Joseph Congregation in Westwood, where the family prays.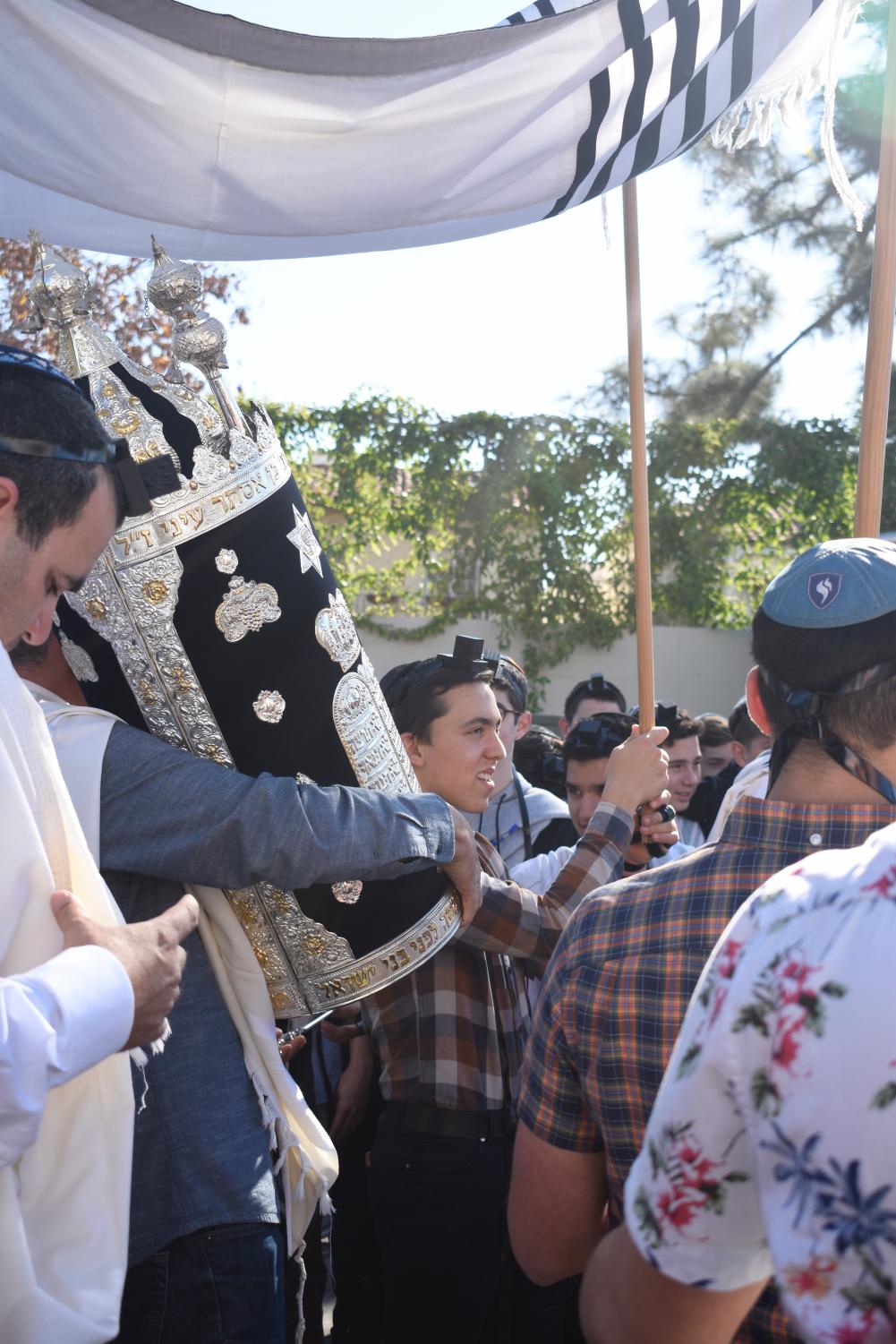 "I remember when this Torah was made," said Isaac. "It was a really big deal to my family, so seeing it here where I go to school and where I pray everyday just means a lot to me."
Rabbi Bouskila presided at the wedding of Mikey and Isaac's parents, Mickey and Haim Kahtan, who were also on hand for the celebration. He suggested to them last fall that they consider donating the scroll to Shalhevet now that there was a Sephardic minyan, which was started just a few weeks before their discussion.
Even though Shalhevet generally uses Ashkenazic style all school prayers, the unique Sephardic davening on Thursday was "very much in the spirit of Shalhevet."
"Whenever I or others have suggested to include Sephardic voices and teachings" to school officials, he said, "they've immediately wanted to. It's a work in progress, but they've always been very conscious of wanting to make it an inclusive environment."
After returning into the gym, senior Ilan Bouskila — Rabbi Bouskila's son — read from the new Sephardic Torah.
Senior Tali Schlacht said that day was her first time being in a Sephardic davening.
"I think it's nice that they have Sephardic and Ashkenaz together and celebrating," Tali said.
Isaac Kahtan agreed.
"The value of having a Sephardic Torah at an Ashkenaz school is really big," he added. "I think it's really special that we have such a diverse and big community so that we can have both Ashkenaz and Sephardic Torahs."
Leave a Comment