Firehawks fall just short of advancing to CIF Div. 3A championship, losing to Marina Vikings 76-74
Ze'ev Remer scores 37 points as team nearly overcomes 14-point first-quarter deficit
The Shalhevet Firehawks fell just short of advancing to the CIF Div. 3A championship, losing in a nail-biting game to the Marina Vikings 76-74 on Thursday night in the semifinals. 
An optimistic crowd of 80 Shalhevet fans had been provided bus transportation to the game, a 38-mile bus ride at the end of the last day of classes of the 2020-21 school year. The game was held at Marina High School in Huntington Beach, a school in Orange County with approximately 2,500 students.
There were about 200 fans in the large Marina gym, and it was rocking in energy from both teams' supporters. 
After the game, Firehawks assistant coach Andrew Schultz said that even though the players didn't get the outcome they were hoping for, he was still proud of them. 
"We worked hard, we have been working hard, we are blessed to have a season that wasn't supposed to happen," Coach Schultz said, "and to make it this far and not achieve the ultimate goal is heartbreaking."
Senior and team co-captain Ze'ev Remer led the Firehawks with 37 points, tying his second-most points scored in a game this season.  He scored 40 May 20 against Compton Early College and 37 in two other games.
The other leading scorers were sophomore Avi Halpert with 21 points and senior team co-captain Jacob Pofsky with 10.
"
Going down 26-12 is a hard way to come back and we dug ourselves a big comeback and we just fell a little short.
— Ze'ev Remer, Firehawks co-captain
AJ Robinson led the Marina Vikings with 20 points. 
The game wasn't in the Firehawks' favor from the start, with Marina making a three-pointer within the first minute. The Firehawks struggled in the first quarter, giving up 26 points and only scoring 12. This quarter was the strongest quarter for Marina.
The second quarter started off with Remer making a quick three-pointer — one of seven he made that night. After the first four minutes of the quarter, Marina's lead had shrunk to only 10 points, 32-22. 
The Firehawks continued their strong second quarter, and the half ended with the Firehawks only trailing by four, 32-28. Marina only scored six points in the entire second quarter while the Firehawks scored 16. 
After the half both teams played well in the third quarter, with Marina scoring 22 points and Shalhevet scoring 19. Halpert had 12 points in the quarter. The score after the third quarter was 54-47, Marina leading. 
The fourth quarter was full of action, with Remer scoring 18 points and the Firehawks scoring 27 points in al, their best showing of the game. 
With four minutes remaining in the game, Remer hit a three-pointer to tie it at 61-61. It was the first time Shalhevet wasn't trailing in the entire game. The Shalhevet crowd was going wild.
The Firehawks then took the lead when junior Uzi Mermelstein made a three-pointer, putting the Firehawks up 64-62 with three minutes left in the game. 
But the lead didn't last long. Marina started to heat up, and with one minute left the Firehawks were down by four, 70-66. Then Coach Coleman was given a technical foul after showing frustration towards the refs; the Vikings earned two more points off of that, extending their lead to 72-66. 
Over the course of the game, the Firehawks only shot two free-throws — neither of which went in — while the Vikings shot 22 and made 17 of them. Firehawk players, coaches and fans were all disappointed with the officiating as there were many fouls called on Shalhevet that weren't called on the Vikings.
After the technical, Remer made a three-pointer, which was followed by another three-pointer by Mermelstein, putting Shalhevet to within two, 74-72, with seven seconds remaining. 
Pofsky inbounded the ball to Remer, who was being guarded tightly by a Marina defender. The ball deflected off of his hands and went out of bounds, giving possession to the Vikings — effectively ending the game with Marina getting the win, final score 74-72.
Remer said that it is difficult to come back when losing by a significant amount after the first quarter, but that the team never gave up. 
"We were in that situation earlier in the year — that we were down 21 points in the second quarter of the game — and we came back and won that game, so we have been in that position before," said Remer. "Going down 26-12 is a hard way to come back and we dug ourselves a big comeback and we just fell a little short." 
Marina head coach Nick Racklin said that both teams played well and it was a close game just as he had expected.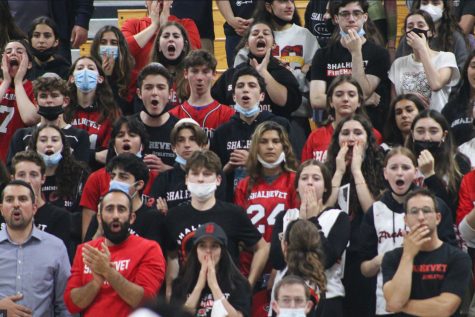 "Two really good teams both with really good team chemistry playing each other, so it was fun to be a part of it," said Coach Racklin. "They are well-coached, we think we do a good job and I knew 100 percent going into this game that it would end within five points of each other, and I knew when we went up early it wouldn't stay." 
Pofsky said it was difficult to lose such a close game after they had fought so hard to reach this point. 
"Immediately after the game, we broke down, but like every other time, good or bad, we lean on each other, because that's the group of guys we are," said Pofsky. "Falling short in this game could have been prevented, but ultimately, many things happened that were out of our hands."
The bus ride back to Shalhevet was less energized.
Even though the Firehawks are now eliminated from the CIF playoffs, they qualified for state playoffs which begin within the next two weeks. They will be playing teams from all over California, and not just in the Southern Section, which is who they played in the CIF playoffs.
"It was an awesome ride, I mean we still have some more games to play but I hope we made a kiddush Hashem and we did all the things we were supposed to do," said Remer. "It was just a great experience and I hope Shalhevet can get back there again in the future."
Leave a Comment
Meet the Writer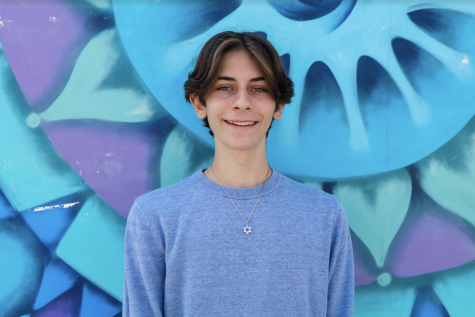 Noah Elad, Outside News Editor
Noah Elad, 12th grade, joined the Boiling Point freshman year as a staff writer and became Sports Editor during the second semester of his sophomore year. He served as Sports Editor throughout his junior year, and now as a senior is Senior Editor and Outside News Editor. Outside of the Boiling Point, Noah is a captain of the baseball team and guitarist for the school band. When not in school Noah enjoys following sports, playing guitar and spending time with friends and family.