Firehawk girls win their first-ever Milken basketball championship
Hiller, Shaw, Jacobson lead team to 4-0 contest, defeating Notre Dame, Louisville, Milken and Campbell Hall
For the first time in school history, the Shalhevet Firehawks have won the annual Milken Classic Basketball Tournament, beating the Notre Dame Lady Gryphons 60-48 Thursday night Dec.12 in the Milken gym to cap a perfect 4-0 tournament run. 
With an enthusiastic crowd of about 60 Firehawk parents, students and teachers cheering them on, the Firehawks offense went on a second-half tear, leading by as much as 20 in the fourth quarter after a more competitive first half. Shalhevet led 26-18 at the half.
Firehawk Head Coach Ryan Coleman said determination and grit made the difference. 
"We didn't get off to a great start — I think we thought it was going to be automatic, and the other team played with a lot of energy," said Coach Coleman, who coaches both the boys and girls Firehawk varsity teams. "I think our girls did a great job of realizing how hard they needed to play, and we turned it on and did what we needed to do."
In an email to the Boiling Point, Notre Dame's Coach Steve Umemoto praised Shalhevet for a "well-played" championship game victory. 
His own team, he said, played a competitive and disciplined first quarter, but lost their lead in the second half because the Firehawks dominated on both ends of the court. 
"Shalhevet's pressure defense and balanced offense was too much to overcome," Coach Umemoto told the Boiling Point. 
On the road to the championship, Shalhevet beat Louisville of Woodland Hills on Monday, 61-22; Campbell Hall of Studio City on Tuesday, 45-31; and Milken on Wednesday, 54-36.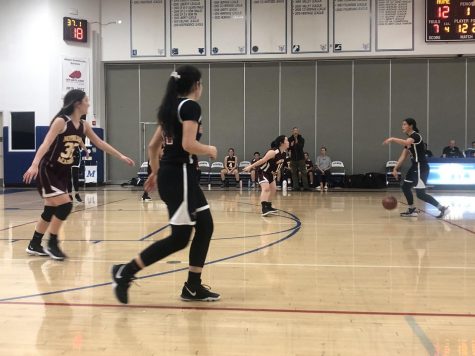 Firehawk senior guard Kiku Shaw said that the team came ready to play and acted as a unit — especially for the win over Campbell Hall, a fellow Division 4A competitor. 
"We were more focused on the court," said Kiku. "And we adapted to each game, whether it was changing our offensive plays or the way we played defense."
Sophomore rising-star sophomore Talia Tizabi said that Coach Ryan's halftime message of increasing the tempo propelled the dominant second-half. 
"He told us that the next few minutes of the third quarter would decide the game," Talia said. "'If you guys play well, you'll win.'" 
Shalhevet Athletic Coordinator Coach Jeff Remer said the team's senior leadership enabled the team to play to its fullest potential.
"They finally have achieved what they have been setting out to achieve," said Coach Remer, who coached the girls last season. "I think that they've improved tremendously from Glouberman until now, and I think that they'll continue to improve."
Firehawk senior guard Maital Hiller won Tournament MVP, while fellow seniors Kiku and forward Avital Jacobson both won the All-Tournament Team awards. 
To celebrate the win, Coach Ryan announced on Schoology that he would be inviting fans in attendance to an "exclusive donut party."  No date has yet been announced.