Ramie Smith, rabba at Hebrew Institute of Riverdale in NY, will join faculty next fall
Rabbi Segal says her title will not be discussed this year; Dr. Weissman says students can call her whatever they consider 'appropriate'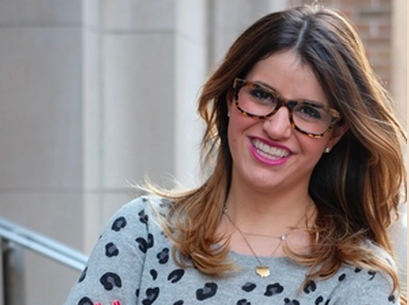 Yeshivat Maharat graduate Ramie Smith, who is known as Rabba Smith in her current position at the Hebrew Institute of Riverdale in New York, will be joining the Judaic Studies faculty next fall, Head of School Rabbi Ari Segal announced in an email today at 11:04 a.m.
The announcement came two years after a disagreement over her title prevented her from accepting a position for the 2015-16 school year, and in the same e-mail where Rabbi Segal revealed that Rabbi Avraham Lieberman, outgoing head of school at YULA Girls High School, will join the faculty at the same time.
Rabbi Segal said Rabba Smith would not be given any title for now and that "there will be no discussion" about her title this year. He acknowledged the existence of the question, noting that "Many of you will recall a lively discussion several years ago regarding the appropriate title for a graduate of Yeshivat Maharat."
"Ramie is a rising star in the field, remarkable not only for her knowledge and ability, but for her undeniable charisma," Rabbi Segal wrote. "She will serve as a dynamic role model and a significant force in our school; we want our students to avail themselves of her and all that she offers, and we feel lucky to have her.
"
We have made the joint decision that limud ha'Torah should trump the political difficulties, and that rather than waiting any longer to arrive at a community consensus, we will move forward together and let her Torah stand on its own feet."
— Rabbi Ari Segal, Head of School
"While we recognize this legitimate point of contention, at this juncture, our priority is focused squarely on the quality of our education," wrote Rabbi Segal. "We have made the joint decision that limud ha'Torah should trump the political difficulties, and that rather than waiting any longer to arrive at a community consensus, we will move forward together and let her Torah stand on its own feet."
Asked via email what the school would officially call her next year, Rabbi Segal replied, "As I mentioned in my email to the community, we are not going to be discussing a title this year."
Principal Dr. Noam Weissman said that students next year would be able to decide for themselves what to call Rabba Smith.
"I think a student can call her something that is appropriate, so if they call her Rabba they call her Rabba and if they call her 'Ms.' they call her 'Ms.,' and if they call her 'Morah' they call her 'Morah,' Dr. Weissman said. "If they call her 'Maharat' they call her 'Maharat.'
"We're not going to be dictating what students call her," he said.
According to numerous sources at the time who did not wish to be named, Rabba Smith was offered a job after teaching a model lesson and meeting with students during her 2015 visit to Shalhevet, but turned it down because administration would not let her use the title of Maharat or any title other than Morah — teacher — or Ms.
The title Maharat is is used by some graduates of Yeshivat Maharat, which offers a curriculum very similar to that of rabbinic s'micha, or ordination. The word is a Hebrew anagram standing for manhiga, hilchanit, Toranit, which means spiritual leader, teacher of Torah, expert in halacha.
Other Maharat graduates are called Rabba or Rabbanit.
Rabbanit Alissa Thomas-Newborn of B'nai David-Judea Congregation, a classmate and chevruta (study partner) of Rabba Smith's, was called Morateinu during her first year at the synagogue.
Rabba Smith's appointment was announced in the same community-wide email as an announcement that Rabbi Avraham Liberman, currently head of school at YULA Girls High School, would join the faculty fulltime.
In his email Rabbi Segal acknowledged that Yeshivat Maharat graduates should hold a title that represents their knowledge, but said it should also adhere to Modern Orthodox values, including an emphasis on tradition.
"No one should argue that the impressive accomplishments of the graduates of the program more than justify the conferring of a title befitting all that hard work and dedication to the Jewish people," wrote Rabbi Segal.
"At the same time, we also recognize the very real concerns of those who proudly support Shalhevet but want to make sure it maintains its Orthodox bonafides."
He also noted that with Rabba Smith's appointment, Shalhevet would have on its faculty graduates of three leading women's Torah learning programs: Yeshivat Maharat; Nishmat in Jerusalem, where Mrs. Atara Segal is currently studying; and GPATS, the Graduate Program in Advanced Talmudic Studies at Yeshiva University, alma mater of Judaic Studies teacher Ms. Ilana Wilner.
Despite the open-ended question of her title, Rabbi Segal hired her because he believes she will "serve as a dynamic role model and a significant force in our school."
He said that students were "drawn" to her during his visit in 2015.
"I was floored by how our students (both male and female) were drawn to her dynamic Torah and charismatic personality – a gaggle of them quite literally followed her in the halls after her model lesson," wrote Rabbi Segal. "We feel lucky to have her on board, and know she will contribute in a big way from day one."
In a sign of possible hurdles to come, throughout his email Rabbi Segal referred to Rabba Smith as either "Ramie Smith" or "she." He did not call her Rabba Smith, Maharat Smith or Ms. Smith.
Mashgiach Ruchani and Tanakh and Talmud teacher Rabbi David Block worked with Rabba Smith at Aleph Beta, a Torah learning website.
"She's extraordinarily knowledgeable in all areas of Judaism, particularly Halacha and Talmud," said Rabbi Block. "She's a wonderful resource for everyone in the community and I think she'll be just a great person to have here. I think the students will connect with her and she'll be a great role model to everyone."
Dr. Weissman added that Shalhevet adds teachers who are more concerned with the education, rather than their title.
"She's here to teach Torah," said Dr. Weissman. "Some people focus a lot on those things, those aren't the people we hire."
Although her title is uncertain, a few members of the community who have met her are excited for her to become a part of the Shalhevet community.
Then-senior Shana Chriki thought Shalhevet should hire Rabba Smith after she met with her in 2015.
"Her values coincided with those of Shalhevet and it would be nice to have a woman that girls can go to when they have halachic questions," Shana told the Boiling Point at the time. "I thought she was a really good fit for Shalhevet, and I'm shocked she wasn't hired.
Rabba Smith currently serves as assistant rabba and program director for The Hebrew Institute of Riverdale in New York, which is where Yeshivat Maharat co-founder is the senior Rabbi.
Rabba Smith also acted as a congregational intern at Beth Shalom Congregation and Talmud Torah in Potomac, Md., where she taught classes, according to YeshivatMaharat.org. Prior to that she worked as a production assistant for The Colbert Report on Comedy Central.
It was not clear this afternoon whether Rabba Smith would be full time at Shalhevet next year. In his email, Rabbi Segal said she would "teach a class, be involved in tefilah and co-author (with Rabbi David Block) our Jewish Sexual Ethics curriculum."
Most teachers at Shalhevet teach five classes or the equivalent.
Rabba Smith was not available to be interviewed Friday afternoon, but promised to answer questions next week. The Boiling Point will update this story as more information is available.
Meet the Writer
Alec Fields, Co-Editor-in-Chief
Since freshman year, Alec Fields has written numerous stories for the Community, Torah, Features, Outside News, Sports and Arts and Culture sections. In 10th grade, Alec received the post of Torah editor and held that position until being named co-Editor-in-Chief for the 2016-2017 school year. He has received awards for, "SUMMER OF WAR: Hollywood, too, was divided," "Refusing Playoff Suspension, Buckley Resigns," "OUT OF THE SHADOWS: Ancient tradition meets modern sensibility," and for "Rabbi who sauna-ed with students in New York was scholar-in-residence at Beth Jacob on Shavuot." Alec is co-captain of Model Congress, co-president of the Finance Club, a founder of Supplies on Demand, a member of the Mock Trial team, Firehawks for Israel, tennis team and grappling club. Some of his favorite classes are Political Theory of Modern Middle East, Psychology, and Government and Economics. When Alec has time he enjoys playing or watching sports, reading...