New thermostats bring hope for stable temperatures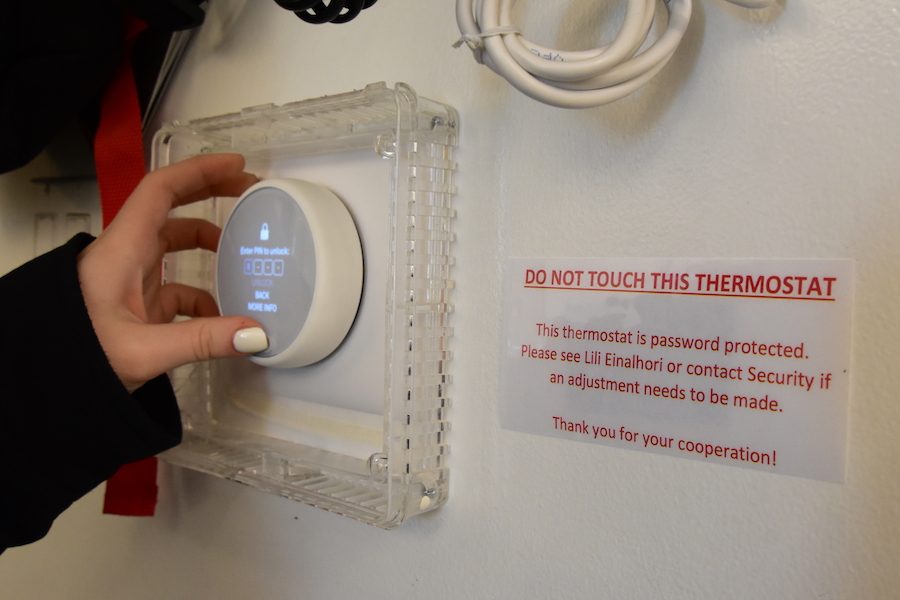 After four years of fluctuating temperatures that have left students and faculty alternately sweating or reaching for a sweater, school officials have decided to install a new, more technologically advanced air-conditioning system that they hope will solve the problem.
According to Director of Facilities and Registrar Lili Einalhori, people have been overusing the thermostats. She that the school has tried various methods to prevent this after the current air conditioning maintenance company, Ontario Refrigeration was concerned about the system's condition in a facilities review this year.
"They check three times a year, and the last time they came, before the beginning of this year, they said that our system is being overused," Ms. Einalhori said. "They said that for an AC that is only four years old, it looks like it is 20 years old."
Ms. Einalhori said this was likely because of students and teacher adjusting the thermostats too frequently to turn on air or heat, and then not reverting them back to normal temperatures. She said the school attempted to solve the problem by installing covers on thermostats to prevent people from touching them and then by locking the thermostats entirely, neither of which kept students from trying to control the temperature.
"
Our doors open and close so cold air comes in and the temperature changes. We really need teacher controls of each person's room because it gets too cold or too hot and I have to call someone to change it."
— Roen Salem, Art Teacher
In response,Technology Director Mr. Nick Parsons installed three Nest Air Conditioning thermostats in mid-December, which allow control of the thermostats from an application available both on cellphones and computers. Now five second-floor classrooms have Nest thermostats.
"We first had the thermostats programmed to turn on at 6 a.m. and turn off at 9 or 10 p.m.," Ms. Einalhori said. "So it started out that throughout the day everything was fine, but what happened was in one classroom the kids were too hot, so the teacher lowered the AC. In another they were too cold, so they made it higher, and it was just back and forth."
In fact, some worry that preventing people from tampering the thermostats won't solve the temperature discomfort , because most of the thermostats control two different rooms. Teachers have complained about extreme temperatures, and not being able to control them.
Ms. Jennifer Kong, who teaches Geometry and Pre-Calculus in room 218 said that her room is usually hot, and even uses a fan in her classroom.
"My room is so bad," Ms. Kong said. "I share the thermostat with room 217, and the students in 217 say the room is always freezing, and my room is so hot. Especially when I have a huge class, like 20 students in my small room. Then I have to call someone to change it, and they get annoyed."
Mrs. Roen Salem, who teaches in the art room, said that it's inconvenient to call someone for every thermostat change.
"Our doors open and close so cold air comes in and the temperature changes," Mrs. Salem said. "We really need teacher controls of each person's room because it gets too cold or too hot and I have to call someone to change it."
Peter Biesterveld, service manager at Ontario Refrigeration, the company which services Shalhevet's cooling and heating systems said that various factors go into whether two rooms sharing an air conditioning unit — as Shalhevet's do — can stay simultaneously comfortable.
"Are the classrooms identical? That could be an issue." Mr. Biesterveld said. "You could have windows facing the wrong way, or it could definitely depend on the individual person. Some people are cold at 74 degrees and some people can be hot at 74 degrees."
He also said that an improper air balance could have an impact. Improper air balance, Mr. Biesterveld explained, is a deviation from the ideal 400 cubic feet per minute (CFM) of air flow for every 500 square feet.
"If the air balance is incorrect, one classroom has the thermostat and they're identical in size, and one classroom has 600 CFM going to it and one classroom has 200 CFM going to it, the classroom with the thermostat is gonna get satisfied very quickly, but because you don't have the right airflow in the other room, it could cause that room to never reach the right temperature," he said.
Mr. Biesterveld said that Shalhevet has never had its air balanced checked.
He also said other schools that Ontario Refrigeration has serviced do not have one unit for two classrooms the way Shalhevet does, which can ensure more control over the temperatures.
"Depending on the school and how old the school and the equipment is, some of the newer schools will have individual units for each classroom," he said. "Or they could have it zoned for each classroom, with a two-zone system."
Mr. Biesterveld explained that a two-zone system is when classrooms have individual thermostat which share a unit but can provide different temperatures to different classrooms.
Ms. Einalhori said the school could not install individual units because there is no room on the roof for more air conditioning units. She also said that the NEST systems' passwords will be accessible to faculty, which will hopefully prevent the abuse of the systems and allow teachers to have control.
"Now we have the NEST program, and I think it's working." She said. "It's set to go between 70 to 74, which we find is the temperature that everybody's comfortable with.
---
Get the latest from The Boiling Point. Sign up for our news feed.
---
Meet the Writer
Lucy Fried, Co Editor-in-Chief Emeritus
Lucy Fried was co-editor-in-chief during the 2018-19 school year and is now a student at the Hartman Institute in Jerusalem. She will attend UC Berkeley beginning next year.