'LA-BRON!' Blockbuster deal thrills Laker fans
As season opens, other teams' backers say they'll stay the course
When former Cleveland Cavaliers forward LeBron James, who is widely believed to be the best basketball player of his time, signed a 4-year contract worth $153.3 million with the Los Angeles Lakers in July, Shalhevet's Laker fans were thrilled.
"In my perspective, it will restore the credibility and legitimacy of the Lakers," said junior and Firehawk girls basketball star Kiku Shaw.
LeBron, a three-time NBA finals MVP who's been nicknamed "King James," comes to Los Angeles with ambitions to dethrone the reigning champion Golden State Warriors and to cement his career as a basketball superstar.
---
"I believe in something called loyalty. I'll never switch allegiances. It speaks to one's character if they decide to dump their own team just based on one player."
–Jonathan Fishman, 12th grade
---
"Bringing LeBron to LA is game-changing," said Kiku. "His reputation and the expectations LA fans have now gives off a positive tone. " So far, however, the LeBron deal hasn't attracted new fans at school. For example, senior Ari Reder says he will remain a devout Boston Celtics fan, though he's happy LeBron signed with the Lakers because it clears the Eastern Conference of competition from the Cavaliers and could renew the celebrated Celtics-Lakers rivalry.
"It's hard to switch to another team when your heart is already set on one," Ari said.
Junior Yarin Amzalag, a point guard on the Firehawk boys basketball team, says he'll keep rooting for the San Antonio Spurs. He said most loyal basketball fans will stick with their teams even during the tough times.
For the first time in his new home arena:

"16th campaign from St. Vincent-St. Mary High School…" pic.twitter.com/5BeZRF5HAj

— Los Angeles Lakers (@Lakers) October 3, 2018
Lebron's pregame walkout at his preseason Laker debut (twitter.com/Lakers).
"By being part of the fan base, you're also being a part of the team," Yarin said Though there aren't nearly as many as Laker fans at Shalhevet, fans of the Los Angeles Clippers — the other LA basketball team — are undeterred by the LeBron deal. Senior Jonathan Fishman says he'll never become a Laker fan no matter what.
"I believe in something called loyalty," said Jonathan, who roots for the Clips. "I'll never switch allegiances."
He called sticking with a team a matter of honor, adding, "It speaks to one's character if they decide to dump their own team just based on one player."
But Laker fans have had their tough years, too. Since winning the NBA championship in 2009 and 2010 under the leadership of the now-retired Kobe Bryant, they've posted losing records for five years. Bryant retired in 2016.
For longtime Laker fans, the arrival of LeBron is particularly sweet.
Junior Adam Tizabi thinks the Lakers could make it as far as the Western Conference finals this year.
Highlights from Lebron's preseason debut with the Lakers (youtube.com/nba).
"I'm glad that the Lakers will finally be good enough to compete against good teams like the Warriors and the Houston Rockets," said Adam.
Sophomore Jack Resin believes that the Lakers' success would make basketball more exciting in Los Angeles overall. "Entering the playoff picture obviously makes every Laker fan more excited and more passionate about LA basketball," Jack said.
In addition to LeBron, the Lakers signed Javale McGee, Lance Stephenson, and Rajon Rondo to one-year deals shortly after the LeBron trade.
But for students who don't follow basketball quite that closely, LeBron's imminent arrival is something they don't expect to change their lives.
"LeBron joining the Lakers will not motivate me to watch their games or make me a bigger fan," said freshman Anya Mendelson, who says she is a Lakers fan only because they're based in LA.
Freshman Talya Kukurudz said she became more interested in the Lakers when news of the LeBron deal broke out, but since then has changed her mind.
"I don't think it will ever make me follow basketball more than before," said Talya.
Everyone seemed to agree on one thing though: LeBron coming to Los Angeles will be a boon for the city.
"There will be a lot more sales due to everyone wanting his merchandise," predicted sophomore Hila Lasry, who plays small forward on the Firehawk girls basketball team.
Leave a Comment
Meet the Writer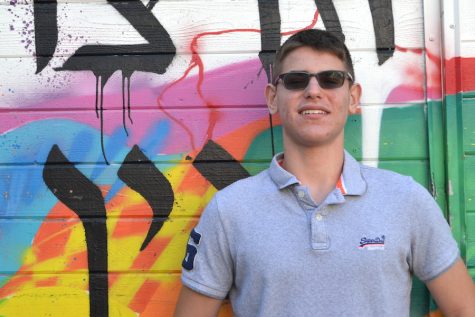 Alex Rubel, Senior Editor
Alex joined the Boiling Point as a staff writer in his sophomore year, rose to Sports Editor in his junior year and is serving as both Sports Editor and Senior Editor this year. Aside from journalism, Alex loves playing and watching sports, flying planes and following the stock market.