Firehawks advance to championship game at Sarachek
Will face Valley Torah Monday for an all-LA Tier 1 final in New York.
UPDATED: Shalhevet defeated SAR in the semi-finals of the Red Sarachek Basketball Tournament in New York today, and will face the Valley Torah Wolfpack in the Tier 1 championship game tomorrow in a game that will be broadcast at school.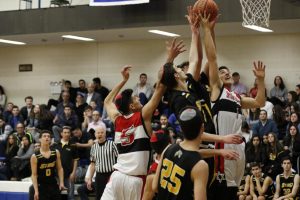 The Firehawks, ranked No. 1 by Jewish Hoops America, defeated the SAR Sting 48 – 38 before a packed gym at Yeshiva University Sunday afternoon. According to macslive.com, high scorers for Shalhevet were junior Zack Muller with 19 points, senior Benny Zaghi with eight, and junior Asher Dauer and freshman Ze'ev Remer each with six. SAR's Judah Oppenheimer scored 14 points for the Sting.
Earlier in the tournament, Shalhevet defeated the YULA Panthers 55-38 to advance from the quarterfinals. It was the second time this season Shalhevet beat YULA,. Watch all the Saracheck action live on macslive.com.
Leave a Comment