Video by Rachel Sentchuk wins Beth Jacob teen Holocaust contest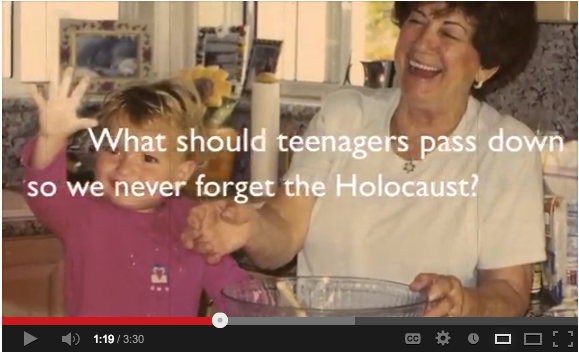 By Eric Bazak, Staff Writer
Shalhevet freshman Rachel Sentchuk won two prizes when she was named a winner of Beth Jacob Congregation's Multi Media contest on April 9.
One was $250 in cash, which she partially donated to the Righteous Conversation Project — an organization that brings together teens and Holocaust survivors to talk about problems in the modern world.
The other was the delight of her grandparents that she had entered such a contest – and won.
"I was thrilled because I knew how meaningful this would be for my grandparents," Rachel said of learning she had won. "I knew they would be very proud."
The contest encouraged students to submit a video or poem to commemorate the Holocaust, and in particular this year to address how today's teens, the last who will know Holocaust survivors personally, can keep the memory alive.
Winning projects were presented – in Rachel's case, played on a large video screen — to several hundred people who attended Beth Jacob's Yom Hashoah program on April 7.
Rachel's video illustrated the difference between her own privileged teenaged years and those of her grandmothers, both survivors of the Holocaust. One was in Auschwitz, prior to being liberated in Bergen-Belsen; the other managed to escape the camps by hiding. Throughout her video, Rachel emphasized the importance of never forgetting.
Three-and-a-half minutes long, the video shows multiple pictures of Rachel with her grandmothers, with them speaking about their teenage years in the background. Zooming in for emphasis, Rachel then asks them questions about how teenagers can continue to commemorate Yom Hashohah.
She said she entered the contest to honor her grandmothers, but that she did not expect to win.
"Most of my grandparents had unfortunately experienced the Holocaust," she said. "So I felt like it is my responsibility to try and commemorate it any way I can."
One of Beth Jacob Congregation's rabbis, although not one of the judges, Rabbi Zack Swigard, loved her video, and the way she directed it as well.
"I thought Rachel's video was extremely touching," Rabbi Swigard said in an interview. "The interviews that she added made it very personal and real."
The other two winners were YULA students Ariel Amsallem, who wrote a poem, and Jordan Lustman, who created a video as well.