Spirit, swag and real competition are back as Glouberman returns to gym
Annual basketball tournament set to tip off tomorrow with 245 players representing 11 Jewish high schools from around the U.S.
November 2, 2021


Students will once again be seen peeking down from the second-floor hallway into the gym trying to catch a glimpse of a basketball game in the middle of the school day. The downstairs hallways will again be full of unfamiliar faces wearing non-Shalhevet colors and looking slightly lost, while Shalhevet's normally low-key outfit colors bloom everywhere into black and bright red.
BP Video by Vivienne Schlussel
The Steve Glouberman Basketball Tournament is set to return for the seventh time, and Shalhevet will once again be pounding in ruach. Tip-off is scheduled for Wednesday night at 5:00 pm. when the Firehawk girls team will face off against Berman Hebrew Academy from Rockville, Md.
"I look forward to the crowd and the energy and the excitement," said Varsity boys co-captain Avi Halpert. "You feel it in the air always." 
Last year, Glouberman was barely recognizable, with the pandemic postponing it to later in the year, and having fewer teams able to attend the tournament. The number of fans was also limited with the bleachers barely filled instead of overflowing, and the Shalhevet building looked different with outdoor classes and fewer students on campus — all due to Covid restrictions. 
The Firehawks were represented by JV players instead of varsity players, and the girls team was coached by Shalhevet principal Mr. Daniel Weslow and former Head of School Rabbi Ari Segal while the boys were coached by JV head coach, Adam Plax.  Firehawks head coach Ryan Coleman was nowhere to be found.
The tournament was held in May instead of pre-vaccine November, and Shalhevet was represented by a pick-up group of junior varsity players and alumni, with no varsity players at all.
This was because having a real tournament would have violated the rules of the California Interscholastic Federation or CIF. The federation, which oversees both public and private school sports in California, prohibits playing in a non-CIF-affiliated tournament during the CIF season.
"
"Glouberman for me signals a return to normal. Ever since I went to my first Glouberman in 8th grade, I knew then and there, I wanted to attend Shalhevet."
— Dani Kunin, 11th grade
This year — thanks to Covid vaccines and easier testing  — the tournament is up and running with 18 teams attending from nine schools, and 245 student-athletes playing in the games. Glouberman is an invitational tournament, with schools coming from all over the country including New York, Maryland, and Miami. 
Officials said spectators from within LA County must show proof of vaccination or a negative Covid PCR test within 72 hours of the game, according to an email sent out to Shalhevet students and parents Oct. 21.
Head of School Rabbi David Block elaborated in a news conference with Boiling Points editors.
"All players are going to have to take a PCR before they get on the plane to join us at Glouberman, they are going to have to show us a negative Covid test before they get on the plane," Rabbi Block said at the news conference Oct. 12. "Then when they land, they are going to have to take a rapid once they land."
Rabbi Block added that the referees would be tested every day throughout the tournament. As of publication time, officials have not responded as to whether this also applies to coaches, teachers, or other school staff.  
Ms. Jasmine Ezagui, Shalhevet's new Project Manager, said in an email response to Boiling Point questions that they are planning for the gym to hold its maximum capacity, which is 300 people. 
Junior Dani Kunin said that Glouberman is a highlight of his school year and is something he always looks forward to. 
"Glouberman for me signals a return to normal," said Dani Kunin in a text message. "Ever since I went to my first Glouberman in 8th grade, I knew then and there, I wanted to attend Shalhevet." 
Sophomore Atara Cohen said the tournament also unites the community.
"It's a time in the year where the entire school gets together and celebrates and cheers on a school team," said Atara. 
Both the girls and boys Firehawk teams will be playing their first games Wednesday night, girls against Berman at 5:00 pm and the boys against Yeshivah of Flatbush, from Brooklyn, N.Y., at 6:30 pm. These games are ticketed at $5 for students, $10 for non-students.
With the Shalhevet building gearing up for the tournament, SAC arranged theme dress-up days, and students came to school dressed in jerseys on Thursday and Friday in Shalhevet swag.
On Friday, Shalhevet held a pep rally during what would have been Town Hall time, filled with swag being handed out, dancing to music, and a dunk contest.
This year, games will be played at two locations, Shalhevet and Pan Pacific Park, unlike last year when there were games at YULA. However, YULA is still playing in this year's tournament. 
The boys team has four team captains this year, junior Avi Halpert, and seniors Joel Asheghian, Uziel Mermelstein, and Netanel Zur. The girls team has three captains, consisting of seniors Talia Tizabi, Rayna Kent, and Jessica Melamed.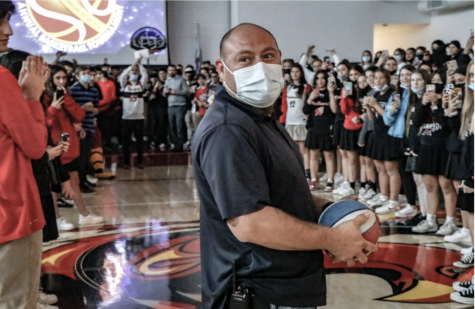 Avi Halpert, who plays point guard, said that even with the team lacking some top players from last year, including Ze'ev Remer and Jacob Pofsky, the team isn't allowing that to hold them back. 
"The loss of players from past years is definitely a loss for a team, but at the end of the day we have to move on, we gotta become the next team up," said Avi. "We gotta win it, because looking back is not going to win it for us."
Joel Asheghian said that he hopes the teams' hard work will pay off in the tournament. 
"I definitely think it hurts to lose two amazing captains in Ze'ev and Jacob, but I think we need to have that next-man-up mentality where everyone steps up and plays their role well," said Joel, who plays guard. 
Joel added that the team has been working out together dating back to the beginning of summer break and has been practicing multiple times a week since the school year started. 
Math teacher Ms. Jennifer Kong, who is a dedicated Firehawk basketball fan, said that she is planning on attending all Firehawk games. 
"I pretty much teach or have taught most of the players, both boys, and the girls teams," wrote Ms. Kong in an email reply to Boiling Point questions.  "Besides simply loving watching basketball, I want to support my students. Some of them might not do well in math, but they shine on the court and impress me very much. 
"They look different during the game," she added. "Certainly, the games bond us together. I am their superfan."
Talia Tizabi said that in order for the team to be successful in the tournament they must play to their maximum potential. "Our team's mindset coming into this tournament is to make sure that we are giving our full effort," said Talia. "If we want to win, we have to apply all of our skills, plays, and everything we have worked towards into reality."
Below is the full game schedule with times and locations.