New technology could offer drivers a cure for texting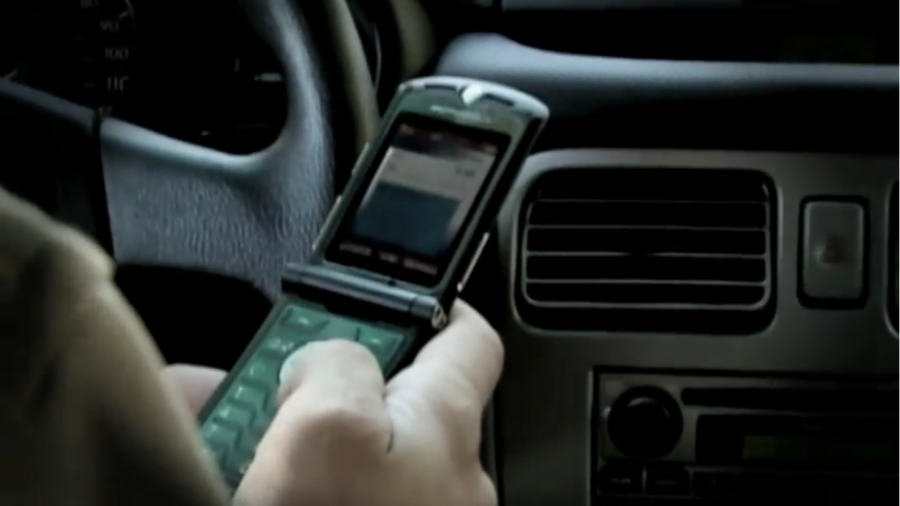 Car accidents are the leading cause of teenage deaths. This is common knowledge, as is the fact that most teenagers are addicted to their cell phones. These two behaviors combined — cell phones and driving — it is no wonder that there are more than 17,000 car accidents a day in the United States, at least a quarter of them caused by texting in the driver's seat.
Ironically, the solution to this problem may be one more cell phone app away — if drivers, or perhaps the law, decide to embrace the new technology, called DriveSmart. But interviews with various Shalhevet students suggest that teenagers aren't all interested.
Junior Shir Alkoby has the application already, but doesn't use it.
"I personally text at red lights, and if I don't, I'd rather not answer a person than have an application send them a text saying I'm driving," said Shir. "It's pointless, you know?"
Shir isn't alone; in a survey by AAA and Seventeen* magazine in 2007, 46 percent of teens or young adults admitted that they text while driving.
AP Psychology teacher Mrs. Tove Sunshine explained that from a developmental point of view, doing something that we all know is dangerous is normal.
"Teens know what the risks are, but somehow it's not going to apply to them," Mrs. Sunshine said. The reason, she said, is actually anatomical.
"It probably has to do with the fact that the limbic system is developing more rapidly than the frontal lobes at that point," Ms. Sunshine explained.
"The parts of your brain that are responsible for consequences and judgement are not completely developed for teenagers, so it makes it harder to assess and accept long-term consequences. The part of the brain that controls excitement and anger is developing faster."
Irresponsible in-the-moment judgements by teenagers may be one of the reasons that this new application is needed. DriveSmart and DriveSmart Plus, released by T-Mobile in January, offer the world's first technology
to actively prevent texting and talking while driving.
DriveSmart Basic will send incoming calls straight to voicemail or a Bluetooth headset — if you tell it to, every time you get into the car. It must be manually activated by the user to silence an incoming call or text, and will send an automated customized response.
But if you don't tell it to, it won't, and even if activated, it can also be deactivated just as easily.
Enter "DriveSmart Plus," which activates automatically when moving at a speed of greater than 10 miles per hour. A built-in sensing device means the driver doesn't have to do anything at all. When the application switches into "driving mode," the same silencing and auto-responding as in the basic version turn on.
This newer version, which costs $4.99 a month, can be deactivated, too.  But a compensation for this — for adults, at least — is that parents can see what the phone was doing when the user chose to override it.
"So when somebody's driving at a fast pace and that application is on," said Patti Raz, a spokesman for T-mobile.  "the driver can actually hit the override button… [but] parents can see it."
That could be a way for adult cautiousness to override teenage abandon.
"I think I'd use it for my children," said Registrar Lili Einalhori, mother of freshman Josh Einalhori and four other kids. "I would want to know that my children aren't texting. I know that I'm not abusing it. So I wouldn't use it for myself, but I would use it for my
children."
Other mobile phone providers have researched or talked about phone-disabling devices, but so far, if your plan is with Sprint, AT&T or Verizon, you're out of luck.
I
n Town Hall Jan. 6, General Studies Principal Mr. Tranchi showed a video made by AT&T about the dangers of texting while driving. (The video can be seen at  tinyurl.com/BPText3.) Its first testimony is from "Mandi," who had a sister named Ashley.
Ashley was reading her sister's text message while driving and crossed over a double yellow line; the truck flipped and Ashley was ejected through the driver's door, landing in a ditch 300 feet away.
"Having a Highway Patrol officer write in a report that a text message sent at 12:05 is the reason that she is dead… is not something that will ever go away," her sister says tearfully on the video, holding up the phone that was used in the accident.
The text message on the screen said simply, "yeah."
"Four little letters," Mandi says. "That's what killed her."
Another story features an unnamed 17-year-old boy who was driving on a street, replying to a text — "looking up every couple of seconds, like I always did," he said. But during one of the moments that his attention was focused on his keyboard, a bicyclist crashed into his windshield.
"If someone were to ask me to drive down the road with your eyes closed for five seconds… I would never even attempt that," said the teenager. "But if someone said read this text message and respond to that, in about the same length of time, well that would be no problem — I'd done that numerous times in the past, before the accident.
"When I got out of the car, he didn't have a pulse, he wasn't breathing," he continued. "He wasn't alive! I sent one stupid, meaningless text — 'LOL' — and killed a man."
In light of all this, The U.S. Department of Transportation has been working with technology to prevent texting while driving, and Sprint, AT&T, and Verizon have all been experimenting with the idea.
Meanwhile, Verizon planned to support statewide banning of texting while driving in 2009, before the laws were passed, and last month Sprint announced its upcoming participation in an episode of Extreme Makeover: Home Edition focusing on the dangers of texting while driving.
However, T-Mobile is the first network to actually release an application that can turn off cell phone service in a moving car. This seemingly sudden increase in technological research aims to solve the problem that distracted driving creates: ever-growing deaths on the road.
"Distracted driving is a serious safety issue," said Congressman Henry Waxman, who represents the district that Shalhevet is in, in a statement responding to Boiling Point questions. "Drivers who are distracted by a phone conversation or text message put their lives and the lives of others at risk. I support education and enforcement efforts to reduce driver distraction in order to save lives on our roads and highways."
Texting in California is considered a moving violation, and the fine for a first offense is $20 plus court costs — which would probably bring the cost to more than $150.
But while many states have laws banning texting while driving, none has passed or proposed a law requiring wireless companies to offer a DriveSmart-type device — perhaps because the technology is still so new.
In written questions from The Boiling Point, Rep. Waxman was asked whether he might introduce or support such a law.
"What we've learned from decades-long campaigns to promote seat-belt use and combat drunk driving is that driver behavior is hard to change," the reply added. "But strong laws, thorough research, consistent enforcement, creative education, innovative technology, and industry participation are essential ingredients for success."
He didn't say he'd propose one, however.
v
I feel strongly about not texting in the car because it's a very dangerous thing to do," said senior David Mor. "Is it really worth it to text someone while you're driving and all of a sudden just die?"
Unfortunately, few people see it this way. Although scrolling through your phone for "two seconds" may not seem significant or dangerous to overconfident drivers, according to the Department of Transportation, approximately 5500 people died last year because of distracted driving. (tinyurl.com/BPText1)
According to research done by the Virginia Tech Transportation Institute, people who send text messages while driving are 23 times more likely to get in an accident than focused drivers.
"I know and care that it's dangerous — that's why I try not to," said junior Josh Chowaiki. "But I only do it when it's something important and only at a red light, stop sign if I'm the only one there, and in traffic – it's an exception because I'm not moving, I'm stuck in between two cars."
Not so, say law enforcement officials.
"It's against the law," said California Highway Patrol officer Jaimie Coffee in a Los Angeles Times* article when the law first went into effect.  "If you are stopped at a light or a stop sign, you are still in control of that vehicle and need to be able to react."
In crashes or near-crashes observed by the Virginia Tech study, the texting driver was distracted from the road for an average of 4.6 seconds — "enough time, the report pointed out, to travel the length of a football field at 55 mph." (tinyurl.com/BPText2)
"I never text while moving, only if I'm at a red light and it's an emergency: if I feel that it's acceptable — nothing silly," said senior Rachel Lesel. She defined emergency as waiting for important family news or being lost.
"Otherwise I just let it go until I'm at a safe point," Rachel said. "If I'm lost, or I know something's going on, then that's the exception to me not texting."
In the 2007 Seventeen survey,  35 percent of drivers between the ages of 30 and 45 confessed to the same thing, as did 17 percent of drivers older than 45. Most notable of the distracted driving accidents, in Sept. 2008, one Los Angeles train accident killed 25 passengers because the engineer was texting on duty.
Even so, not all passengers feel threatened when their driver is texting. And those who do don't always say something about it.
"I'm scared of [the drivers]," said freshman Eden Braunstein. "I'm scared that they're gonna yell at me."
Asked if it mattered to her that they could get in an car accident, Eden added, "I feel like it's just not gonna happen — I never thought about it."
Others are more aware of the realistic dangers.
"I tell my mom, put your phone away, it's dangerous," said freshman Becca Elyasi.
"I get too bored at red lights, and I need to text, but not when other people are in the car because it's different," said a junior, wishing to remain anonymous so that his parents don't know that he texts at all. "I'm putting them at more risk."
Clearly, many drivers who are on road everyday don't understand the real danger that texting while driving poses to them, their passengers, and innocent strangers around them.
Time will tell whether DriveSmart, DriveSmart Plus, and new technology yet to be developed will lead to a decrease in deaths to report next year.
Meet the Writer
Rachel Lester, Managing Editor Emeritus
Rachel Lester, now a sophomore at USC, was on our staff starting freshman year, when she started as Staff Pollster and rose quickly to Chief Layout Editor and Features Editor, holding as many as three positions at one time.  From the Columbia Scholastic Press Association, she won the Boiling Point's first awards for design, and she continued to assist the Boiling Point even after graduation. While at Shalhevet, Rachel was commonly found in the Boiling Point office at midnight with a few other editors, and she was Editor-in-Chief of Yearbook and also participated in choir, softball, yearbook, ESC and EAC.

Rachel served as Managing Editor during the 2011-12 school year.