Jack Sanders is elected Agenda Chair, Henry Fried and Talia Tizabi will lead Fairness
Liad Machmali and Carin Arbib to lead SAC; 169 votes were cast out of about 300 eligible
Jack Sanders, who promised to make the most of his experience working with his predecessors David Edwards and Kate Orlanski, was elected Agenda Chair for the 2021-22 Friday, in a 90-minute online vote announced at 1:47 p.m.
The election followed Thursday's first Agenda Chair debate in two years, along with a Friday morning online assembly that showed campaign videos made by candidates for the other nine positions on Agenda, Fairness and SAC.
Voting started right after the videos and lasted just under 90 minutes, ending at 12:30 p.m. All teachers, students and administrators were eligible to vote, and 169 votes were cast out of about 300 who were eligible.
It was all done through Google Forms.
"I'm super happy and also ready for what the position entails," Jack said after his win was announced. "As my ideas get implemented, we will be looking at active Town Halls, an engaged Just Community and a great year back in person."
Jack defeated fellow junior Adina Kurzban, who ran on a platform of openness to all opinions and a need to balance current events with Just Community issues as Town Hall topics.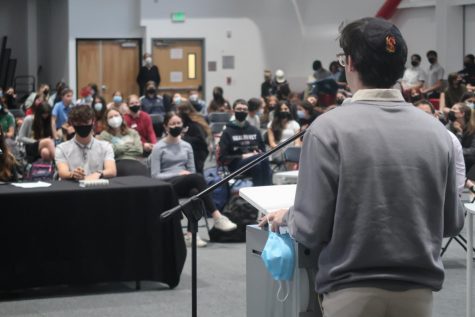 Also elected were juniors Henry Fried and Talia Tizabi to serve as co-chairs of the Fairness Committee, and juniors Liad Machmali and Carin Arbib to lead the Student Activities Committee, or SAC.
Freshman Josh Orlanski was elected secretary of Agenda, freshman Adam Harkham will be the new secretary of Fairness, and sophomore Evan Beller was elected vice chair of SAC.
Running unopposed were sophomore Keira Beller for Agenda vice chair, and freshman Zane Mendelson, who will be the new SAC secretary.
As usual, a Boiling Point representative was present while the votes were counted, and was given access to the tallies on the condition that the paper not release how many votes each candidate received.
One of the races was extremely close, with the winner defeating the first runner up by an extremely small margin.
It was the second time that Fairness ran the spring election, after years of Agenda being in charge. For the second time, the committee used a "ranked choice" voting system, in which voters rank all candidates for a particular office in order of their preference.
For Agenda Chair, Agenda Vice Chair, Agenda Secretary, SAC Vice Chair, SAC Secretary, and Fairness Secretary — all positions in which only one person can win — the winner is chosen by looking at whoever earned the most first place votes.
For SAC and Fairness chairs, however, the voting is slightly different. Firstly, whoever won the most first place votes for each position automatically becomes one of the two chairs.
Next, the tallies earned by the first place winner are removed. This year, only three candidates ran for each of the two slots. Thus, the second place winner was chosen based on whoever won the most total votes between first and second place.