Voting has opened, Constitution must earn majority in at least three grades to pass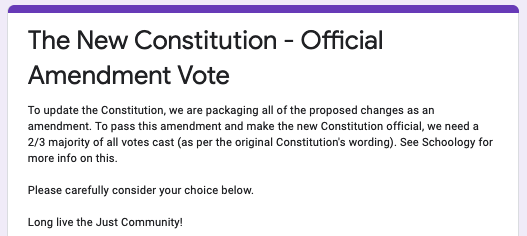 Today's vote on the amended Just Community constitution will have to pass with a two-thirds majority, and also three of four grades will need to pass it by majority vote for it to be approved, Fairness Co-chair Gilad Spitzer wrote on Schoology this morning.
Quoting the original 2002 constitution and an amendment about amendments that was passed in 2010, he described a two-step test for the new document to take effect.
"As per a 2010 amendment to the Constitution (see Buckley's amendment to amend is ratified), amendment approval requires a two-thirds majority vote," Gilad wrote on the Just Community page. "It also "require[s] that three out of the four grades each pass amendments by majority vote."
The Fairness Committee has been in charge of voting since a community-wide vote last fall.
While today's ballot only has one question — yes or no on the constitution — it also asks for each voter's email address. Since students' email addresses begin with their graduation year, a computer program will be able to tally vote percentages by grade, Gilad said.
The requirements for amendments follow a 2010 amendment written by former teacher Mr. Chris Buckley, which reduced the required percentage for amendments from three-fourths to two-thirds.
Voting opened this morning at 9 a.m. and will continue until 5 p.m, the Schoology announcement said. All members of the Just Community, including teachers, administration and other staff, may vote at this link.
Meet the Writer
Jacob Joseph Lefkowitz Brooks, Editor-in-Chief
Some people have to discover their interests; others have no choice but to follow them. Jacob Joseph Lefkowitz Brooks has been a member of the Boiling Point staff since the first semester of his freshman year. He soon found a love for journalism and became the paper's Arts & Culture editor the next semester, moving on to Features editor in his sophomore year, and Community Editor and becoming a member of the BP's Editorial Board his junior year. Jacob is now the paper's Editor-in-Chief as well as director and creator of its forthcoming new magazine. Jacob is an avid moviegoer as well as a diehard fan of the Toronto Blue Jays and Raptors.