Student body fails probationary period, locked doors to start Tuesday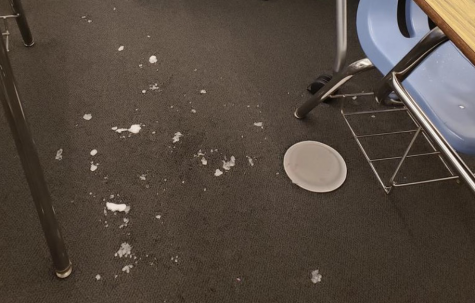 The Fairness Committee will ask teachers to lock students out of unused classrooms during breakfast, lunch and other non-teaching periods starting next Tuesday, making good on a promise it made to do so if a two-week "probation" period failed to solve a problem of food and vandalism in the rooms.
Fairness Co-Chair Evan Rubel said the new policy would be in effect for a week, and that it would be announced next Tuesday during Town Hall.
"At Fairness, we try to create meaningful resolutions that try to solve the problem itself," Evan said. "One of the underlying reasons we are suggesting this solution is because we want students to realize it's a privilege to use classroom spaces."
Evan said that teachers would be responsible for enforcing the policy. He said students would not be punished for using rooms that had been left unlocked.
"There isn't an explicit punishment for being found in a room unattended," said Evan. "It lies upon the teachers to lock their doors."
Thursday's decision was the culmination of a process that began when English teacher Ms. Michelle Crincoli brought a complaint against the entire student body to the Fairness Committee.
In Room 205 — where Ms. Crincoli teaches — and 206, Ms. Nagel's room, googly eyes were pencilled on posters of famous authors including George Orwell, J.K. Rowling and playwright Tennessee Williams.
Fairness leaders decided to hear the case in a closed-door meeting Jan. 6, and invited Agenda Committee grade-level representatives to defend the student body.
"We want to first develop a good system before we bring it to the public," said Fairness Co-chair Joseph Klores in an interview. "We're still in the beginning of it. There's more to come."
Then at Town Hall Jan. 27, Fairness leaders announced the committee had decided on a two-week "probationary period," during which it would investigate whether students were vandalizing, messing up or otherwise misusing classrooms.
"We will look to see if there are any acts of vandalism, and if so, all the teachers' rooms will be locked throughout the day," Joseph announced to the student body that day.
Teachers have complained on Schoology, sometimes posting photos. On Dec. 18, history teacher Dr. Keith Harris wrote, "The messes left behind in room 303 and other rooms around campus are getting out of hand. Today I came to class and had to pick up banana peels and candy wrappers off the floor, other days it's been half empty coffee cups just left on the tables."
The very next day, Math teacher Ms. Jennifer Kong posted photos from Room 218. One showed spilled yogurt and an upside-down paper bowl on black carpet, and the other spilled liquid on worksheets.
"How is this okay?" Ms. Kong wrote.
According to Fairness, student conduct did not improve during the two-week period, leading to the plan for a week of locked classroom doors.
Ms. Kong said she hoped the week-long penalty would change how students thought.
"I'm hoping that with this penalty, I will see improvement in the future," Ms. Kong said. "I hope that students will be responsible for their behavior and be considerate…. We should respect people's space, rooms and properties."
The locked-door policy raises the question of where students will sit, for example, during lunch. According to a Boiling Point count this afternoon, there are 189 chairs on campus that are located outside of classrooms: 43 in the cafeteria, 30 outside the parking lot, 69 on the third-floor patio, 22 in the second-floor lobby, 13 in the college counselling office and 8 in educational support office, and 4 in the basement space opposite the elevator.
There are 258 students in the school.
Even when students can be in classrooms, hallways are often crowded during schoolwide free periods such as lunch and Flex.
Evan said rooms 304 (the small Beit Midrash) and 305a and 305b (the large Beit Midrash) would remain open and not be included in the locked-door week. At various times of the day, those rooms are used for davening, classes and meetings.
Together, the two batei midrash can hold 183 chairs, though not at tables. Having tables in the rooms would reduce the number of chairs.
Evan said the committee hopes students will change their behavior after experiencing the potentially even more-crowded hallways.
"I think that if there are more people in the hallways, it makes students think 'how am I treating my privileges that I had before and how can I reevaluate where I stand?'" said Evan.
He also said that the Fairness Committee has not decided how to proceed after the one-week period, and suggested Agenda could decide it with a Town Hall vote or a smaller meeting.
"We intend to reevaluate the situation at the end," he said in an interview. "Whether or not that's part of Town Hall…is going to be decided by Agenda."
Staff writers Benjamin Gamson and Eli Weiss contributed to this story.