Fairness Committee may ban students from empty classrooms after teacher files complaint over food mess and poster vandalism
Closed-door meeting considers two-week punishment period after complaint by Ms. Crincoli; grade-level Agenda reps speak for students.
Responding to food left in classrooms after lunch and vandalism against posters, the Fairness Committee is considering a two-week-long schoolwide punishment that would prohibit the entire student body from being in classrooms at any time without a teacher or a teacher's permission, the Boiling Point has learned. 
The idea came from English teacher Ms. Michelle Crincoli, who filed a Fairness case against the whole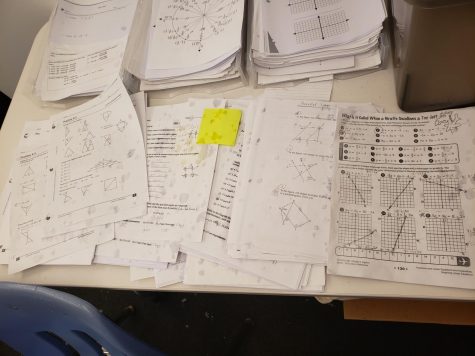 school and requested the two-week classroom ban, according to multiple sources who attended a closed-door student meeting to discuss the matter on Jan. 6. 
Neither the report itself nor the date it was filed has been shared with the Boiling Point.  But Fairness Co-Chair Evan Rubel said the Fairness Committee would decide what to do.
"The details are being ironed out, and it is going to involve an announcement," Evan said in an interview, "and whether or not there will be student input at some point is still being decided." 
The meeting was run by the Fairness Committee. Fairness co-chair Joseph Klores said it was closed "because that's what we decided… We want to first develop a good system before we bring it to the public. We're still in the beginning of it, there's more to come." 
Ms. Crincoli declined to comment to the Boiling Point except to affirm that she had requested that the Fairness meeting be closed. 
Fairness members were not the only students invited to the meeting, however. Also included were grade-level representatives to the Agenda Committee, which sets the agenda for schoolwide discussions at Town Hall.
"
What happened in Ms. Kong's classroom was terrible. The school may have hit its breaking point with allowing students to be in a classroom unsupervised.
— Anna Weiss, 12th grade
On Jan 1, the Fairness Committee sent an email to the representatives, asking them to be "'public defenders' representing the students at Shalhevet" at the hearing on Ms. Crincoli's complaint, according to a copy of the email shared with the Boiling Point.Evan Rubel said they were chosen because they'd been elected by their grades. 
"The people that were there were the people that had the power to really voice the opinion of their peers since they are elected to the Agenda Rep positions," said Evan. "They were entitled to voice the opinions of who they were representing."
Evan also said they chose to invite reps rather than Agenda officers because that way they'd have equal representation per grade. 
However, the representatives had not met with their grades beforehand to learn their views. Also, neither Agenda Chair David Edwards or other Agenda officers were told about the meeting in advance. 
"I didn't really know anything about the Fairness hearing, which I thought was weird," said David. "Why wouldn't myself or the other members of [Agenda's] executive committee be invited? Because we also represent the students."
Although no final policy decision was reached at the meeting, multiple sources who attended said the general direction they were headed in was toward prohibiting students from being in classrooms if there is no teacher present or they were not given permission to be there.
The prohibition would last for a "warning" period, which was proposed to be two weeks, the sources said. They said it was unclear whether or not this period could or would be extended.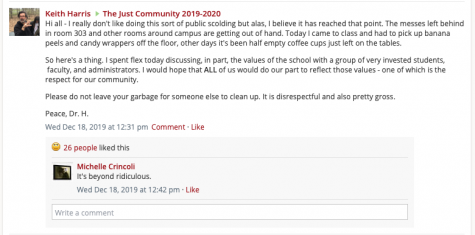 Speaking for students, the Agenda reps reportedly expressed concerns that this may make it hard for students to find a place to work due to the lack of available workspace. 
What if anything students could do to prove themselves worthy of returning to the classrooms without teachers, after the two-week prohibition, was not discussed, the sources said. 
As of now, according to Evan, the committee has not decided if students will be directly involved in the case against them.
It is not the first time the Fairness Committee has been asked to decide school policy without schoolwide student input.  Last June, the Fairness committee held a hearing where current Fairness Co-Chair Gilad Spitzer brought a case against the Agenda Committee after ambiguities were found in the voting system for Fairness Chairs.
But that meeting was not closed. Both Gilad and the Agenda Committee agreed to have the meeting open, and 54 students attended.
The problem of vandalism and food left in classrooms has gained increasing attention in recent weeks, with several teachers posting on Schoology about it. 
 On Dec. 19, Ms. Jennifer Kong posted pictures of math worksheets in her room that someone had spilled liquid on, captioning the post, "How is this ok?" 
Senior Anna Weiss said that made the case important.
"What happened in Ms. Kong's classroom was terrible," said Anna. "The school may have hit its breaking point with allowing students to be in a classroom unsupervised." 
On Dec. 18, history teacher Dr. Keith Harris posted that "the messes left behind in Room 303 and other rooms around campus are getting out of hand."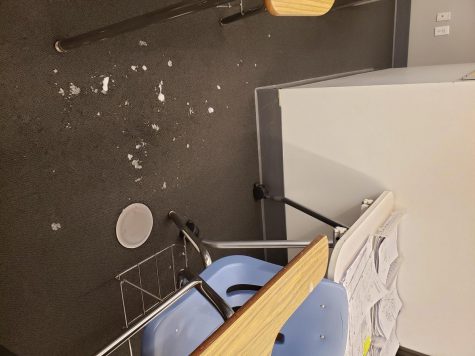 In Room 205 — where Ms. Crincoli teaches — and 206, Ms. Nagel's room, googly eyes were found on posters of famous authors including George Orwell, J.K. Rowling and playwright Tennessee Williams. According to Ms. Crincoli, they had been ripped off the posters when she got back from break though she does not know who took them off.  
Anna noticed parts of the posters scratched out, and said she believe that was disrespectful.
"Googly eyes are lighthearted because they're not long lasting and can be easily removed," she said. "[But] I did notice that parts of the poster including authors and quotes on the wall were scratched out, specifically the eyes. I think that that's disrespectful — to harm the property of someone else, to ruin something that someone else paid for."