Coleman now leads varsity girls and boys, Remer coaches JV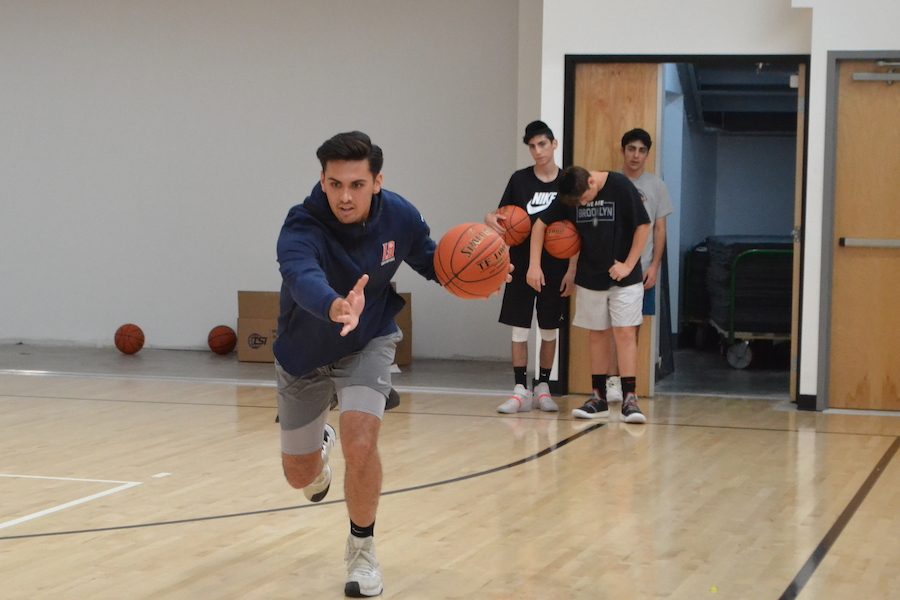 Coach Ryan Coleman, who has been the head coach of the Firehawk boys varsity basketball team for the past five seasons and led the team to multiple titles in prestigious basketball tournaments, has additionally been named head coach of the Firehawk girls varsity basketball team for this year.
Coach Coleman is replacing former girls varsity basketball head coach Jeff Remer, who is also the school's Athletic Coordinator. Coach Remer had coached the girls' team for the previous two years.
Coach Remer is now the assistant coach of the boys junior varsity team and head coach of a new girls junior varsity team, which is being inaugurated this year. Coach Alex Plak will be head coach of the junior varsity boys team.
"
Last year we focused on fundamentals, but this year it's not just about the fundamentals. It's also about building our general basketball IQ."
— Kiku Shaw, 12th grade, Lady Firehawks guard
In an interview with the Boiling Point, Coach Remer said that the main purpose of the change was to ensure that all four teams of the school's basketball program — varsity and junior-varsity of both boys and girls basketball — run similarly.
"We need to have more continuity in the basketball program," Coach Remer said in an interview with the Boiling Point. "Our boys program has been run by Coach Ryan, and as you can see, they've had a phenomenal run under Coach Ryan's tenure."
"Now, both programs are under the same coach and doing the same thing," Coach Remer said. "Now I can implement what Ryan wants me to do at the JV level."
Last year, Coach Coleman coached the boys' varsity team and was a mentor for the boys JV team.
As Head Coach of the boys varsity team last year, he led the Firehawks to the school's first ever boys basketball title in the Annual Steve Glouberman Tournament in November, along with a historic
CIF playoff run in February that drove them to the quarter-final round in Division 3A, and a back-to-back title at Yeshiva University's Red Sarachek Tournament in March.
Coach Coleman was also named Jewish Hoops of America Coach of the Year for the 2017-18 season.
Players said they would miss Coach Remer, but hoped the addition of Coach Coleman can enable the team to reach new heights. They said they felt the same way about Coach Ronnie "Flava" Winbush, who led the girls until Remer took over for the 2017-18 season.
"We loved Coach Flava, we loved Coach Remer, and now we have Coach Ryan," said senior star guard Kiku Shaw. "He's worked with us a couple times in the past, and we absolutely loved it."
Kiku said Coach Ryan is teaching girls how to play situational basketball — what to do when — in addition to working with them to master the basics.
"Last year we focused on fundamentals," Kiku said. "But this year it's not just about the fundamentals. It's also about building our general basketball IQ."
Senior star guard Maital Hiller said Coach Ryan has scheduled more practices this year than the team had last year at this point in the season. She thinks they'll pay off.
"Ryan is pushing us harder as a team," Maital said. "I'm really excited for what's in store for the upcoming year."
The team is very optimistic about winning more games this year, and have set their sights on their second-ever Glouberman Tournament championship title this year. Last year, the team went 21-6 in the regular season, but lost in the quarter-final round of the Fourth Annual Steve Glouberman Tournament in November to the SAR Sting 55-27.
"I think the other teams should be scared," said junior forward Hilla Lasry. "I think Coach Ryan is gonna teach us really good plays. We're gonna be really well conditioned, and we're gonna be able to see the court differently."
Meet the Writer
Alex Rubel, Senior Editor
Alex joined the Boiling Point as a staff writer in his sophomore year, rose to Sports Editor in his junior year and is serving as both Sports Editor and Senior Editor this year. Aside from journalism, Alex loves playing and watching sports, flying planes and following the stock market.