New chesed director is also an athlete
Malkie Hametz has run half-marathons and practices yoga, pilates and boxing
Running marathons and finding zen in yoga are two hobbies of Mrs. Malkie Hametz, Shalhevet's newest Tanakh teacher and new director of chesed, or community service. 
A third is boxing.
Introduced as "the Lebron James of chesed" on the first day of school by Principal Mr. Daniel Weslow, Mrs. Hametz said boxing classes help her stay both mentally and physically healthy.  Mr. Weslow introduces all new teachers by comparing them to pro athletes, but in this case, it fit more than usual.
"I've never seen exercise at odds with being a kind, genuine, and giving person," said Mrs. Hametz, who is known to many students from having taught at Gindi Maimonides Academy for five years. At Shalhevet, she is teaching ninth- and 10th-grade Tanakh.
"
Very often this exercise if perceived to be a more aggressive sort of activity, but I find it to just be healthy and it makes you a better and happier person.
— Malkie Hametz, Mashgiach Ruchanit/Chesed Coordinator
She acknowledged that boxing had a different reputation than running, yoga or pilates.
"Very often this exercise is perceived to be a more aggressive sort of activity," she said, "but I find it to just be healthy and it makes you a better and happier person."
Mrs. Hametz will also serve as Shalhevet's newest mashgicha ruchanit, responsible for religious guidance and supporting students' emotional and spiritual well-being. 
Mrs. Hametz started running while in seminary at Darchei Binah in Jerusalem, and began focusing on it more seriously in college. At Stern College for Women of Yeshiva University, she joined the cross-country team and competed against colleges up and down the East Coast.
Then she started training for marathons. In 2011, she ran the Miami marathon in 4 hours, 11 minutes. 
"I actually placed fourth in my age division,"  she said, "so I got this special really cool medal that they sent me."
In 2012, Mrs. Hametz ran in a half-marathon to raise money for Chai Lifeline, pushing her camper in a wheelchair for the majority of the race. 
"It's really nice to run for a great organization that you believe in because there is so much support and encouragement every step of the way," she said.  "There are coaches available to help you train, a pasta party before the race to load up on carbs, a fun barbecue after, and just really great camaraderie."
She ran another half-marathon in 2015 with her sister. 
Now with a two-year-old son, Mrs. Hametz has found time for running hard to come by. She got more involved in yoga and pilates, and now takes boxing as well. 
"I find it to be so cathartic, punching things and kind of getting out your aggression in a positive and healthy way," she said. 
Mrs. Hametz grew up in Monroe, N.Y., 10 minutes away from a Kiryas Yoel, a Satmar Chassidic community of more than 50,000 people north of Manhattan. Her grandparents owned a summer camp there, and Mrs. Hametz learned to love having 500 kids playing sports and games in her backyard during the summer months.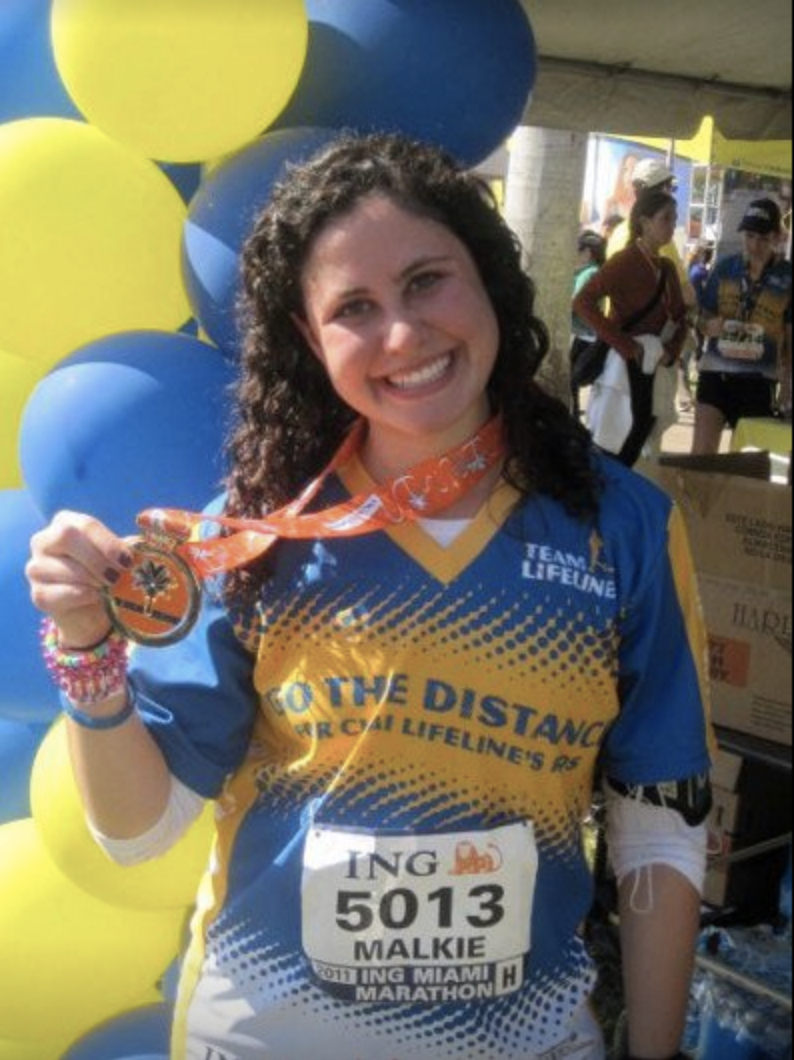 To be able to connect with them, she took it upon herself to learn Yiddish in high school, and still can speak the language. 
"I wear sandals, I don't dress or speak like the Chassidic community," she said. "But just having that shared point in language, I found that I was more welcomed, and the Chassidic community was more open to me being there." 
Mrs. Hametz jumped into her teaching career after running summer programs and Judaic learning sessions for NCSY, saying it just felt natural to her to teach. She moved to Los Angeles for her job at Maimonides in 2014, and started out by serving as a Judaic teacher for third grade.
She received her masters degree in education two years ago at American Jewish University, in the same program and classes as Rabbi David Stein. 
Mrs. Hametz expects her students to put their best efforts into school, both in class and for assignments in general. And here's some advice: Mrs. Hametz says that if she sees a student working la'amol baTorah — meaning that they work and really invest themselves in the Torah — she's more lenient.
"As a teacher, I'm incredibly frustrated by students who put in zero effort and are just not trying," Mrs. Hametz said. "If they don't succeed then that's okay, but I would much rather a student work to do their best and work to put their best foot forward each and everyday in class than to kind of give up."