Refurbished and 'cured,' student lot to reopen Monday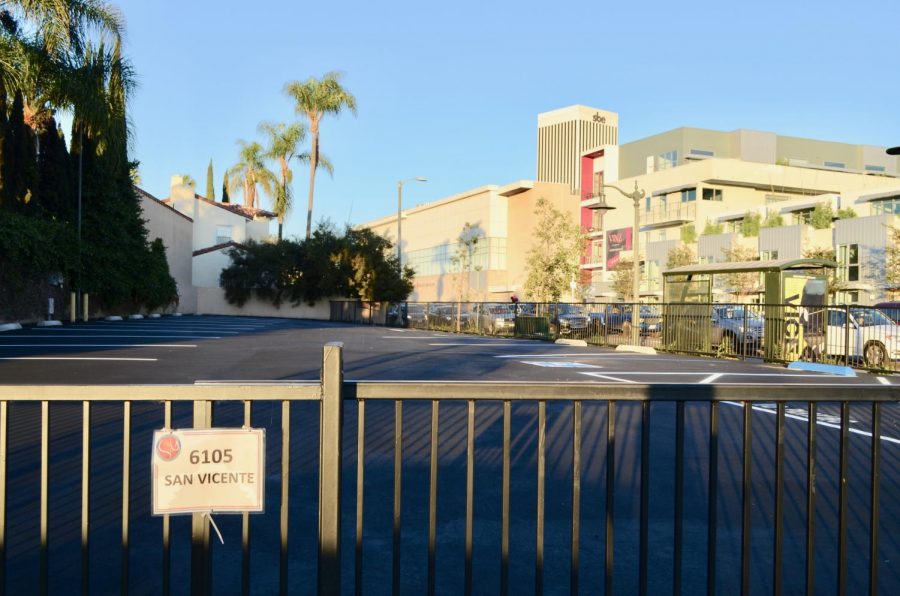 After longer-than-expected delays, the fence is up, the pavement sealed and the long-awaited student lot will finally be reopened to students next Monday, ensuring parking for all seniors and possibly some juniors, officials said today.
The most recent delay involved the lot's new asphalt surface. Paving was completed Oct. 25, but officials said it needed to cure for a month before it could be sealed.
According to Facilities Manager Lili Einalhori, that process was completed Tuesday.
Principal Mr. Daniel Weslow said the wait until Monday is so seniors can fill out appropriate paperwork and receive parking passes.
The lot was originally expected to open with the start of the current school year, but then was delayed until after Sukkot, then until late November, and finally now until next Monday, Dec. 10.
But meanwhile, the parking lot belonging to Tom Bergin's tavern, Shalhevet's neighbor to the north, has been rented by the school with 23 spots for seniors. All overflow seniors will be allocated spots in the new lot, Mr. Weslow said.
The principal said remaining spaces in the student lot would likely be divided among 11th-graders and faculty who do not have parking spaces now, and that priority could be decided the same way it was decided for the Bergin's lot.
"We're not going to have enough spots for all 11th-graders to have parking, there's no way," said Mr. Weslow. "But we'll probably do something similar, with the raffle."
He said in an interview that after it's been open for a week, officials will have a better sense of the number of remaining spots, and he will meet with the Agenda Committee to decide who will get them.
The old and about-to-be-opened Shalhevet student lot, which sits on the northwestern corner of San Vicente and Fairfax, is now refurbished with a new black steel fence and repaved asphalt. There are 17 newly painted spaces.
According to Mr. Weslow, the administration will aim to make the rules for the new lot as similar as possible to those enforced in the Tom Bergin's lot, for the sake of fairness.
"The parameters for parking in lots should be relatively similar, both in terms of time allowed on lot and hours of operation," Mr. Weslow said. "However, I don't have the specifics for the lot across the street at this time."
---
"The parameters for parking in lots should be relatively similar, both in terms of time allowed on lot and hours of operation.
— Mr. Weslow, Shalhevet Principal

---
Currently students can park in the Tom Bergin's lot from 8 am. to 5 pm. on weekdays.
The lot was last used by students four years ago when school was still being held in the old building — a former convalescent hospital that stretched all the way to San Vicente Boulevard.
After that, it was used by Alliance Residential to house construction trailers while the Vinz, the apartment complex that neighbors Shalhevet, was built. As part of the agreement with the school, Alliance agreed to return the lot in better shape than when they received it.
But before refurbishments could begin, the project needed approval from the Carthay Circle Historic Prevention Overlay Zone Committee who were concerned about whether the fence and landscaping would conform with their standards.
Once the project received approval on Sep. 7, construction began.
So far, 23 seniors have been provided parking since Sep. 12 when Shalhevet began renting out the parking lot of Tom Bergin's. The administration decided that the spots would be allotted among seniors.
There were 26 seniors who wanted spots, however, so senior class presidents Talia Abel and Tara Chriki held a raffle to see who would get the spots for the three months prior to the new lot opening.
Today, a new raffle was held. This time only 20 spots in the Bergin's lot were offered due to a new dumpster in the back of the lot. This left six students who did not win who will get to park in the new student lot — a few steps further from school than Bergin's, but still better than having to park on the street or at the Petersen Automotive Museum.
"I'm happy to having a parking spot at all and not have to worry about parking on the street, even though it will take a little longer to walk to my car," said senior Aaron Weisel.
Senior Eva Suissa, who also will be parking in the student lot, agreed.
"I'm sure it's going to be a little bit more of a schlep," said Eva, "but I'm grateful the school is making it available to us regardless, because the latter of not having any parking spot is very stressful."
Meet the Writer
Jacob Joseph Lefkowitz Brooks, Editor-in-Chief
Some people have to discover their interests; others have no choice but to follow them. Jacob Joseph Lefkowitz Brooks has been a member of the Boiling Point staff since the first semester of his freshman year. He soon found a love for journalism and became the paper's Arts & Culture editor the next semester, moving on to Features editor in his sophomore year, and Community Editor and becoming a member of the BP's Editorial Board his junior year. Jacob is now the paper's Editor-in-Chief as well as director and creator of its forthcoming new magazine. Jacob is an avid moviegoer as well as a diehard fan of the Toronto Blue Jays and Raptors.