Girls championship run halted after defeat in semi-finals
A disappointing loss in the semi-final round of the 4th annual Steve Glouberman Basketball Tournament ended up silencing the loud and optimistic Firehawk crowd as the SAR Sting from Riverdale, N.Y., routed the Firehawk girls 55-27 on their own court.
The game, which determined which team would advance to the tournament championship, was played in the Shalhevet gym Saturday night, Nov. 3.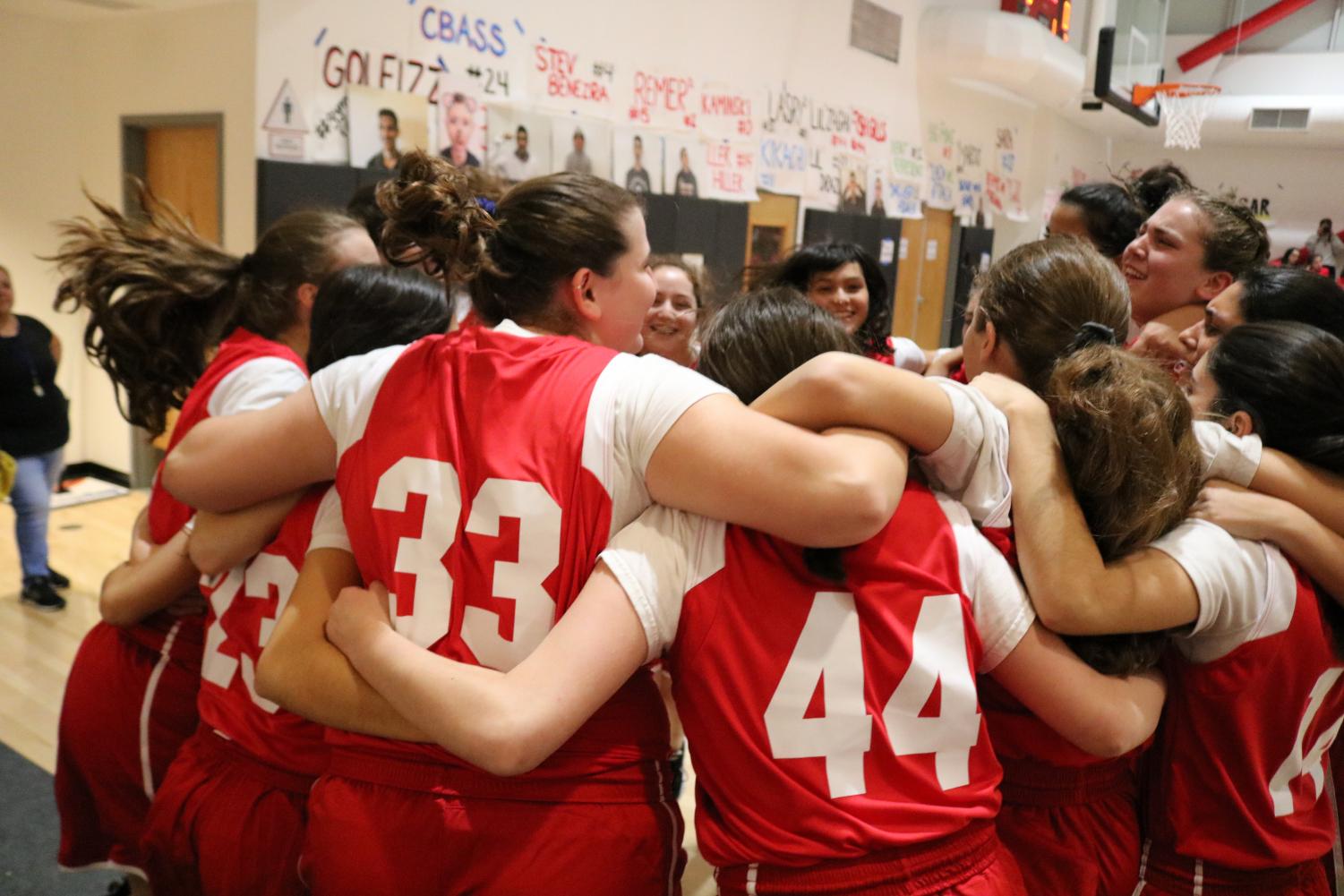 Firehawk players were disappointed in the team's performance that night.
"We were fouling and making careless mistakes with our ball possession and they were capitalizing on all their opportunities," said Kiku Shaw, star guard and Shalhevet junior. "The first few minutes of the game we were unable to get points,"
Going into the semi-final game, Shalhevet was undefeated in the tournament, seemingly unstoppable through their first three contests. But even though they lost by a large margin, players said the defeat wasn't so surprising. Co-captain and forward Talia Abel said that the Firehawks' earlier victories came against weak competition, whereas SAR posed a bigger challenge, partly because their players were taller.
"SAR was on our level if not better than us," Talia said.
Before the semi-final loss, the Firehawks — at least on paper– had played flawless basketball.
Throughout the first three games of the tournament, the Firehawks defense had held their opponents to an average of less than 20 points a game, holding the Yula Girls Panthers to 14 points, the Kushner Cobras to 16 points, and the RASG Warriors to 28 points, respectively. Additionally, Shalhevet was averaging 52 points per game scored coming into the semi-final match against SAR.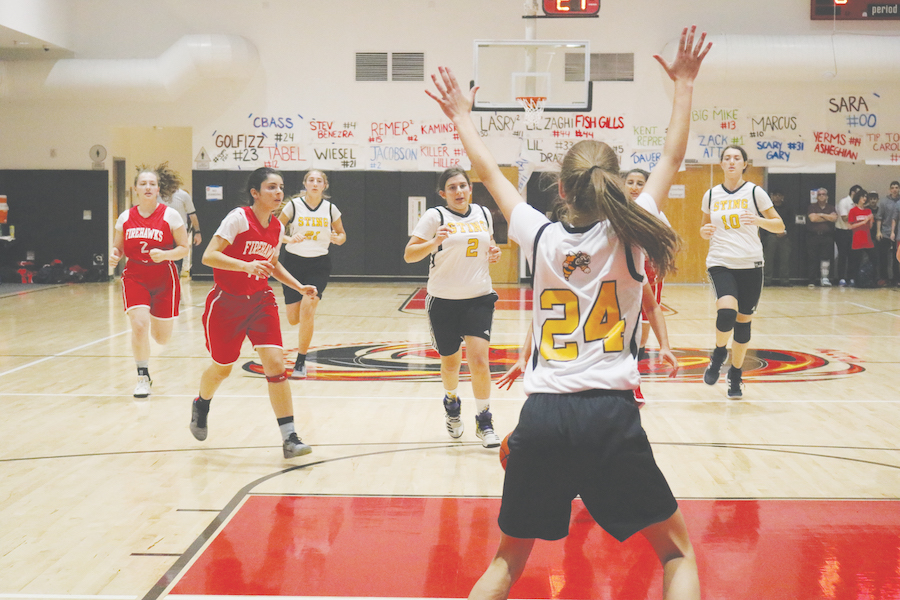 But straight off of the opening tip-off, SAR was dominating, with a 7-0 run to start the game, shutting down Firehawk top scorers Kiku and star Firehawk point guard Maital Hiller. Maital finally ended SAR's run with a steal and layup with 4:50 remaining in the 1st quarter.
By halftime of that game, SAR was winning 26-13. Firehawk coach Jeff Remer said the reason they were losing was inconsistent shooting.
"At that point in time we had missed eight layups," said Coach Remer. "We make seven of them, that's 14 points, we're up by a point in the game."
Unable to score or slow down SAR, the Firehawks were trailing 41-18 at the end of the third quarter.
This downward trend for Shalhevet continued throughout the rest of the game, only scoring nine points in the 4th quarter, and led to their eventual loss 55-27 and elimination from the Glouberman Tournament.
---
"We were fouling and making careless mistakes with our ball possession and they were capitalizing on all their opportunities.
— Kiku Shaw, 11th grade shooting guard

---
Players said the blame lies on the team, not on certain players or the coach, Jeff Remer.
"People will blame him because they don't want to take responsibility for their playing," said Talia. "But I definitely don't think it was his fault."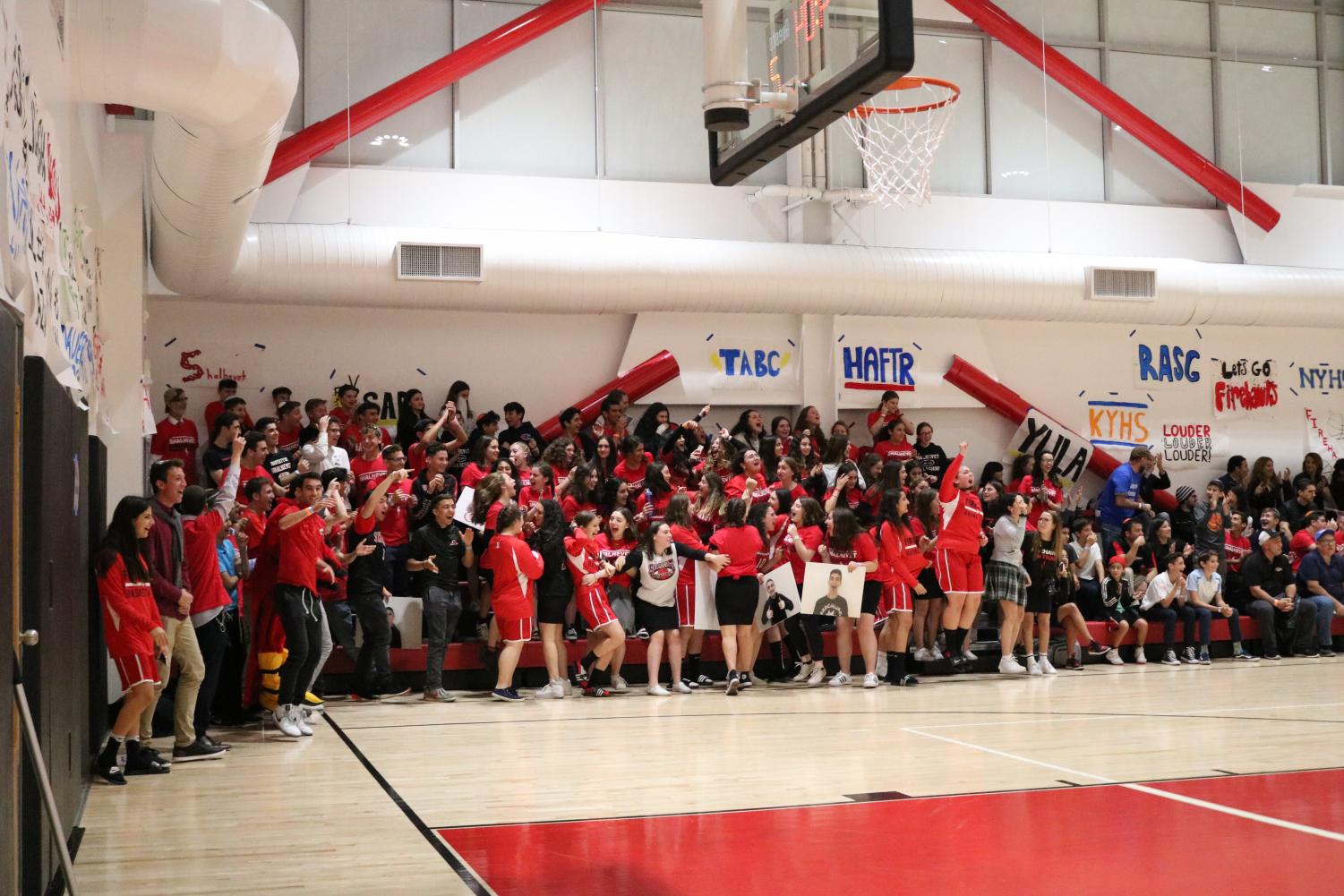 In addition to offensive and defensive woes, players said their press defense, which had been huge for the Firehawks in previous games, failed against the more skilled SAR Sting.
As an example, Maital said players like SAR guard and Glouberman girls MVP Adira Orbach kept breaking through small holes.
"Our shots weren't hitting," said Maital. "We tried pressing against the SAR Sting and they kept breaking through our press and scored a lot of easy fast breakaway layups. As a team, we should have decided to stop pressing and play a box-and-one."
Offensively, Shalhevet wasn't in the game. They went from scoring 60 points the game before to only having 27 during the semi-final. An important factor in their underwhelming offensive play was the SAR defense.
"Defense was huge," said Coach Tali of SAR. "We were really able to shut down Shalhevet's top scorers."
Led by Samantha Horowitz, Sophia Reich, and Adira Orbach, the Sting went on to beat the Frisch Cougars in the championship game of the tournament 57-39 to win their first ever Glouberman championship.
---
CLICK HERE FOR MORE ON THE GLOUBERMAN TOURNAMENT
---
Leave a Comment