Deadly Woolsey Fire hits Jewish camps, schools, homes
Shalhevet teachers are among 250,000 evacuated
The Woolsey Fire ravaged Simi Valley, Agoura Hills, Calabasas, West Hills and Malibu, resulting in thousands of home evacuations, destroyed properties and displaced schools.
Three Jewish summer camps were destroyed, and buildings were burned at the Ilan Ramon Jewish Day School in Agoura Hills and Mesivta of Los Angeles in Hidden Hills. More than 250,000 people were evacuated from their homes in the areas of Calabasas, Agoura Hills, Malibu, Topanga Canyon and elsewhere. Three people were killed in the fire, according to fire department reports.
Mesivta of Los Angeles, a boys boarding yeshiva in Hidden Hills, was evacuated and a mobile home for staff there burned down. The campus was right in the heart of the fire.
"There were 40-foot flames outside of our school building that could have eaten up our school building pretty badly — could've destroyed it, maybe more than that," said Rosh Yeshiva Rabbi Shlomo Gottesman.
"We had the hand of Hashem," Rabbi Gottesman said in an interview with the Boiling Point. "Because [a] paramedic drove into the school to see what's going on, saw that the 40-foot flames were eating our school building, and attached his hose to our fire hydrant and put out the fire."
Evacuated for 11 days beginning Nov. 8 — first for the fire and then for a power outage — the school used Adas Torah synagogue on Pico Boulevard for classes. Of the school's 62 students, many were able to stay in their homes in the Pico area. Seven students who live outside of Los Angeles stayed with friends or with Rabbi Gottesman.
---
"It's crazy to have that many people lose their homes and be displaced. We're thankful that it didn't affect us outside of having to leave our home

— Ryan Coleman, Athletic Supervisor

---
The school plans to clear debris and buy a new mobile home to replace the one that burned, he said.
While burned buildings — and the burning of a whole town and overwhelming loss of life in Northern California's Camp Fire — dwarfed the suffering closer to home, members of the Shalhevet community evacuated from Agoura Hills and Calabasas experienced disruption and fear memories."
Basketball and football coach Ryan Coleman was evacuated on Sunday, Nov. 11 for three days. He and his three children stayed at his parents' house in Woodland Hills — along with two other families.
Coach Coleman said he was more annoyed than scared by the ordeal, but found some humor in it, too.
"When you tell a seven, nine and 11-year-old to grab the five or 10 most important things to them, it turns out to be a comedy show," Coach Coleman said. "The seven-year-old brought all dolls; the nine-year-old son brought two basketballs, his favorite basketball shoes, his Playstation and his headset; and my 11-year-old daughter brought all clothes.
"I told them to bring toiletries and my son came out with five rolls of toilet paper," he added.
He knows two families whose homes in Malibu burned down.
"It's hard, it's super devastating," he said. "It's crazy to have that many people lose their homes and be displaced. We're thankful that it didn't affect us outside of having to leave our home."
Trying to help out, Shalhevet opened its gym to the basketball team of Calabasas High School, which practiced at Shalhevet on Nov. 12 and 13 while its home gym was closed.
Calabasas High is 26 miles from Shalhevet, but Coach Coleman is their basketball team's Head of Business Operations and strength trainer, and runs their club basketball team.
"Even though it's kind of a trek from Calabasas, we're really thankful that we have a place to practice because our season starts in two or three days and we have no gym at home," said Calabasas senior Andrew Treiger, who was evacuated but whose house suffered no damage in the fire. Calabasas High School also escaped the blaze.
"Luckily we're all safe, thank God," Andrew said."It's good that we're all safe, but it's a tragedy what happened to our community."
Additionally, at least one day school and two camps reporting significant damage in the blaze. The Ilan Ramon Jewish Day School in Agoura Hills; Camps Hess Kramer and Gindling Hilltop in Malibu; and the Shalom Institute, home to Camp JCA Shalom in Malibu; all suffered minor or extensive damage.
Finally back in an area with service. This was off the PCH at Yerba Buena Road. Looks like a house on fire. There were many still standing but a few on fire along the PCH. Power lines on fire and downed power lines everywhere. Treacherous conditions over there. @ABC7 #WoolseyFire pic.twitter.com/nmJBL3d8zL

— Veronica Miracle (@ABC7Veronica) November 10, 2018
The fire at Ilan Ramon Jewish Day School, a progressive Jewish elementary school, was caught on KCBS Channel 2 news, which broadcast live as the school's computer lab, server room and administrative building went up in flames, along with a kindergarten bathroom, storage facilities and gaga pit.
According to Head of School Mr. Yuri Hronsky, Ilan Ramon has not held classes or been able to go back to their campus and is working out of Temple Etz Chaim in Thousand Oaks. Classes will resume at Temple Etz Chaim Nov. 25, he said.
"We're not able to be on campus until the fire remediation is done," said Mr. Hronsky, "so that will take
a couple weeks for them to deal with the smoke, remove the debris, clean the classrooms and make sure everything is safe.
"We have to make sure that before any single child comes back to campus, we have to make sure it's properly cleaned."
Still, it could have been worse, he said.
"The amazing thing is that the classrooms survived," he said. "They just need to be cleaned. Yes, the kids go to the computer lab, but we'll figure that out."
Mr. Hronsky said evacuating from their homes was stressful for his students, who range in age from kindergarten to grade 5.
---
"I see all the fire around me. All the mountains are all black until the rain will come.
— Michal Davis-Bryski, Hebrew Language Teacher

---
"A huge percentage of our school was evacuated," Mr. Hronsky said. "The kids have gone through a lot of different types of challenges and trauma, from the personal of being evacuated from their homes to watching the school go up in smoke on live television. It's good to be back together and for them to see each other."
The school has started a GoFundMe page to raise money for rebuilding, which raised over $50,000 in its first 10 days.
Camps Hess Kramer and Gindling Hilltop, also in Malibu, share a campus as they are both affiliated with Wilshire Boulevard Temple. The campus suffered significant damage.
"We're not at the rebuilding stage yet," said Erica Feinman, the camps' assistant director, in an interview. "Right now we are really just trying to make sure that the community is okay and we have a place to have camp this summer."
They are in communication with boarding schools, college campuses, and boys' and girls' scout camps, she said.
"We are two camps so we are looking for somewhere with capacity for 500 people, which is a big ask for some of these locations," Ms. Feinman said. "But we've got a list and we're making connections and trying to be really creative in what we can make this summer look like."
The Shalom Institute, home to Camp JCA Shalom — and where Moshava Alevy (formerly Moshava Malibu and Moshava California) first started before moving to a permanent campus in Running Springs — also suffered critical damage.
"It is significant and devastating," said a statement on the Shalom Institute's website. "We now know that nearly all of camp's buildings were destroyed."
Spokesmen for the Shalom Institute could not be reached for comment.
Kadima Academy and de Toledo High School were evacuated but did not suffer any damage.
According to cbsnews.com, as of Nov. 19, there are 1,452 structures destroyed, 337 damaged properties and 3 confirmed deaths as a result of the fire.
The fires are 91 percent contained, with full containment expected by Nov. 22, even those who lost nothing have plenty of reminders around them for the time being.
"I see all the fire around me," Morah Michal said. "All the mountains are all black until the rain will come."
Leave a Comment
Meet the Writer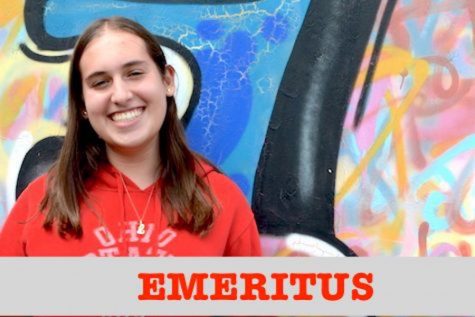 Clara Sandler, Co Editor-in-Chief Emeritus
Clara Sandler was co-editor-in-chief during the 2018-19 school year and then studied  at the Midreshet Lindenbaum seminary in Jerusalem.  She is now a junior at the University of Chicago.