Ilan Ramon Jewish day School burns in Woolsey Fire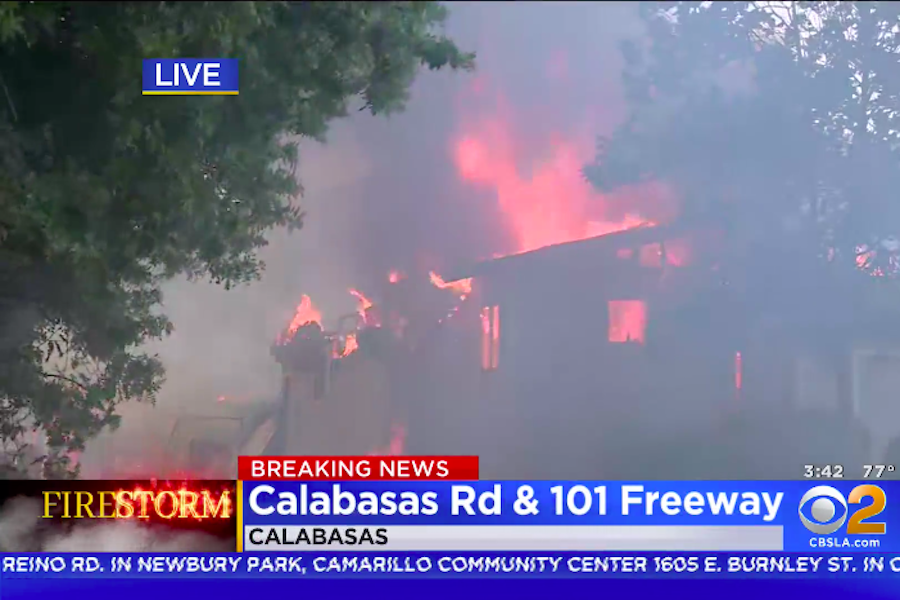 An Agoura Hills Jewish day school named after the Israeli astronaut who died in the 2003 explosion of the Space Shuttle Columbia faced its own fiery loss on Friday.
The Ilan Ramon Jewish Day School was seen in flames on television news reports Friday, a casualty of the Woolsey fire, which has prompted the closing of the 101 highway and the evacuation of Malibu.
A reporter for KCBS Channel 2 news said "back buildings" on the campus were still standing, but a few minutes later said that firefighters were not trying to save it, focusing instead on homes very nearby.
Opened in 1994, school teaches about 130 children from kindergarten through 5th grade.
According to its website, the school is a "community Jewish day school with an integrated curriculum focused on critical thinking, community involvement, the values of Judaism, and a personal connection to Israel."
There had been no reports of damage at other Jewish schools in the area as of Shabbat. However, DeToledo High School in West Hills was closed as a precaution Friday due to the flames.
Ilan Ramon, the first Israeli astronaut for NASA, was a fighter pilot who won multiple awards including being the only non U.S citizen to win the Congressional Space Medal of Honor, which he was authorized posthumously after he died re-entering the atmosphere in the space shuttle Columbia's final mission on Feb. 1, 2003.
Meet the Writer
Jacob Joseph Lefkowitz Brooks, Editor-in-Chief
Some people have to discover their interests; others have no choice but to follow them. Jacob Joseph Lefkowitz Brooks has been a member of the Boiling Point staff since the first semester of his freshman year. He soon found a love for journalism and became the paper's Arts & Culture editor the next semester, moving on to Features editor in his sophomore year, and Community Editor and becoming a member of the BP's Editorial Board his junior year. Jacob is now the paper's Editor-in-Chief as well as director and creator of its forthcoming new magazine. Jacob is an avid moviegoer as well as a diehard fan of the Toronto Blue Jays and Raptors.
Molly Litvak, Community Editor
Molly Litvak joined the Boiling Point in her freshman year as a staff writer and quickly fell in love with journalism. She was editor of Outside News in her sophomore year and won national multiple awards for her stories, especially for her report on anti-gentrification protests at Asher Caffe in Boyle Heights. Outside of writing and editing for the Boiling Point, Molly is a member of Shalhevet's Model Congress and Mock Trial teams, and serves on the teen board of Friendship Circle, where she has been volunteering since middle school.