Firehawks face Milken tonight in historic CIF championship game
First time two Jewish schools will compete to win division
For the first time in history, it is a certainty that a Jewish school will win the CIF Southern Section 4A basketball division. That's because the Shalhevet Firehawks will be playing the Milken Wildcats in tonight's championship game, the first time the two teams have advanced this far in the same year.
According to Athletic Director and basketball coach Ryan Coleman, this is the first time that two Jewish schools are facing off in a CIF championship game, and it could also be the first CIF championship that Shalhevet will have ever won.
Shalhevet has a 26-7 record, while Milken went 21-6, so tonight's contest is a home game for the Firehawks. But it will be played at Crespi Carmelite High School in Encino, because neither Milken nor Shalhevet has the capacity to fit all the fans, CIF officials told the schools.
Students can pay $10 for a bus ride to the game along with pre-game barbecue, a t-shirt and water, organized by the rakazim and Student Activities Committee Director Raizie Weissman.
Shalhevet's and Milken's choirs will combine to sing the Star Spangled Banner and Hatikvah at the game.
The two teams have not met yet this season. But Shalhevet has won the Milken Classic basketball tournament three years straight, this year defeating Mary Star of the Sea 58 – 43 on Dec. 1.
Tonight's game could not have come at a more inconvenient time for the Firehawks. The boys basketball team had been preparing to leave this morning for the annual Red Sarachek Basketball Tournament at Yeshiva University in New York, where they face off against 19 other Jewish high schools from across the country.
Flights have been changed and special arrangements made to accommodate both the championship and the tournament.
"We worked very hard and diligently to make sure that it would be sometime on Wednesday so that we could get on a flight sometime on Thursday," said Coach Coleman.
"[The flight] is quite an issue," he said, "It's tough to get 16 people on the same flight to New York at the last minute."
The Firehawks are seeded third at Sarachek, and teams who are seeded in the top four are not playing until Friday anyway. YU was accommodating and gave the Firehawks the latest possible game on Friday, so the they can have time to fly in and practice, the coach said.
Milken doesn't play at Sarachek because it isn't invited, said Coach Hurwitz, because Yeshiva University only invites schools that have numbers of alumni who attend that university. Milken does not.
Still, Coach Coleman, Assistant Coach Hurwitz and team players all agreed that the CIF championship game is of higher priority. The Firehawks moved from Division 5A to Division 4A this year, skipping over Division 5AA, making it even more of an achievement if they win.
"I want to compete against top-tier teams and we've never been this far before, and it would make Shalhevet history," said Firehawk senior Sammy Ellenhorn, who plays small forward. "Shalhevet's won Sarachek before, but we haven't won a championship with CIF, much less a higher division CIF."
CIF realigned its divisions this year to account for competitive equity in addition to the school size, according to Coach Hurwitz.
"We're playing at a higher division than we've ever played for any sport and winning would be quite an achievement," said Coach Coleman.
That prospect has made Sarachek less important by comparison.
"Hopefully we're going to make Shalhevet history and win a title on Wednesday night," said Coach Hurwitz, a team alumnus who was co-captain in 2014-15. "I'm not thinking about New York right now, I'm only thinking about what's important—of course the CIF is more legitimate than Sarachek."
Milken played YULA and Valley Torah this year, both of whom Shalhevet defeated.
Senior captain Eitan Halpert is optimistic about the game. He said there isn't one particular player that the team is worried about, but that the Wildcats are bigger and taller than the Firehawks.
"We don't have a true big man so it's going to be hard to defend them and keep them off the boards," said Eitan.
Both Shalhevet and Milken have gyms that can hold 250 to 300 spectators, but tonight's crowd is expected to be around 500. Crespi has a capacity of 1,000, and according to Coach Hurwitz the CIF decided that it would be better to have the championship game at a neutral ground with more space.
Coach Coleman is really focused on winning Wednesday's game and is not going to worry about Sarachek until he has to.
"I will be excited for Sarachek once I board the airplane," he said.
Leave a Comment
Meet the Writer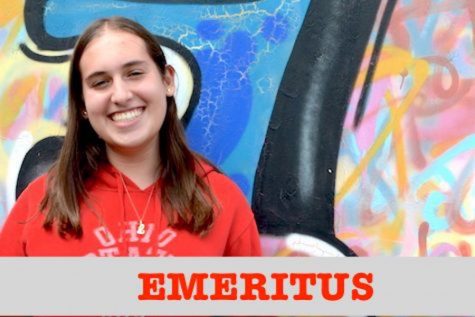 Clara Sandler, Co Editor-in-Chief Emeritus
Clara Sandler was co-editor-in-chief during the 2018-19 school year and then studied  at the Midreshet Lindenbaum seminary in Jerusalem.  She is now a junior at the University of Chicago.