Double tire failure delays return from sophomore chesed trip by more than five hours
Trip resumed at 9:25 p.m. Start of school delayed for sophomores tomorrow until after lunch.
UPDATED: Heading home from a first-ever five-day chesed trip to Arizona, Shalhevet's 10th-graders were met with a transportation malfunction that delayed their return by five-and-one-half hours.
At 3:50 p.m. on Interstate 10 just past the Arizona-California border — at the geographic halfway point and three hours into their predicted seven-hour bus ride – the bus's two right rear tires "became dysfunctional," according to bus driver Jose Larios.
The front one burst and the back one became flat, Mr. Larios told The Boiling Point in Spanish.
Students heard two consecutive "pops" before the bus pulled over to the side of the road.
"I felt a scraping on the side of the bus that I was on, and I started smelling burnt rubber," said sophomore Alex Rbibo. "Apparently our tire is completely destroyed, and we can't continue without it."
The trip did not resume until 9:22 p.m. and arrival was expected by about 12:30 a.m. Monday. Principal Reb Noam Weissman announced sophomores' Monday classes would begin after lunch.
Students had departed from Tempe Beach Park in Tempe, Ariz., at 1:30 p.m. and had been expected home in Los Angeles at 7:15 p.m.
But at 7:30 p.m., the group was still on the freeway near the state line, 232 miles from school according to Google Maps, and the repair had just begun. General Studies Principal Mr. Daniel Weslow announced that school would start for sophomores on Monday at 10:55 a.m.
At first it looked like the delay would be much shorter. At 4:40, Rabbi Derek Gormin, Judaic studies teacher who co-chaperoned the trip, announced that a local repairman was en route.
"He's about an hour away," Rabbi Gormin said.
After Mr. Weslow announced the delay, Rabbi Gormin brought out his guitar and began singing songs like Matisyahu's "One Day" with an energy-filled bus of students.
The bus was carrying an abundance of water and food from an Arizona caterer. But a while later, Rabbi Gormin announced that Yussi Rosenberg, of Chabad of Joshua Tree — the Chabad nearest to their location — would be arriving to provide food, water, and toiletries. He arrived at 7:30 p.m., at the same time as the bus repair crew.
"He's coming to do a monstrous act of chesed," kindness, Rabbi Gormin said, "give us food and water and all of the things we need to keep us happy and safe."
Chesed, or acts of kindness (sometimes translated as community service), had been the purpose of the trip. The 52 sophomores had volunteered at a homeless shelter, a preschool, a Jewish middle school and a home for seniors, among other activities.
Rabbi Gormin noted that more learning could happen on the bus.
"It's a challenge, and it's a time for us to stop and recognize all of the chesed that's happening at this moment,"  Rabbi Gormin said.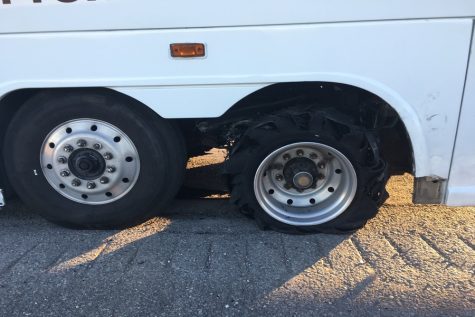 A similar incident occurred last December on the Choirhawks' trip, which was hit with a rear-tire blowout on the way back from its first-ever performance tour to San Francisco.  The group's return was delayed by more than three hours. Sophomore choir members who were on that trip recalled it on this bus ride.
"So when we first heard the popping, me and these other choir girls were a little bit scared that something was going to go wrong," said sophomore soprano Hannah Friedman.
This time it wasn't so bad, she said, because the sophomores had just finished a lunch and Mincha stop when the mishap occurred on the 4th.
"We have enough food and water, and on the choir trip it was a lot worse and this is a much better experience," Hannah said an hour into the delay.
But the choir trip, stopped outside of Los Banos in Central California, was only delayed by three hours.  As of 9 p.m. the sophomore bus was still being repaired — more than five hours after it had stalled.
By 9:15, Hannah had changed her mind.
"I don't stand by that at all," Hannah said. "This is worse, and there's been a lot going on the whole time."
Different bus companies were used on the two trips. The Choirhawks used Ryan's Transportation as their bus company, while the chesed trip used Charter Bus Express of Colton, California.
The sophomores arrived back at Shalhevet at 1:30 a.m.
Sports Editor Clara Sandler and Layout Editor Tara Chriki contributed to this report.
Meet the Writer
Lucy Fried, Co Editor-in-Chief Emeritus
Lucy Fried was co-editor-in-chief during the 2018-19 school year and is now a student at the Hartman Institute in Jerusalem. She will attend UC Berkeley beginning next year.