Buckley says he resigned rather than accept playoff game suspension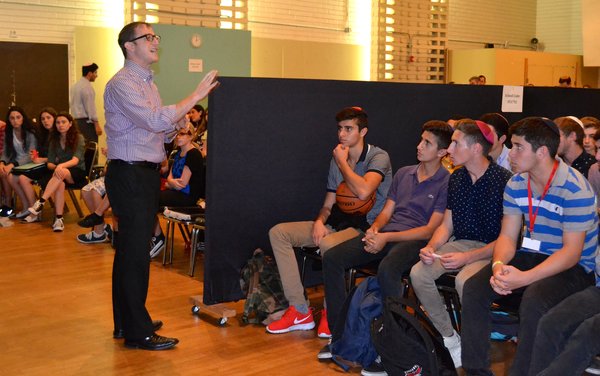 Science and math teacher Mr. Christopher Buckley suddenly resigned Oct. 29, leaving behind Model Congress, Mock Trial and Boys and Girls Flag Football, as well as AP Statistics and responsibility for the school's many bell schedules.
The immediate cause was apparently an administration decision to suspend Mr. Buckley from coaching one of two football playoff games, in response to an e-mail from a rival team that criticized his after-game speech at the Oct. 28 game against Vistamar High School in El Segundo.
The e-mail, a copy of which was obtained by the Boiling Point but without the name of the sender, said it was from a Vistamar staffer who "[tries] to attend all home games."
It accused Mr. Buckley of "boorishness" and made various specific allegations about things he'd said in pre- and post-game huddles, although team members said whoever wrote it would have been standing at least 50 yards away on the opposite side of the field.
"I always check who is around our huddle before I choose the content of my pre-game speeches," said Firehawk co-captain Mati Hurwitz. "I also look around before Coach Buckley's pre-game speeches, and nobody was even close to us."
Neither the athletic director, Jim Drennen, nor the coach of Vistamar, Michael Whitcher, returned repeated phone calls and e-mails from Boiling Point reporters.
Mr. Buckley acknowledged telling the players they'd need to develop a "killer instinct" for the playoffs, and flatly denied other allegations in the letter.
But he said that at a meeting with Head of School Rabbi Ari Segal and Principal Reb Noam Weissman the next day, he was given a choice as to whether to miss the semi-final or the championship game the following week.
According to Mr. Buckley, he chose to resign instead. He said Rabbi Segal did not try to dissuade him; rather, he asked for clarification as to whether this meant the veteran teacher was resigning from all his duties at the school.
"Yes," Mr. Buckley says he replied.
Rabbi Segal and other administrators would neither confirm nor deny anything Mr. Buckley said, saying attorneys had advised them not to discuss specifics of Mr. Buckley's tenure or departure.
But at meetings with students within hours of the resignation, the head of school indicated that he wasn't surprised.  First, he pulled leaders of the football team out of their fourth-period classes to give them the news.
"He said, 'We love Mr. Buckley, we love Mr. Buckley, but it had to happen, and it happened, and it's not going to change,'" Mati told The Boiling Point.
Later, Rabbi Segal spoke to about 100 students gathered in the auditorium.
"I can't name the reasons why he resigned, but obviously he felt wronged," Rabbi Segal said. "I can't tell you more because I can't discuss personnel issues."
Students and teachers, however, were very surprised. After word of the resignation spread through the JCC during 4th period classes, students flocked to the lobby to discuss the news. Some were crying, while others thought Mr. Buckley's resignation was a ruse to announce Color War breakout.
"I was on the verge of tears when I found out," said Mock Trial captain Margo Feuer. "I was so shocked and unsure of what would happen next."
Boiling Point staff attempted to photograph and video the chaotic scene, but Rabbi Segal told them to put their cameras away.
"The Boiling Point is not TMZ,'" Rabbi Segal said, referring to the entertainment news source famous for using paparazzi to photograph Hollywood celebrities.
To move students out of the lobby, he called a school-wide meeting at the start of Mincha, where he agreed to answer students' questions.  He gave no specific information about the resignation, but said he understood students were upset and that Shalhevet co-curriculars would continue as planned.
As the day continued, some teachers found themselves unable to teach.  History teacher Mrs. Tove Sunshine sat at her desk and wept.  English teacher Ms. Melanie Berkey also was crying, and she and Judaic Studies teacher Rabbi David Stein used class time for students to vent feelings.
In the days that followed, Rabbi Segal and Principal Reb Noam Weissman continued to insist—with dismay, they said—that school attorneys advised them not to discuss what had happened.
"I can't comment on the specifics, but whenever a faculty member leaves, it's hard," said Reb Weissman in an interview Nov. 11. "But our school is as strong and positive as ever."
Mr. Buckley joined the Shalhevet faculty in 2003 and at various times taught Chemistry, AP Chemistry, Physics, AP Physics, AP Statistics, Geometry, Algebra, Algebra 2, Pre-calculus, Calculus and Government.
Debate teams under his direction won Best Delegation and hundreds of individual awards at Princeton and Penn Model Congress, where they competed against top prep schools from the East Coast.
This year, after a decade of teaching five or six different courses per year, Mr. Buckley was teaching just one section of AP Statistics.  He retained his coaching and scheduling duties and was given administrative status, with assistant coaches for football and debate.  He also started his second year as faculty liaison for co-curriculars.
Last year, Rabbi Segal cancelled the Debate Team's spring Model Congress trip after students were caught holding "fight club" – same-sex wrestling on beds in student rooms while other students watched – on the team's fall trip to Washington, D.C.
Mr. Buckley was not involved but was accused of not having done enough to prevent it.  The spring trip was reinstated after an outcry from alumni and parents.
On the day he resigned, Mr. Buckley said, one other thing came up.  According to Mr. Buckley, Rabbi Segal accused him of lying about the cost of football jerseys that he ordered.  Four jerseys were ordered, three at one price and one at another.
One of them was a new jersey for junior Boaz Willis, because Rabbi Segal found his jersey number to be sexually suggestive and thus inappropriate.  According to Mr. Buckley, Rabbi Segal said he himself would pay for that jersey, and when Mr. Buckley told him the amount, it contained the same suggestive number that was on the jersey.
The Boiling Point has seen the invoice and confirmed that the amounts were determined correctly.
"He said I played a very disrespectful joke on him, which was not true at all," said Mr. Buckley. "He wouldn't hear any explanation."
He resigned because of the combination of that accusation and the football playoff suspension in the same meeting, he said.
According to Mati Hurwitz, the flag football game against Vistamar, which was last regular game of the season, was more difficult and competitive than any of the previous games.
"We were missing a bunch of players because of injuries, so it was much closer than usual," said Mati. When it was over, students were complaining and Mr. Buckley told them they had to toughen up.
Sophomore defensive linebacker Eli Greenberg did not think Mr. Buckley's language was overly aggressive.
"He got us all down on a knee and told us that he's happy with the win, but didn't think we played to our full potential," said Eli.
"He said that if we want to win the championship then we're going to have to play with a killer instinct, want to kill the other team and stuff like that, but I don't think he meant it literally."
Players thought that Mr. Buckley was enthusiastic for the win and excited for the next game .
"It's a post-game victory speech, nothing to it, there's nothing to say about it," said Mati. "It's a thing that you do in any sport."
Mr. Buckley thought his speech was similar to his previous ones.
"The speech wasn't unusual in the sense that I've done this before, but I've only had to get really fired up once or twice before," Mr. Buckley said.  "I admitted [to Rabbi Segal] to using warlike language because that's what coaches do and there's nothing wrong with that.  Vistamar was pushing us around physically and dominating the game."
Coaches and players around the league defended Coach Buckley, as did Firehawk team members.
"You had a great coach and you guys were really organized," said Coach Reuben Morales of Crossroads, the team Shalhevet beat in the championship game Nov. 4. "We tried our best, but you got three or four touchdowns, so great coaching."
YULA defensive lineman Austin Marshak played Shalhevet twice this season.
"From what I've seen, I don't think Mr. Buckley's behavior was worth a suspension," said Austin. "Every coach has gotten a little carried away during a pregame speech, and he seems like a really devoted guy."
New Community Jewish High School linebacker Yair Schmeltz also remembered him.
"He didn't seem like the nicest person, but I don't think he was worse than any of the other coaches," said Yair.
Mati Hurwitz said he didn't understand why Rabbi Segal accepted Vistamar's allegations. Since administration would not comment, it was impossible to know.
"I don't think anything Buckley did was a big deal," said Mati. "There were a handful of coaches that were more offensive than he."
In the end, a one-game suspension was pretty much what happened.  During the first playoff game, Oct. 30 against New Jew, Mr. Buckley stood on the sidelines, holding the yard-line marker.
Shalhevet won that game, and Mr. Buckley was brought back briefly to coach the championship against Crossroads on Nov. 4, which the Firehawks won 26-19.
Vistamar lost to Crossroads in the semi-final.