For Israeli teens, two-state solution is a fading dream
Most still support Israel and Palestine living side-by-side, as peace talks fail and calls rise for single democratic state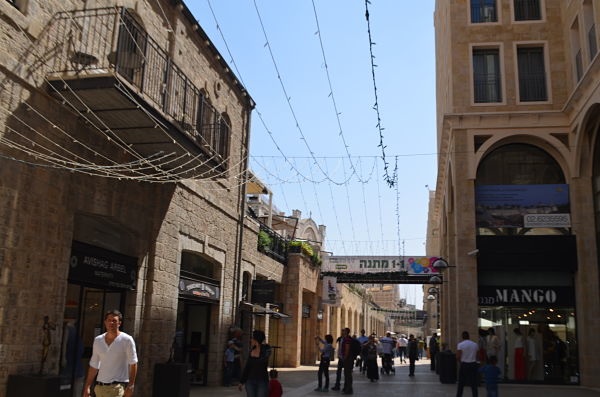 Israeli teenagers seem to believe in a two-state solution to the Palestinian-Israeli conflict, but with varying degrees of enthusiasm. Some feel it should have happened 35 years ago, while others are hesitant about the prospect even today.
And some wish for it but don't believe it will arrive.
"It's just that so many people have tried to solve this problem, and they have all failed," said David, a 15-year-old Israeli from Raanana who was enjoying a day at the mall with friends.
"It is really sad to say that it will never be resolved," he continued, expressing the pessimism that he said many friends shared. "But sadly, I cannot see this being solved, by a two-state solution or anything else, in my lifetime."
Interviews with nine Jewish teenagers in Jerusalem just before peace talks collapsed last month painted a diverse picture of their views on a two-state solution, colored by the military service each of them was anticipating. (All Israelis join the army, for either two or three years, when they turn 18.)
It was April 24, three days after Passover had ended, and a lively group was busy enjoying chametz and finishing spring break with some shopping at the Mamilla Mall, right outside the Jaffa Gate to the Old City.
It was also just a few hours after Fatah, which controls the West Bank and had been in peace talks with Israel, announced an alliance with Hamas in Gaza, a development which later caused the Israeli cabinet to vote unanimously to end talks. That did not play a role in the teens' opinions because it was so recent. (See box below.)
Yet David's pessimism was quite common. The Israeli-Palestinian conflict is something that they all were born into, and a solution has not been in sight in their lifetimes. Perhaps for this reason, every teenager had a general reluctance to be discuss the idea of the two-state solution, and none would be photographed or reveal a last name.
Yotam, a 17-year-old living in Jerusalem said he saw what he called a "realistic" necessity for a two-state solution, but a religious hardship in giving up parts of Israel because of their historical resonance.
"Even though I understand that it is the only real option," Yotam said, "sometimes it is hard for me to think about giving away Judah and Samaria, with all the Jewish history that has occurred there."
Avner, a self-described secular Israeli who lives near Tel Aviv, was reluctant to give the West Bank to a Palestinian state.
"My main concern is the safety of this country," he said.  "I am scared of a terrorist group in the West Bank being able to use it as a launching pad to kill Israelis, like Hamas does in Gaza."
Still, Yotam and Avner described shared the opinion that a two-state solution was the best option Israel has for the foreseeable future. Ayelet, a teenager from Netanya, agreed and said giving up control of the West Bank would be helpful on many levels.
"I think that [the occupation] is something that most Israelis don't feel very good about," said Ayelet. "When it ends, most Israelis will feel prouder to call themselves Israeli. Personally, I am joining the army very soon, and although I am fully ready to serve my country, I would feel much better about it if not for the occupation."
While most teens interviewed were pessimistic, many forces both within and outside of Israel are working on trying to solve the problem. The second-most popular political party in Israel, Yesh Atid, is full of young politicians who campaign on a platform of achieving a two-state solution by being more willing to freeze settlements, and stand up to the Israeli far right, than the Likud coalition led by Prime Minister Benjamin Netanyahu.
Currently, there is more pressure for a two-state solution than ever before, but for the first time, there is also a push from leftist politicians both within the Israeli Knesset and the Palestinian Parliament for a single, bi-national state that would not be Jewish. Most Jews in Israel and abroad oppose Israel not being a Jewish state, but as each round of peace talks fails, a growing minority in Israeli society believes a two-state solution is unattainable and push for democracy, according to Haaretz.
Ayelet, the teenager from Netanya, actually was optimistic in the final answer she gave, hoping for a better tomorrow.
"Not only do I hope and pray for it, I really feel that a two-state solution will be reached at some point, just because it is the only option. I really want the solution to be reached during my lifetime. I want to die with this [Israeli-Palestinian] problem solved."
But just a few hours after these interviews, peace talks fell apart.