Yeshivah Gedolah covers Sterling's name on its sports pavilion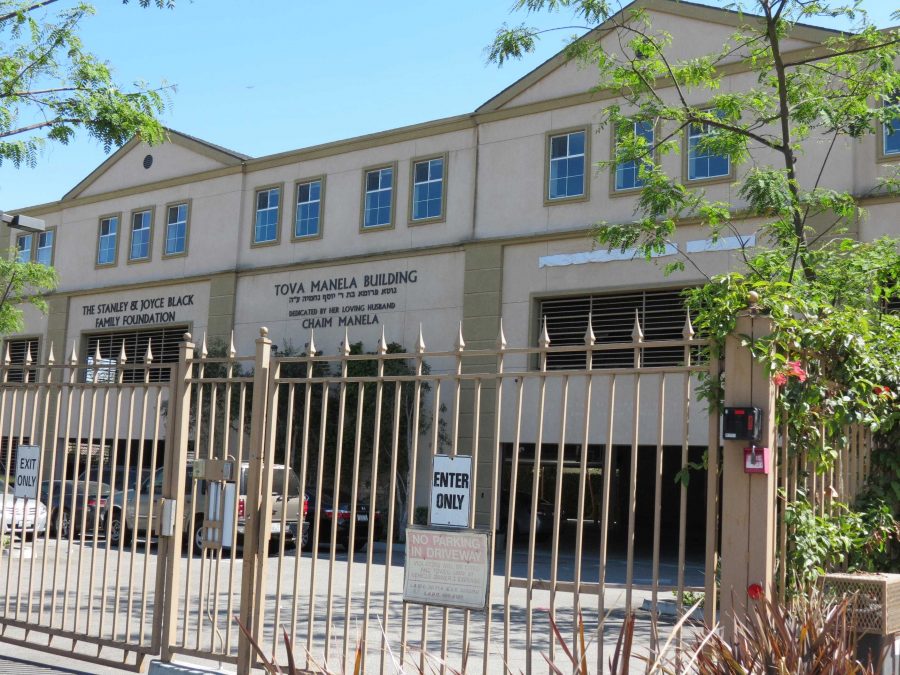 Yeshiva Gedolah of Los Angeles covered up the "Donald T. Sterling Pavilion" sign on its building Monday after news broke of the donor's widely criticized comments to his girlfriend on a recording obtained by TMZ.  The school doesn't "condone his remarks," according to a secretary who did not give her name.
The sign was just above the right-side opening to the parking lot and clearly visible – now covered – from Olympic Boulevard, where Yeshiva Gedolah is located about one mile east of Shalhevet.
A student interviewed there told the Boiling Point it was covered up April 28, as controversy swirled around the LA Clippers owner who was tape-recorded telling his girlfriend not to bring African Americans to games.
Reached by telephone, the unnamed secretary said Rosh Yeshiva Rabbi Eliezer Gross would not comment personally on the issue or on anything regarding Mr. Sterling.  But she added, "We don't condone his remarks."
Mr. Sterling has been a major donor to Yeshiva Gedolah and published photographs of himself with its rabbis and campus in ads in the Los Angeles Times highlighting banquets and other occasions.  The pavilion named for him is a covered parking lot which doubles as a basketball court. It features cooling fans hanging from the rafters and has two full courts with four baskets.
Many Shalhevet students have played ball in Sterling Pavilion, because the popular Paul Young Sports Club summer camp was located there for many years.
According to the Beverly Hills Times, recipients of Mr. Sterling's philanthropy have included both Jewish and non-Jewish charities. Among them are Hamilton High School and eight other public high schools; the Museum of Tolerance; Los Angeles Museum of the Holocaust; Beit Teshuvah alcohol and drug treatment center; Jewish Home for the Aging; Cedars-Sinai Medical Center; the Special Olympics; the Foundation for the Junior Blind; the Black Business Association; Para Los Ninos; and the Union Rescue Mission.
According to huffpost.com, the CEO of Union Rescue Mission said Mr. Sterling's gifts would not be returned.
"We wouldn't want to rob him of the good that he has done in the past," Mr. Bales told HuffPost.  He said it was the "nature of fundraising to take money from "imperfect people," the website reported.
Managing Editor Goldie Fields contributed to this story 
Meet the Writer
Mati Hurwitz, Sports Editor
Mati Hurwitz started writing divrei Torah for The Boiling Point as a freshman and went on to be editor of the Torah section for almost two years before becoming Sports Editor and serving on the Editorial Board as a senior. As Summer Editor-in-Chief in 2014, he oversaw the Boiling Point's Rockower Award-winning coverage of the Gaza War and was one of the winners himself.  Mati loves spending time at his shul and in his community in Valley Village, serving as the gabbai of the Shaarey Zedek Teen Minyan. He plans to attend Yeshivat Har Etzion next year.