Shul and large JCC are now shelters, says Chief Rabbi of Kyiv
Most Jews have already left Ukraine, rabbi says; more food and medicine needed
Purim came to Ukraine yesterday as it did to the entire Jewish world, and was observed at Chabad-Lubavitch of Kyiv with a seudah in a building that has also become both a shelter and a storehouse.

The crowd was mostly elderly and the atmosphere was subdued.  A congregant shared a blessing in Ukrainian: "…for you all, for us and for the world.  Amen.  Purim Sameach." 

According to the Chief Rabbi of Kyiv, Rabbi Yonatan Markovtch, almost 90% of the city's Jews have left as fighting intensifies outside the city and fears grow of a ground invasion of the Ukrainian capital. 

"Around the city we have tanks, we have a lot of soldiers, Ukraine soldiers," said Rabbi Markovtch in an interview with the Boiling Point March 14. "And not far away from the border of the city – I didn't see them yet and I hope not to see them – but we know they have a lot of Russian soldiers and they are waiting for something."

Rabbi Markovtch said Kyiv would usually have 40,000 Jews, but since Russia's attack first began Feb. 24 most have left. The rabbi has been busy helping them leave the country, and whether they eventually leave or not, they need more food and supplies now, he said.

In photos Rabbi Markovtch sent to the Boiling Point this morning, food and supplies can be seen filling an entire large room in the building.

"We still have 5,000 Jewish people in Kyiv and they need more food," he said. "They need a lot of medicine, because most of them are very old people or people that cannot work because they are very ill, sick. And I go back to help them, to be with them and to see what I can provide them more than they have now."

A congregant shared a blessing during Kyiv Chabad's Purim seudah March 18. Video courtesy of Rabbi Jonathan Markovtch

Meanwhile, the basement of the shul is being used as a bomb shelter, a rare find in Kyiv. Rabbi Markovitch said bomb shelters are practically non-existient in the city, resulting in people hiding in subway stations.

"In this shul we have 50 people … in the shul all the time, even at night," Rabbi Markovitch said. "They are sleeping there, we feed them, we are giving them place to hide, because in Ukraine we don't have bomb shelters."

"And in the synagogue we have basement, very clean basement, very good basement and they are there."

Rabbi Markovitch said some Jews have chosen to stay in Ukraine and fight and others are required to fight because of their age.

For them, he said, Chabad offers a different kind of refuge.

"It's not so few – it's a lot of them, members of the Jewish community," said Rabbi Markovtch. "and they are fighting and they are coming to the shul on Shabbos, on Shabbat to prayer."

Missile attacks continued Tuesday and Ukrainian President Vloydymyr Zelensky ordered people to stay in their homes until Thursday, according to media reports.

Speaking on Monday, March 14, the rabbi said bomb sirens were already going off in Kyiv every day multiple times a day and he was grateful for the large facilities the Jewish community has in Kyiv.

"We have a big synagogue, we have JCC," said Rabbi Markovtch, referring also to Kyiv's 17,000-square-foot Jewish community center, which normally houses Jewish cultural and social services and programs for children and teens. "And in this JCC people are staying. It'a lot of rooms. Every family, each family has a room with mattresses [so] they can sleep there, and we have a big kitchen and we are making food in this kitchen."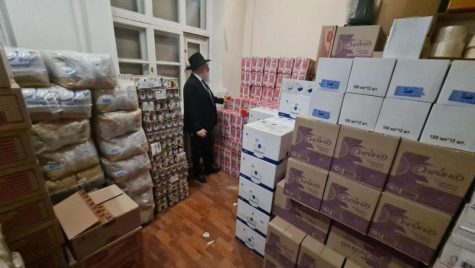 Inside the shul, he said, four Ukrainian soldiers and two civilians are guarding the Sefrai Torah as well as the people inside.
Rabbi Markovtch said that during this time his role in the community has gone beyond teaching and observing Judaism.
"In this time people want to pray," he said. "In time of this, people want to have something spiritual and I'm there [to] help them. But not just like this, I try to find money for them that they can eat, they can sleep, they can drink water."
He said that his greatest hope is that the fighting will stop, and his greatest fear is more bombings of civilians.
Rabbi Markovtch also said that before the war started, no one was expecting the Russians to invade.
"This conflict is very strange conflict, because Russia and Ukraine –  they are the same nation," Rabbi Markovtch said. "Before, it was one country, one big country, and we never thought it would be war like this, between these countries."
Rabbi Markovtch said that the Jewish people of Ukraine urgently need more food and medicine to survive.
"Please help us," he said, "because we need your help. Every dollar that we can find, you can send, we can help to another Jews and another people to stay alive."
Donations specifically to the Jewish community of Kyiv can be made via this link at charidy.com.
Video courtesy of Rabbi Jonathan Markovtch
CORRECTION: An earlier version of this story incorrectly described the Kyiv JCC. The JCC in Kyiv is a 17,000-square-foot building which houses Jewish cultural and social services as well as programs for children and teens. The 400,000-square-foot community center that was described is actually in Dnepropetrovsk, Ukrainian city about 325 miles southeast of the capital. The Boiling Point regrets the error.