Purple and orange? For 2010, SAC offers Color War in a new light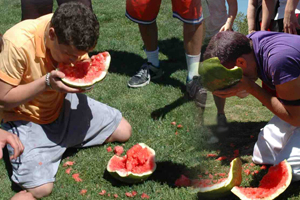 Leona Fallas, Photo Editor, and Kalil Eden, Staff Writer
May 23, 2010
Flocks of students cheered, raced, and stomped through school and La Cienega Park painted purple and orange in a kaleidoscopic display of school spirit, as Color War preempted classes April 8. There was only one objective: earn enough points to propel your team to victory. The theme was the Jewish concept of gemilut chassidim, or loving kindness.
The day ran without a hitch, the only hint of controversy being over SAC's choice of colors: orange and purple are two colors that many students don't wear every day. Furthermore, the words don't properly rhyme with anything.
"Maybe they wanted people to try harder to dress up," speculated sophomore Talia Rotenburg.
According to SAC, which organized the event, the colors were an attempt at originality, and were not meant to be stumbling blocks for the teams.
"Every year Shalhevet has red and blue as the colors, and the same ideas and songs are repeated every year," said SAC Chair Talia Nimmer. "We wanted more creativity in the cheers and chants, so we switched up the colors."
The judges were Talia and fellow SAC officers Leora Weinstock and Yael Rabin, who created their own Opening Ceremony, complete with swords and water guns. All three wore T-shirts Sharpie-d with the phrase "Impress me… I'm your judge!"
Activities started right after davening, when the teams performed their own elaborate Opening Ceremony presentations. With a Barney-the-dinosaur suit and a flurry of baton waving, the purple team took the prize, foreshadowing their success in the competition overall.
Next, both teams paraded to La Cienega Park, singing and skipping the entire way. Once there, they competed in array of field games including boys' flag football, girls' soccer, and a school favorite, "over-under," which utilized a watermelon instead of a ball.
"It was hot and exhausting, but overall, a success," summarized Orange captain senior Emma Lipner. "[Shalhevet] was affected simply by fusing joy, community, and bonding."
Back at school, half the students competed in basketball while the rest faced off over trivia or art. Other students wrote and rehearsed scripts for the upcoming skit competition.
Purple sophomore Justin Brandt-Sarif answered the tie-breaking question in a neck-and-neck trivia match by recalling an obscure fact from his freshman Music Appreciation class.
Asked what was the historical significance of the Gregorian chant "Ut Queant Laxis," he responded triumphantly that it was the musical basis for "do-re-mi." The room erupted into applause.
Orange junior Tziporah Thompson created a cartoon-ish display of spirit for the art match, re-creating the Lion and Mouse story.
Both teams gathered in the library for the final festivities. Short but well-received Dvar Torahs were followed by skits roasting teachers, students, and pop culture.
Purple spoofed Dora the Explorer, starring self-proclaimed "studs" juniors Zev Hurwitz and Joseph Nemetz. They skipped around the room, performing good deeds – an homage to Color War's theme of kindness. The play won laughs from an energetic audience, but not enough to beat Orange, which spoofed Shalhevet faculty in a half-improvised play.
In the Orange skit, faculty members portrayed by students were stranded on an island and had to devise a way to get out. Highlights include junior Shimmy Weinbach, who played his father Rabbi Weinbach, and junior Ben Mandel's impersonation of varsity basketball coach Ronnie "Flava" Winbush.
"A shoota can shoot with anything," said Ben in the play, handing senior Shay Alkoby an orange (the fruit). "Shay, come over here and make this shot!"
Despite Color War's many enthusiastic supporters, not every student chose to participate in the day.
According to school receptionist Muriel Ohana, attendance for Color War was 61 percent, compared to a usual rate of 73 percent. Some students were physically present at school but did not partake in the activities.
"I'm not into the whole 'spirit' thing," commented freshman Adir Hassid. "None of my friends were participating and I wanted to chill with them."
Luckily for the event, not everyone felt the same way.
"Seeing how the whole event turned out was so exciting!" enthused Purple captain senior Maya Harel. "The SAC captains truly set the stage for next year."
Staff Writer Kalil Eden and Editor-in-chief Lexi Gelb contributed to this story.