SENIOR SNAPSHOT: From music to forests, Shir Zahavi embraces unusual pathways
Instead of spending her winter break with friends like the average student, Shir Zahavi spent her's alone in Portland, Oregon. This is one example of what makes her different and more mature than her peers.
In Portland, she spent three hours in Forest Park by herself, and with no one around. According to Shir, the forest was wet "in a really beautiful way," because it had just rained. The rainwater revealed vividly green trees, had purified the air, and transformed the dirt into mud. Because of this weather, Shir wore her denim-colored rain jacket, yellow hat, and maroon leggings.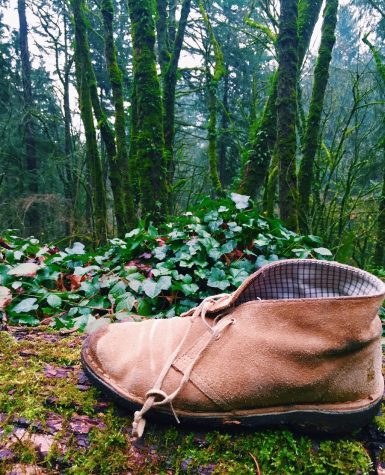 Photo by Shir Zahavi
"I was just chilling in the forest, hanging out, walking around, taking everything in," said Shir. At the end of her three hours, she left one of her Clark Boots resting on a rock – she wanted to leave a piece of her in the forest.
Shir has always known that she is different than her fellow students. In 7th grade, while her friends crushed on Justin Bieber, Shir obsessed over Meryl Streep and Oprah Winfrey. Still as a senior, her favorite band is the Beach Boys, her favorite genre of music is folk rock, and she gravitates towards elderly people.
"In a world of high school drama and teenage pettiness, Shir has a sense of maturity beyond her years," said her Judaics studies teacher Rabbi Schwarzberg.
Although it was originally hard for Shir to admire different things than her peers – Meryl Streep, for example – she has learned to embrace her differences. She's not afraid to be herself – the person who framed a picture of Oprah Winfrey and put it in on her nightstand. The person who jams out to the Beach Boys and folk rock music.
The person who walked back from a forest with one shoe, because she had to leave a piece of herself there.