South Korean boy band BTS speaks for – and to – a generation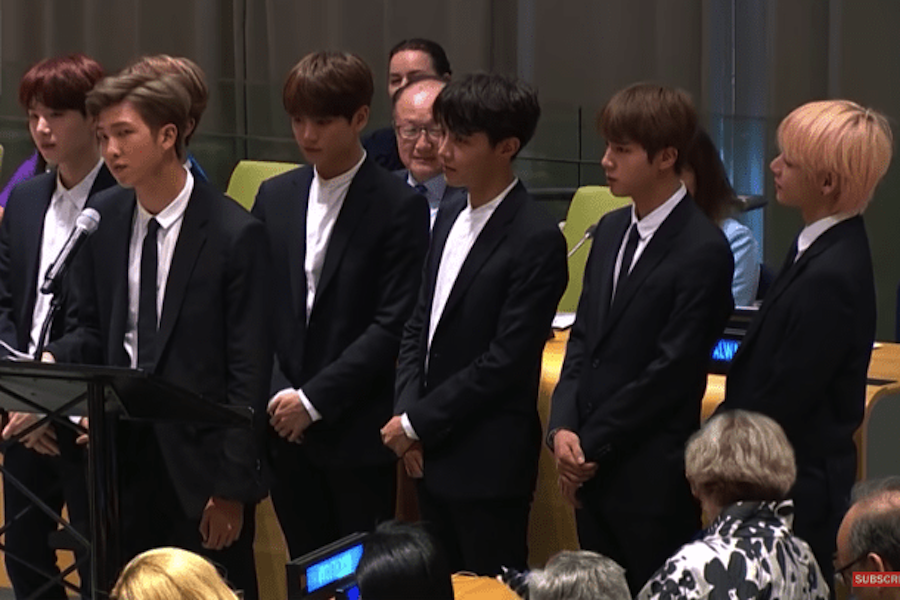 By Adina Ackerman, Staff Writer
November 18, 2018
Role models are necessary in the chaos of our everyday lives, a stool we step on to constantly reassure ourselves of success and happiness. But what does it really mean to be a giver or receiver of inspiration in a world of negativity, consistent fear and sexualized media?
What we see on screen influences and changes us. It consists mostly of caked up, self-centered and chaotic stars whose popularity is due to their mistakes in a culture that thrives on drama. Music is often a construct of who can expose who, of the Gucci dripping out of people's pockets, and of pushing political agendas onto the public to start battles rather than conversation. It teaches youth that these are the things needed to obtain in order to get what they want.
But things are beginning to change. BTS, a seven-member boy band from South Korea, is among the most popular bands in the world but has a new and drastically different approach to influence and power. With moving (and often controversial) lyrics and a driving passion to comfort their fans, the K-pop group has spread a multitude of positive messages across the globe. Though K-pop — Korean Pop music — is often considered "shallow" and "childlike," BTS creates music with freedom and uniqueness in a culture of robot-like pop idols and the cold harshness of being caged into a lifestyle chosen for them.
BTS became the first K-pop act to hit No. 1 on the Billboard 200 chart and sells out world tours in minutes. It has surpassed artists Justin Bieber and Ariana Grande at the Billboard Music Awards two years in a row, claiming a well-deserved spot as the Top Social Artist.
Despite — or perhaps explaining — its popularity, BTS has never been a group to blindly follow social norms and keep silent. At first, the band was hip-hop centered, debuting with "No More Dream" in 2013 — a song that called out South Korean society, describing the pressures that it inflicts upon students, who pull all-nighters to fight to the top of the food chain.
What is you that you dreamed of?
Who do you see in your mirror, I gotta say
Go your own way
Even if you live a day
Do something
Put weakness away
The group went on to explore a wider range of genres, from old-school hip-hop tracks such as "Boy In Luv" and "Spinebreaker" to Skrillex-esque pop songs such as "I Need U" and the sensual "House of Cards." It isn't afraid to mix old sounds with more modern tones; "Ddaeng," for example, works as a hater-targeted trap diss track using traditional Korean instruments.
Their most famous songs are "Butterfly," an acoustic ballad; "Save Me," a catchy pop-EDM tune; and the contemporary R&B "Spring Day," which talks about the pain of losing loved ones and growing up.
The band's music videos are cinematically stunning. In "Save Me" and many other songs, the boys showcase in-sync dance moves that are widely considered the best in K-pop, incorporating style, energy and symbolism. "Dope" stands at the top of its league, intricate, flawless and jaw-dropping — not to mention it's unbelievably catchy.
If BTS is not dancing, it's telling detailed and emotional stories that take your breath away. The band is also well known for its sense of humor and brotherhood, whether it be in the office or off-camera.
Southern Korea is currently labeled as a country of conservatives and perfectionists; K-pop stars have an unspoken rule of political disengagement and unachievable perfection that BTS has long since broken, openly stating its support of feminism and LGBT rights. Suga and RM are the group's most vocal members, especially strong on the subject of mental health. "If we don't talk about these issues, who will?, Suga said in one interview. "Our parents? Adults? So isn't it up to us? That's the kind of conversations we have [in the band]: Who knows best and can talk about the difficulty our generation faces? It's us."
But with all of this, BTS is still considered a mystery by those who question what emotions a Korean-centered band can evoke for English-speaking fans. Underneath the surface, their lyrics are thought-provoking, vulnerable, and painfully honest. They tackle subjects ranging from depression and anxiety to generational divides, and many more. RM's recent indie mixtape, Mono, poetically addresses the pain of failure:
It so hard falling short
If you don't experience it, it cannot be known
My ideals and [what is] reality
Are so very far
But still, by crossing that bridge
I want to reach myself
(UhGood)
It is this poignant self-reflection, this unwavering honesty and depth, that makes fans so protective and passionate.
Last month, Kim Nam-Joon, BTS's spokesperson and leader, gave a historic speech as the first K-pop group to address the United Nations. On worldwide television with his members behind him, Nam-Joon reflected humbly on his childhood dreams, passionately encouraging his audience to "speak themselves."
"I want to hear your voice and I want to hear your conviction," he said, looking carefully around the room with bright eyes. "No matter who you are, where you're from, your skin color, your gender identity, just speak yourself. Find your name and find your voice by speaking yourself."
For our generation, I think it is important for us to hear this the most, to be inspired to grow in our strengths through whom or what we love. We should do the same, spreading messages such as these across the globe. After all, we are the people who carry on our shoulders the weight of this future.