Birthday for a dress: LACMA celebrates the 'wrap'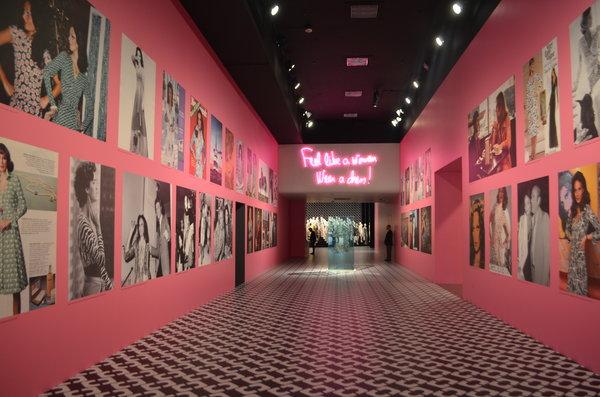 Turning 40 is always a milestone, but for Diane von Furstenberg's iconic wrap dress, four decades of unequaled fame in fashion is cause for celebration.
In The Journey of a Dress, an exhibit commemorating the feminine and flattering wrap jersey and its evolution through the years, the dress is elevated to high art – and it's free, on display at LACMA West, the former May Company department store building on the corner of Wilshire and Fairfax.
Like the dress, the exhibit is fun and flirtatious, where high fashion meets high art vibe. Explosions of color and vibrant patterns streaming throughout the halls lend an excitement beyond the typical staid museum experience.
Five brilliantly-colored oversized portraits of Ms. Von Furstenberg by famed pop-artist Andy Warhol, adorning the walls of an adjacent gallery, add glamour and exhilaration. A blast of 70's music and bursts of psychedelic color greet visitors at the entrance.
The exuberant hot pink walls leading into the main exhibit hall are playfully paired with a black and white chain-link patterned floor.
Visitors get a front-row seat to design history. Lining the walls are oversize photographs of Ms. von Furstenberg working in her showroom, magazine covers showing the dress and its designer, and numerous pictures of the wrap dress, as worn through the years by Iman, Madonna, Penelope Cruz and, more recently, Michelle Obama.
"Feel like a woman, wear a dress!" — quoting Ms. Von Furstenberg in neon fuchsia script — hangs above the entrance to exhibit hall, and introduces the dress worn by several generations and many millions of women since its launch in 1974.
In all, 200 variations of the wrap dress are brought to life in LACMA West's main hall. Displayed on five glossy black stepped platforms, the dresses are grouped by pattern and style: the black-and-white array, geometric shapes, animal prints, pop-art patterns and nature or floral shapes.
Like pieces of art, all are strategically lit in the dim hall to enhance their beauty and individuality. Selective prints from the dresses line the floors and walls of the room, creating an exciting backdrop to the collection.
The adventurous brown snakeskin wrap dress with an A-line frame is there, as is the classic collared dress imprinted with red lips set against a black background. Amy Adams' wine-stained dress from the film American Hustle is displayed among the geometric patterns, as is one of the original wrap dresses produced in 1974.
Every dress in the exhibit is displayed with a date; newly designed pieces are labelled "anniversary" and will be sold individually after the exhibit has ended.
You can see them all just north of school at the corner of Fairfax and Wilshire, and probably even make it there and back some Tuesday during SWAP. But go soon – The Journey of a Dress ends its four-month run on April 1 of this year.
It might make you wonder what clothing you own now that will still be around in 40 years – or even just when today's students turn 40 themselves.