Students participate in worldwide outdoor piano experiment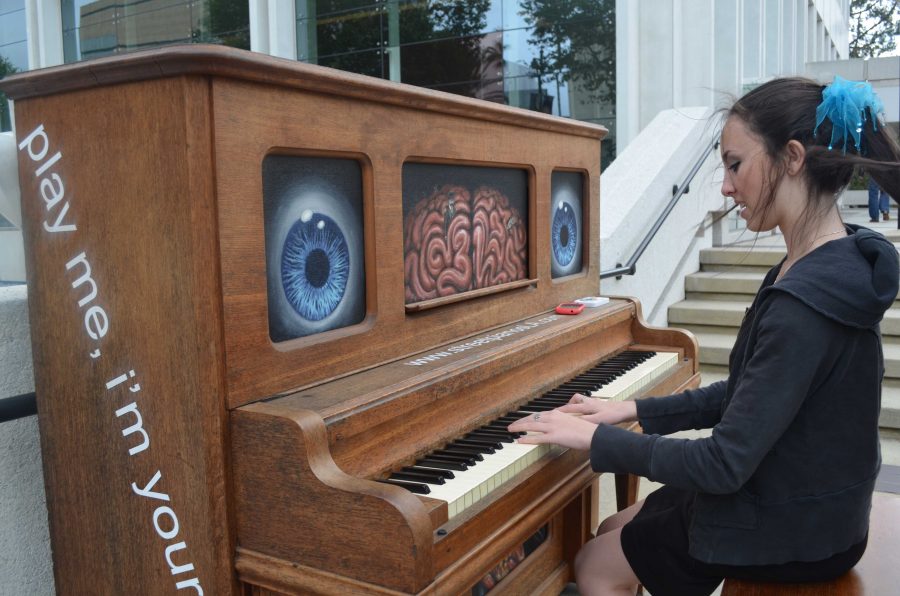 Eden Braunstein, Staff writer
June 12, 2012
Jerram's experiment.
The artist installed painted pianos all around the world in order to give what he called "invisible communities" –  groups of people who see each other every day but never interact – an opportunity to bond over something loud.  Music.
And so the journey began. After the first 15 pianos were spread across Birmingham in Jerram's native Enland in 2008, it was estimated that after three weeks more than 140,000 people had listened or performed to a music produced by his pianos.
The Los Angeles project started April 12 and the small group of Shalhevet students, supervised by music teacher Mrs. Keene, on what was almost its last day. Although the weather was dreadful, the students took turns either caressing each key into a slow melody, or pounding on the keys the create a joyful symphony.  Leila played "Set Fire to the Rain" by Adelle and Michael played "Asturias" by Albeniz.
The response was gradual. It started with an elderly woman who was walking by the piano and stopped talking on her phone for a minute to hear the music. As the songs progressed, more people began taking pauses from their fast-paced day to appreciate the talent of the students.
One listener was Voz, a food truck employee who is often stationed outside the tall office building, which also happens to be across the street from the Los Angeles County Museum of Art, or LACMA.
"I will miss it [the piano] so much,"  Voz said. "It helps my day go by faster".
Since the weather was bad that day, he hadn't seen others come to play.
"When the sun is out, there's usually a crowd," he said.
Adi, a man talking on his phone, stopped to film Rachel Friedman playing Walking in the Air by Howard Blake. This was his first time seeing someone play on the piano, and he remarked about how special this opportunity was.
Notes continued to drift into the air, interrupting the noise of the busy street. As the students finished playing, an elderly man named Michael took off his bike helmet and sat down at the bench. He began to play an original piece, gently pressing on each key, and when he was he spoke about how much he loves taking a break from his routine to play for a moment.
"My girlfriend tells me to come here and play," Michael joked, adding more seriously, "A lot of talent has come to this piano."
Michael, Voz, Adi, and others all said how much they'd miss the pianos distributed across Los Angeles. On May 4, they began to be collected from locations ranging from downtown and East Los Angeles to the Santa Monica Pier.  By May 8, all the pianos had disappeared completely.