FALSE ALARM: Drug testing story was ruse to announce Color War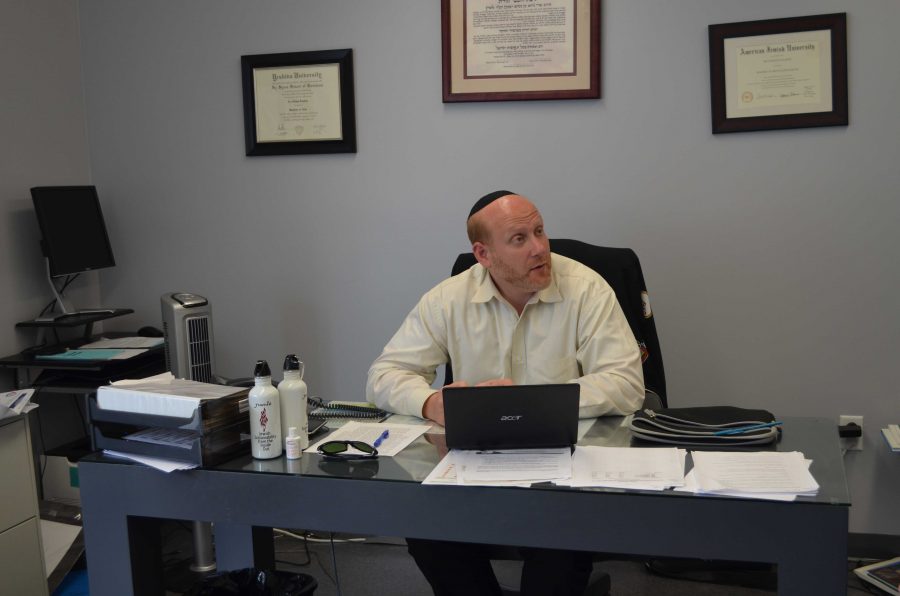 BP Staff Report
April 25, 2012
In a new twist to Color War breakout, the Student Activities Committee spread a fake story among the student body saying that random drug testing was about to begin at school.
When Boiling Point editors heard the rumor, they asked Judaic Studies Principal Rabbi Ari Leubitz and school counselor Rachel Hecht — who both knew about the ruse — to confirm the story, which they did, and it was published Wednesday morning.
Then Wednesday afternoon, at the end of a special all-school Mincha honoring Israel's Memorial Day, Yom HaZikaron,  Rabbi Leubitz announced the supposed testing to the student body and began to play a video about urine collection.  Suddenly the video was interrupted by SAC co-chairs Yonah Nimmer and Raquel Garshofsky shouting "Color War breakout!"
Junior Leora Nimmer, the SAC member who had leaked the false story to BP Community Editor Jacob Ellenhorn on Monday, explained she had done so with the idea of spreading rumors, to prevent people from guessing about Color War.
"That was my job," Leora said.
On Tuesday,  Jacob began investigating, and Rabbi Leubitz and Mrs. Hecht confirmed her account.
""There will be drug testing taking place," said Mrs. Hecht in a Boiling Point interview Tuesday.
Mrs. Hecht went on to say that students who tested positive would participate in a treatment program called the Mandated Assistance Program, or MAP for short, which would allow them to stay in school while undergoing therapy
"It is a supportive and not a punitive program," Mrs. Hecht said.
Rabbi Leubitz said that the supposed change in policy had been "mandated from outside the school." He declined to say who was mandating it.
"I suspect there will be a test sometime in the future," Rabbi Leubitz said.
Later that afternoon, however, Rabbi Leubitz asked Boiling Point editors to hold the story until after Wednesday's Shacharit. He said he'd been getting "push-back" and needed "to get all [his] ducks in a row."
Boiling Point faculty advisor Mrs. Joelle Keene replied that the story would therefore not be published that night, though she could not guarantee the information wouldn't be spread by editors in other ways such as Facebook.  But after discussion among the Editorial Board, the editors decided to delay all publication until after morning davening, even though all interviews had been "on the record."
After Shacharit Wednesday morning, Editor-in-chief Leila Miller, Web Editor Jordan Banafsheha, and Jacob went to Rabbi Leubitz's office and asked if he had anything to add to the story.
"No," Rabbi Leubitz said.
Sitting in Rabbi Leubitz's office with Leila and Jordan, Jacob pressed the "publish" button on this website's control page at 9:39 am.
Rabbi Leubitz later said he had told the Boiling Point to delay the story and denied telling editors they could publish it in the morning.  He said he told editors they should come talk to him Wednesday morning.
The headine on this website was "Shalhevet to begin random drug testing," and the story quoted Mrs. Hecht as saying both students and staff would be tested.
SAC members said they had not expected the story to be published in the Boiling Point, but rather that they were spreading the drug testing rumor to quash rumors about Color War.
""We never expected an article to be written," said Raquel Garshofsky. "We just wanted to spread the drug story rumor to everyone."
Color War captains are Rachel Lester, Nathan Rossi and Leora Nimmer for the blue team, and Ari Feuer, Deanna Grunfeld and Ariana Feder for the white team.
Rachel and Ari, both on the Boiling Point Editorial Board, said they did not know about Color War in advance.  Ari, who is Deputy Editor-in-Chief, had been involved in discussions about whether to delay publishing until morning, as Rabbi Leubitz had requested.
Asked why he went along with the ruse, Rabbi Leubitz said, "We were just trying to get the students to kind of  talk about this, and it was supposed to be fun — and to try to make them believe that it was happening to break out Color War, and just play along… The intent was to play a trick on the student body, nothing particular against the Boiling Point."
Jacob Ellenhorn said the incident would hurt the Boiling Point's credibility.
"We work so hard and they destroy our reputability," Jacob said. "They took something they should be very proud of and they made a fool out of us."  He said it was tantamount to bullying.
Mrs. Keene said editors had followed usual procedure by checking with Rabbi Leubitz and Mrs. Hecht.
"We check everything we publish with the administration — that's how we make sure our readers can trust us and can use the Boiling Point to distinguish facts from rumors," Mrs. Keene said.
Student reaction was mixed but mostly accepting of the breakout ruse.
Junior Adir Hassid was one of many who had read the Boiling Point story and believed it.
"I was appalled," Adir said.  "They took our trust and then threw it away."
Senior Deanna Grunfeld, the White Team captain, was also surprised the the drug testing story was not true.  But she thought it was a good way to announce Color War.
"I think that's the point of Color War breakout — to take it too far," Deanna said. "When I planned color war in eighth grade, kids were crying. But that's what made it so great, and people remembered it.
"Each year, kids always complain how lame the color war break outs are… so they have to take it too far to make sure that we all like it."
This story won First Place in the Columbia Scholastic Press Association News Category for Digital Media.