Project Simcha brightens students' days one poster at a time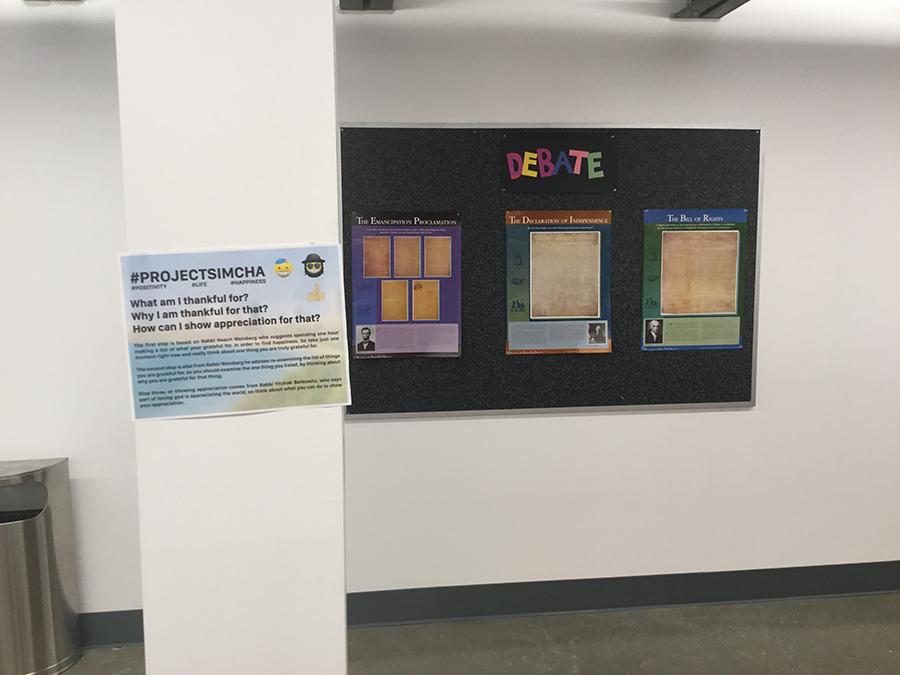 By Zev Frankel, Staff Writer
February 9, 2016
"Wow these are adorable! "called out junior Sarah Yadagari, spotting some new flyers hanging in the second-floor hallway opposite the lockers Nov. 11.
The 8 ½ -by-11 inch signs with encouraging messages like "God blessed us with water in this desert of Los Angeles (and we didn't hit a rock)  — Appreciate the water," the flyers were the were spread throughout in the hallways as students bustled out of their first-period classes that day.
It was the third year of a "Project Simcha," an annual undertaking by Judaic Studies teacher Rabbi Derek Gormin's senior Jewish Philosophy class with a goal of spreading happiness – simcha – through the student body, and eventually positively affecting the world at large.
The mitzvah of spreading joy, Rabbi Gormin explained, has a ripple effect.
"Learning to understand simcha in order to make ourselves and our communities happier, can potentially lead to a spreading of happiness worldwide,"  said Rabbi Gormin.
Affixed to walls in hallways and classrooms, the posters contained messages that  reminded  students about things they could appreciate or do for others to be happier.
This year's initiative began with the senior class exploring the Jewish view of happiness through sources ranging from Tanach to the essays of modern-day scholars. One group used a quote from the Rambam's  Hilchot Lulav: "The happiness that comes from performing mitzvot, and the love of God, Who commanded us to do the mitzvot, are great forms of service to God."
Another group used a quote from Psalm 100: "Serve the Eternal with gladness, come before Him with joyous singing."
A poster in the Music Room read, "We have so many talented singers in the school and this is the one place that they can all come together; Tehillim 100-2 states 'Serve the eternal with gladness come before him with joyous singing.' Appreciate our choir! #Projetsimcha"
A poster in the main hallway called for students to take a moment to complete three steps based on the suggestions of both Rabbi Noach Wineberg and Rabbi Yitzhak Berkowitz of Aish HaTorah in Jerusalem: Step one: what am I thankful for?  Step two: why am I thankful for that? Step three, how can I show my appreciation?
And another encouraged students to help each other after  a spate of accidents resulting in several students on crutches.
"For some reason," the poster stated, "our school has lots of kids who have hurt themselves, Rambam says that happiness comes from performing mizvot. Take a second to ask someone if they need help with something."
The drought poster referenced Rabbi Berkowitz's environmental views.
"Rabbi Yitzhak Berkowitz says God created a beautiful world and we should take joy from it," it stated.
The students seemed, well, happy with the posters. Sophomore Jonah Sanders said it was "a nice thing that brightens everyone's day."
Rabbi Gormin thought the project had succeeded in making a point.
""Judaism is about action; and our learning should result in stronger actions towards the betterment of our world." Rabbi Gormin said.
When the posters came down on Dec. 25, he was philosophical.
"If our class was able to make one person smile when they were having a tough day, which I know they did many times over, I know that the entire project was worth it," Rabbi Gormin said.