About 50 students attend meeting of school's first Sephardic minyan
BP Photos By Emilie Benyowitz
For the first time since 2001, a minyan following Sephardic practice met Thursday, Nov., 3, using the lunch room across from the cafeteria.
Divided by a mechitza taken from the Beit Midrash, 26 boys and 24 girls prayed facing the Media Center wall, and the Torah was lained using Sephardic trope. Junior Jojo Fallas, whose family is Sephardic, led the davening.
Students took standard Ashkenazic siddurim (prayerbooks) from the Media Center.  But the minyan seemed different because of the tunes and also because the group went through the prayers almost twice as fast, leaving most girls looking around the room, not even trying to keep up.
Judaic Studies teacher Mr. Jason Feld was the faculty advisor.  About a third of the school was in attendance.
"I go to a Sephardic shul, and so I loved that I could daven the same way in and out of school," said sophomore Natalie Dahan. "I thought I would always have to pray in school the Ashkenaz way, but it's cool that now I don't. I guess it's easier."
The minyan did not only attract Sephardim in the school, but also Ashkenazi students who were interested in watching a different way of davening.
When it came time to take the Torah out of the ark, junior Daniel Schwartz lifted it out and carried it straight to a table, where it was unrolled so Jojo could read it.
There was no parade, so neither boys nor girls in attendance got to kiss the Torah as it went by. But in the Ashkenazic minyans down the hallways — freshmen and sophomores were in the Media Center while juniors and seniors were in the Beit Midrash — the Torah was carried through both the men's and women's sections, as it has been for more than a year.
Related: New Sephardic minyan lets students feel at home 11/12/2011
Related video: Two problems solved at once as new Sephardic minyan debuts 11/11/2011
Related editorial: On women and Torah, Shalhevet should lead  11/4/2011
Related: Shalhevet stands alone among Orthodox schools in letting girls carry Torah, survey finds 11/3/2011
Related: Tradition may rule, but law says girls may carry the Torah 11/3/2011
Related: Sephardic minyan approved; no change to Ashkenazic minyans  10/28/2011
Meeting yesterday began process of minyan decisions, Rabbi Segal says 10-26-2011
Related: Blocking of girls from carrying Torah fails to materialize at first Sephardic-led junior-senior minyan 10/11/2011
 Related: Girls will no longer carry Torah at junior-senior minyan 10/7/2011
Meet the Writer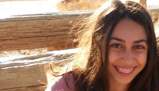 Sarah Soroudi, Editor Emeritus
Sarah Soroudi was editor of the Boiling Point during the first semester of the 2013-14 school year, and won journalism awards from the National Scholastic Press Association and Quill and Scroll International Honorary Music Society.  She was a staff writer of the Boiling Point in ninth grade, Torah Editor in 10th, Outside News Editor and Community Editor in 11th.  She was also captain of the Model Congress and Mock Trial teams, and enjoyed playing tennis as well. Sarah is also involved with AIPAC, and plays the piano. Her passions also include eating, sleeping, watching world soccer, and watching movies.