A blow horn to quiet Town Hall? Rami Melmed elected Agenda Chair after colorful debate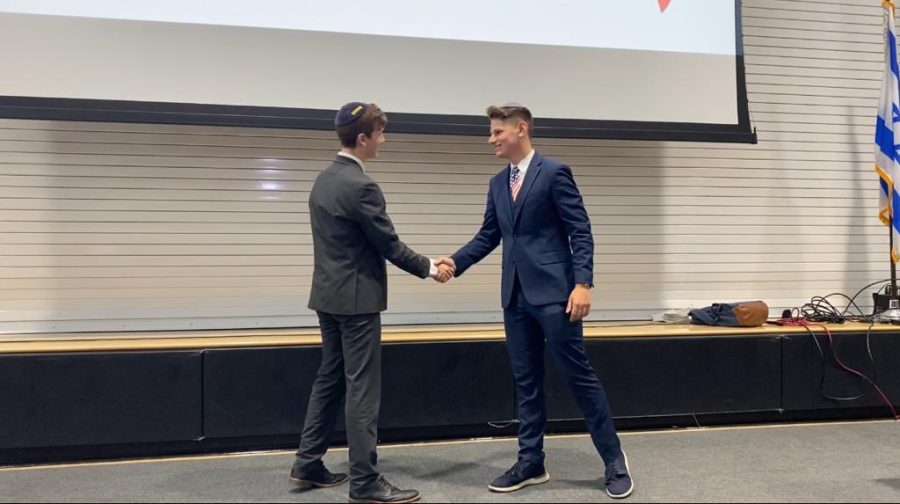 Rami, whose responses also included pulling out a blow horn – and sounding it – to demonstrate how he'd eliminate talking during Town Hall, defeated fellow junior Zion Schlussel at the end of a 90-minute schoolwide assembly in the gym that also presented speeches and videos by candidates for the other Just Community leadership positions. 
After a debate on topics ranging from how candidates would choose topics at Town Hall to whether they made their beds in the morning, junior Rami Melmed was elected Agenda Chair April 28 for the 2023–24 school year.
Also elected that day were Malia Nagel and Sami Brous-Light to lead the Fairness Committee, and Adi Liebenthal and Atara Cohen will lead the Student Activities Committee (SAC). Both of those contests were uncontested. 
For Agenda vice chair, Mateo Robinson defeated Olivia Petlak and Leah Cohen. For Agenda secretary, Ari Elad defeated Eliana Vahedifar and Etan Lerner. Tamar Rose defeated Ariel Mazar for Fairness secretary, and Yakov Liberman defeated Shevy Gomperts and Dana Brodt for SAC secretary.
Election results were posted at 1 p.m. that day by Fairness Co-Chair Elliot Serure to the Just Community Schoology Group. Counting was observed by Benjamin Gamson and Joshua Gamson representing the Boiling Point, as well as Dr. Keith Harris, Fairness faculty adviser.
The Agenda Chair debate was moderated by senior Benjamin Gamson and junior Tali Liebenthal, co-editors-in-chief of the Boiling Point, and lasted for 37 minutes and 42 seconds. Apart from bed-making and Town Hall topics, the pair traded answers to questions about what topic they'd choose if running a Town Hall tomorrow, what their biggest weaknesses are, and why they are the best candidate. Neither candidate had made his bed that day.
Both were also asked whether they'd ever read the Just Community Constitution. Rami, who this year was Agenda's Vice-chair, had, and Zion had not.
In an interview after the results were announced, Rami said he hopes there will be more student appreciation and student engagement in next year's Town Halls. 
"I want to change the perception of Town Hall," Rami said. "Right now, I would say half the kids in the school don't look forward to Town Hall, and I'm looking to change that. I'm looking to really make it more geared towards students, and I'm looking to move Town Hall toward more Shalhevet-centered topics, rather than world and current events." 
Voting commenced right after the debate on Google Forms through a ranked choice voting system. Under that system, voters rank each candidate in order of preference as either first choice, second choice, third choice and so on depending on the number of people running.
Votes were tallied by members of the Elections Subcommittee – a committee composed of both Fairness chairs and the faculty advisor – in the presence of two Boiling Point representatives. If there are three people running, for example, winners were calculated by assigning 3 points to however many first place votes a candidate received, 2 points for the number of second place votes, and 1 point for third. The sum of one candidate's total 3 point, 2 point, and 1 point votes gave their total votes under the ranked choice system. Whoever had the most ranked choice votes won.
Unlike in the past, when sometimes people would be able to vote for multiple candidates in the same column – such as two for first choice – there were contests this year that required the ranked choice voting system. 
However, in order to submit a ballot, there was a required question that voters had to click, which would attach their Shalhevet email address to their response. While this kept people outside of Shalhevet from voting, it also meant election officials could see who voted for whom.
Boiling Point observers saw no checking of this information, however.
Under this year's rules, candidates for the Fairness Committee had to make a speech, while those running for the SAC offices could present either a speech or a video. All SAC secretary candidates made videos while those for chair and vice chair made speeches. 
Candidates also campaigned this year with flyers and posters, both of which were on display throughout school for the two weeks leading up to election day. 
One election that did not occur this cycle was for a new Fairness position, called the Student Litigator, which was established by a Just Community vote April 19. The litigator would assist or speak on behalf of any plaintiff who requested such assistance. 
This elected office requires the entire Just Community to vote, as in spring officer elections. But for 2023–24 it will be held in the fall during Just Community representative elections, Fairness officials said. 
"We didn't know if it would pass or not and there was a deadline, and the elections just came super quick this year," said Fairness co-Chair Eliana Kerendian. 
In uncontested result, Mikayla Namvar will serve as vice chair of SAC.