Strong start and ending can't overcome disastrous third quarter as Firehawks fall to La Mirada in CIF Round 2
Bench steps up to help outscore opponents in the fourth; boys' season ends before quarterfinals
February 13, 2023
"This is our house!" shouted fans of the La Mirada Matadores, as the final seconds ticked off the clock Saturday night and their team prepared to head to the next level of post-season competition in CIF Division 2A. 
But it wasn't their house. It was the Shalhevet gym.  
At that same moment, the Firehawk boys basketball team was seconds away from ending its season in a 65-53 loss to the Matadores, who advanced to the quarterfinals from the playoffs' Round 2.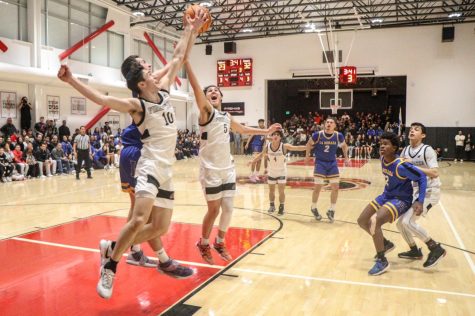 According to Ms. Lili Einalhori, Shalhevet's Registrar and Director of Facilities, both Shalhevet and La Mirada had each sold 250 tickets to their fans. La Mirada High School, located between Downey and Anaheim about an hour away from Shalhevet, has an enrollment of about 1,900 students, according to the National Center for Education Statistics.
With 500 tickets sold, the stands were almost as crowded as for last fall's Glouberman Tournament, when Shalhevet played its local rivals.
Senior Oz Shalom was grateful for Shalhevet fans' support.
"Even at the end of the game when we were down, they were still there for us, they were still cheering for us, they still had our backs," said Oz, who plays forward for the team. "They still showed their heart, love, and passion for us, just like we did for them."
The game was exciting and evenly matched except for in the third quarter. At halftime the score was tied at 21-21.
In the first quarter the Matadores jumped to an early lead, the score being 7-2 La Mirada after the first several minutes. But Shalhevet came back and ended the quarter leading 13-9, after a buzzer beater three by senior Josh Askari, who managed to get around two La Mirada players who were guarding him.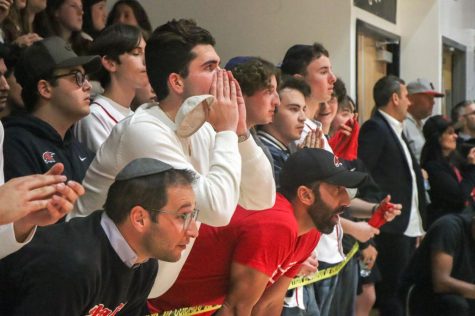 In the second quarter, the Matadores scored 13 points and the Firehawks scored 9, in a reverse of the first quarter. That evened the score at 21-21.
But in the third quarter, La Mirada went on a rally and scored 20 points. Shalhevet on the other hand only scored eight. Sophomore Aiden Bitran scored two threes and senior Avi Halpert scored a layup.
Oz said that the reason the visitors pulled ahead was the number of shots they made in that third quarter.
"They're a team that's able to go on great runs throughout the game, and the thing that killed us was just that they were prepared like we were prepared for them," Oz said. "It's just that they were hitting their shots."
Senior captain Avi Halpert said that Shalhevet needed to slow down the game. 
"We could have played smarter, we were getting sped up a lot which definitely did not help us,' said Avi. "But as a whole I'm definitely proud of everyone, and the season we've had has been unreal."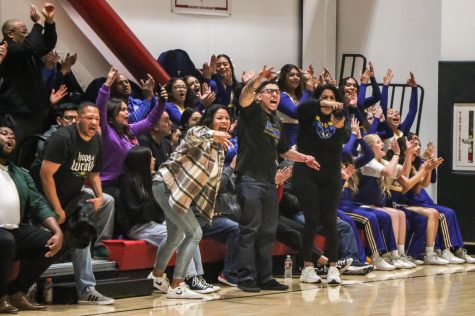 Looking toward next month's Red Sarachek Tournament at YU in New York, Avi said the team's defense would be something to work on. 
"I think our defense needs to get much better, because it always starts on defense for us," said Avi. "Whenever we let teams score on us it's never good, and whenever we're able to get stops on the defensive end it always turns into offense. So our defense is definitely a main focus."
Entering the fourth quarter, Shalhevet was down by 18 points. The score was 47-29 La Mirada.
Things got worse before they got better. With three minutes and 35 seconds left in the game, Shalhevet trailed by 25 points, down 60-35. 
Around that time, Head Coach Ryan Coleman began to replace all the starters with juniors. Junior Eytan Ackerman scored two back-to-back threes in the fourth. Junior Zane Mendelson also scored a three. 
The fourth quarter ended up being Shalhevet's highest scoring quarter, accruing 23 points –15 of which did not come from starters – and five more than the Matadores managed in the fourth.
La Mirada scored 18 points in the fourth quarter.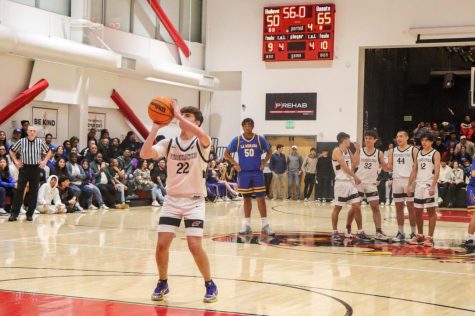 For the game, senior Nathan Sellam was the top scorer with 12 points, and senior Avi Halpert had 11 points.
Shalhevet ended its regular season with a 23-8 record, and went 7-0 in the Mulholland League coming in first place. 
La Mirada also ended its regular season with a 23-8 record. They went 6-2 in the Gateway League coming in first place.
The Matadores are now set to face off against the Walnut High School Mustangs on Tuesday. 
Meanwhile, the Firehawk girls basketball team is competing in its first playoff game of this season tomorrow at Shalhevet. They received a "by" out of Round 1, meaning they automatically advanced to Round 2 without having to compete, and will face Flintridge Sacred Heart Academy in Division 4AA at Shalhevet this evening at seven p.m.