Firehawk boys win championship at Milken basketball tournament
In reversal of Glouberman outcome, girls come in second
For the second time in school history, the Shalhevet boys Firehawks have won the annual Milken Classic Basketball Tournament in Bel Air, beating the tournament host Milken Wildcats 55-46 on Dec. 3. 
The girls just fell short of what would have been their second Milken Tournament win, losing in the championship to the Campbell Hall Vikings 65-48 on Dec. 9. 
Team co-captain Avi Halpert, a junior who plays point guard, said that especially after losing in the championship game in Glouberman it was special for the team to come out with the win at Milken. 
"Everyone was on the same page, we were playing our game of basketball and we were just playing as a team," said Avi in a text message. "It felt good after losing Glouberman to see that our hard work after Glouberman is starting to pay off and we finally got to win."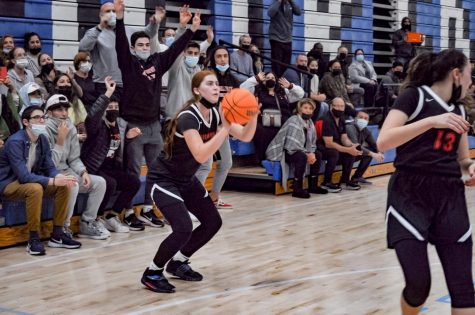 The Milken Tournament hosts teams from eight local high schools, most of them not  Jewish, while Glouberman is an invitational tournament that includes teams from Jewish schools in New York, Maryland, Seattle and Miami. Milken also includes some teams from bigger schools, including San Fernando High School which has over 2,000 students. The Firehawk boys beat them 60-45 in their first game of the tournament. 
The boys' win makes it two tournament wins for the Firehawks this year, the girls in Glouberman and the boys in Milken. 
Top scorers for the Firehawks in the championship game were Avi with 26 and Joel Asheghian with eight. Avi accounted for almost 50 percent of the team's total points. 
Leading scorers for the Wildcats were Noah Carmona with 16 points and Elan Dardashti with 13.
Talia Tizabi, a senior and co-captain of the girls team, said her team had trouble executing throughout the championship game. 
"We need to get better at working as a team under pressure," said Talia in a text message. "We can't back down against teams that are more skilled than us because I know that as a team we're closer than anyone we're playing."
The Firehawks had four players named to the all-tournament team, on the girls side Talia Tizabi and sophomore Yalee Schwartz, while on the boys side senior Joel Asheghian and junior Nathan Sellam. Avi Halpert was given the MVP award.  
The Firehawks will look to add more tournament wins to the season in the Red Sarachek Basketball Tournament at Yeshiva University in late March. 
"I think for the rest of the year we just gotta stick together and stick to our game," said Avi. "Once we stick to our game I think we will be ok and as long as we are all good teammates to each other I think we will be very good." 
Editor-in-Chief Benjamin Gamson contributed reporting.