Constitution is relocated to first floor; second-floor lobby has new Israel display
After being stored in the first-floor administrative conference room since October, the Just Community Constitution has now been permanently moved from the top of the school's central staircase in the second floor lobby to the administrative suite on the first floor, visible from the foyer behind a curved glass wall.
According to Chief Operating Officer Ms. Sarah Emerson, the move was decided  on by herself and Principal Daniel Weslow, and its new location was chosen to make room on the wall of the second floor lobby for an art display celebrating Israel.
"The new location is permanent for now, although things can always change," Ms. Emerson wrote in an email response to Boiling Point questions. She said it "was chosen due to the prominence and high visibility of that location, spotlighting and highlighting the Just Community constitution for our school community and any and all visitors to the building."
Occupying the constitution's former home in the geographical center of the school is an Israel-themed arrangement of stickers, organized by Judaic Studies teacher Ms. Ilana Wilner, where students wrote what Israel meant to them on two- by four-inch stickers. They were put up on display in the second floor lobby. 
"The second floor location where the constitution had been now has an art installation made by our students coordinated by Ms. Wilner on Yom Haatzmaut," Ms. Emerson wrote.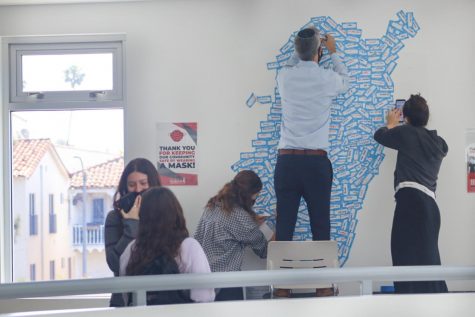 Written and adopted by students and faculty in 2002, the constitution set general principles and some details of how the Just Community was meant to operate. It envisioned what school founder Dr. Jerry Friedman called a "direct democracy," where every community member could vote on rules to govern school life.  
It created an "Agenda Committee" to set the agenda for Town Hall, where students would debate and decide community issues, along with a Fairness Committee to resolve disputes privately between community members, and a Constructive Consequences Committee to enforce school rules.  All committees had both student and faculty representatives.
The constitution's preamble, which lists community members' rights, including the right to respect and the right to be heard, was written out in artistic calligraphy and signed by community members at the time, then framed and hung in the Beit Midrash, which was also used for Town Hall.
In the new (current) building, the framed preamble had an equally prominent place at the top of the spiral staircase, viewable from the steps both below and above.
It was moved this year for an Open House admissions event that took place on Nov. 22. There, it was displayed on an easel in the gymnasium and put on view for families considering Shalhevet for their current middle-schoolers.
Where the constitution sits now is at the entrance to many administrative offices, including those belonging to head of school Rabbi Block, Ms. Emerson, Muriel Ohana and Lili Einalhori. It is very close to the main entrance to the school, behind the curved glass wall on the right side of the foyer.
Moving the constitution from the geographical center of the school brought up a variety of reactions from current and past elected members of the Just Community. 
"There have been plenty of days in my life where I just walk past the administrative suite and never go in there," said outgoing Agenda Chair Kate Orlanski. "But I obviously always, when I go to school, pass the second floor so, I would definitely say that [in the new location] it is not as visible."
Some wondered about the symbolism of moving it to the side, while others thought the symbolism of having Israel at the school's center was important at the present time. 
Others thought the placement didn't matter, and a few were convinced the new placement would turn out to be temporary.
"I think it means very little," said incoming Agenda Chair Jack Sanders. "I would not be surprised if it moved back by the start of next year. I don't think that this is a permanent place for it and if it was I don't think it means much."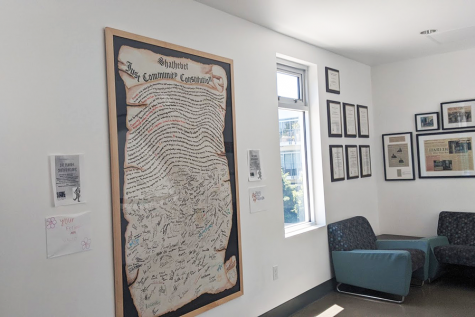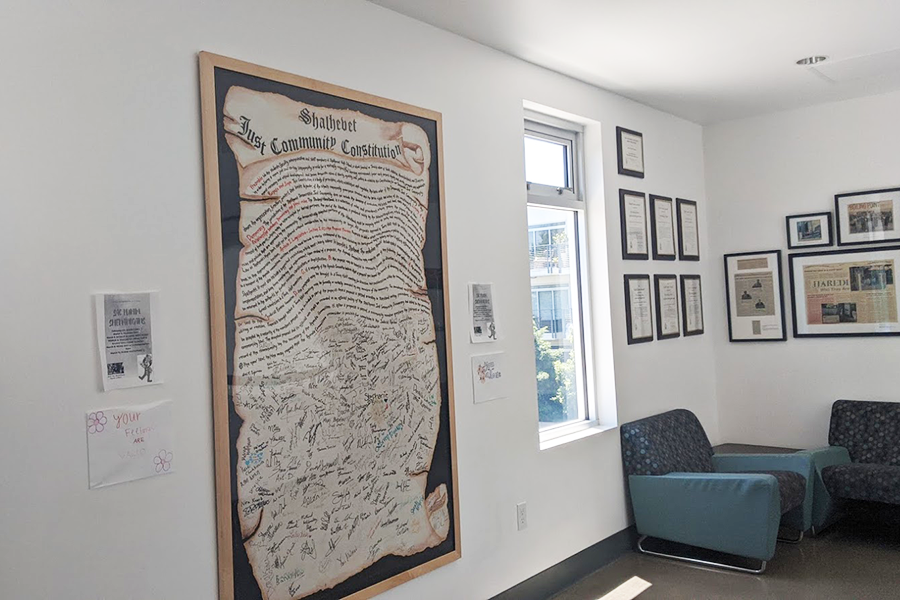 Former Fairness chair Evan Rubel '20 agreed.
"Being an alumnus I know that things change very much year to year, and especially with Covid I understand that with having to incorporate extra space for distancing and other Covid precautions…, I can assume that it's changed a lot," said Evan.
Former Agenda Chair David Edwards '20 worrieid about what the move could display about the school's priorities.
"I guess it is a little demoralizing, it's kind of sad for me," said David. "At least the way things seem, it's kind of symbolic of maybe like 'Hey, we're pushing this away a little bit more.'"
But current Fairness chair Henry Fried deemed the sticker display appropriate considering the current situation in Israel.
"I think that the poster that's currently there regarding Israel is especially relevant right now so I wouldn't criticize the placement of that being there," said Henry.  
"I think that where the constitution is now is still nice. You can still see it. I miss it being front and center, but I wouldn't want to take away the Israel sign there because I think it's also a cool display of our views on Israel and how much we love Israel."
Meanwhile, for many freshmen, seeing the constitution in its new location was the first time they had seen it this school year. It  had been in a conference room since October, when it was taken down from the wall of the second floor lobby to be displayed at an open house event; however after that, it had never been returned.
From then until May 19, the constitution had not been displayed anywhere in the building.
When Just Community Advisor Rabbi Ari Schwarzberg learned of the constitution's new permanent home, he was unbothered by it.
 "I don't have strong feelings necessarily about where the constitution goes," he added. "I have not seen any substantive change in the school's priorities of any of the Just Community elements, and where the actual constitution is located — I don't think we should read too much into it."
Current and former leaders of the Just Community agreed that following the laws and values of the constitution and the Just Community was more important.
"It's far more important to me that the school is really trying to uphold the tradition that I was exposed to when I was there," said former Agenda chair Toby Bern '11. and I just hope that they aren't taking that freedom and self-governance away from the students, more so than I care about where the symbol of the school's values hangs."
"A lot of governments will, you know, hang their flag high and show off their constitution, but when it comes to following the rules and doing right by the people, they don't. And oftentimes symbols can become distractions from the fact that governments and institutions are actually not following the rules that they swore to uphold. So the symbolism I think is of the issue honestly is independent of whether or not they are actually following the rules." 
"It's more symbolic if anything, and I think with all of the talking and referencing to the constitution it's clearly well discussed and well alive regardless of where it is physically," said Jack Sanders. "So I don't see much significance to its location."
Henry Fried agreed.
"Who we are as a community is not defined by a piece of paper with names written on it," said Henry. "The people that we are as a community are much more aligned with our actions and our values and our intentions."
Leave a Comment
Meet the Writer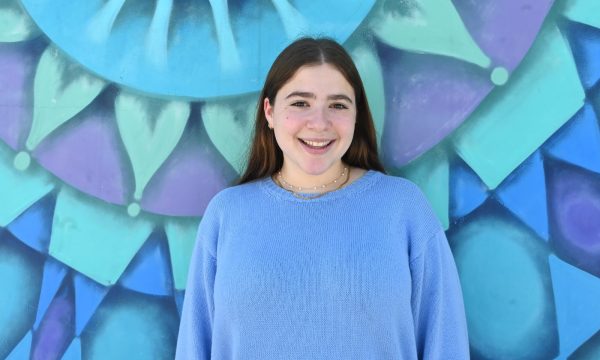 Tali Liebenthal, Co-Editor-In-Chief and Opinion Editor
Tali Liebenthal, 12th grade, joined the Boiling Point as a staff writer during the second semester of freshman year. She served as Community Editor in sophomore year and became Co-Editor-in-Chief in her junior year, only the third 11th-grader in Boiling Point history to hold the top post. She is now continuing her leadership of the Boiling Point as Co-Editor-In-Chief for the second year. She enjoys covering controversial stories and writing unsigned editorials, and has won multiple awards from organizations including Columbia Scholastic Press Association, Quill and Scroll and the American Jewish Press Association. Outside of Boiling Point, Tali is Head captain of the Mock Trial team, captain of Model Congress, and a grade-level representative on the Agenda Committee. In her free time, Tali likes drawing, listening to music and going to the beach with friends.