Two weeks, eight teams, 23 games as all Firehawk team sports resume
Basketball, volleyball, baseball and soccer pack in games to make up for Covid closure
The past two weeks have been the first time in over a year when eight Shalhevet sports teams played in games. There were 23 games in all, with all three Firehawk basketball teams (JV, varsity, and girls), both soccer teams (girls and boys), the baseball team, and both girls volleyball teams (JV and varsity) playing in games. 
Shalhevet overall won 10 out of the 23, with the Firehawk baseball and girls basketball teams picking up their first wins of the season. The girls basketball team scored a come-from-behind win against the Pacifica Christian Seawolves 67-60 on April 20; and the baseball team defeated the East Valley Eagles 14-5 on April 25. 
For the girls, freshman shooting guard Kira Kupferman said that all of the teams' practice is finally paying off ever since beginning practices in March, and the team is also beginning to build a closer relationship with one another.
"It felt really good to finally win a game with all the hard work we have been putting in throughout the season," said Kira. "We need to continue playing as a team and I think doing bonding off of the court really helped us play better together."
The team also won another game on April 16, defeating YULA girls, 43-31. The Firehawk girls team's record is now two wins and seven losses. 
The Firehawk boys baseball team has now played five games over the past two weeks, playing the de Toledo Panthers in two of them, East Valley Eagles, Southwestern Academy Suns, and Campbell Hall Vikings. The Firehawks lost 10-1 in their first game against de Toledo on April 12 and lost 7-0 in the second game which was on April 22. 
The team bounced back on April 25 against the East Valley Eagles and got their first win 14-5.  The Eagles are an all-star team in the East Valley youth baseball league.
Senior and team captain Sam Rubin said that having practices more often could help the team win more games. Right now the team only practices once or twice a week. 
But he was pleased to finally score a win.
"It is a little demoralizing when you lose, especially by a significant amount, so I think it just boosted our confidence for games to come," said Sam, who plays catcher, pitcher and shortstop for the team. 
However, they have lost two more games since then, 10-0 against the Southwestern Academy Suns on April 28 and  9-4 against the Campbell Hall Vikings on April 29. The baseball team's record is now one win and four losses. 
The baseball team now has the week off,  because its seniors are on their grade trip to Oregon and the team only has nine players without them — not enough to compete.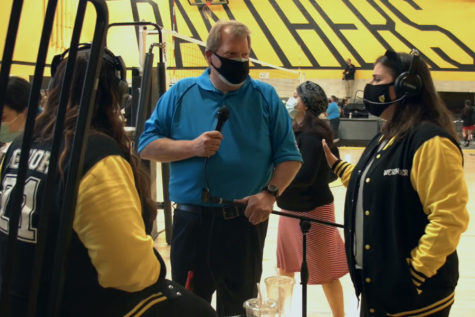 Volleyball and soccer also have restarted. The Firehawk girls' varsity volleyball program now has two teams — varsity and junior varsity — and its varsity team lost to the YULA Panthers on April 19, three sets to one. Shalhevet's JV team beat YULA 2-1.
For varsity volleyball, two teams play five games, or "sets,"  the winner of each set being the first team to reach 25 points. Then, the first team to win three sets wins the entire match. 
In JV volleyball, two teams play four sets, and the first team to win two sets wins the entire match. 
The varsity Firehawks lost the first set 25-17, won the second 25-13, lost the third 25-12, and lost the fourth 25-23.
Sophomore varsity player Hannah Nili said she thinks the team's fortunes will improve. 
"All we have to do in order to win is stay in the game," said Hannah in a text message. "We tend to get down on ourselves when YULA's up, but positivity is key." 
Both girls and boys Firehawk soccer teams played in their first games last week, both of them playing on April 27 against the Ánimo Eagles. The boys team lost 7-1 and the girls team tied 3-3. 
The girls team has three games scheduled for this week and is scheduled to play the Wiseburn – Da Vinci Wolves on Thursday, who they already played on Monday and lost 19-0; Compton Early College on Tuesday; and Ánimo Eagles on Wednesday. 
Boys soccer has two games scheduled for this week, against Compton Early College on Tuesday and Ánimo Eagles on Wednesday. The boys team is also scheduled to play against YULA on May 14. 
Meanwhile, the boys varsity basketball team continued its successful season with five wins over the past two weeks, beating the Calabasas Coyotes 72-62 on April 19, Pacifica Christian Seawolves 78-53 on April 20, Burroughs Indians 62-58 on April 21, Pilibos Eagles 73-57 on April 30, and Wiseburn – Da Vinci Wolves 55-45. The Firehawks handed Pilibos and Wiseburn – Da Vinci their first losses of the season. 
The Firehawks record is now 10 wins and two losses. Their only two losses were to the Calabasas Coyotes 63-66 on April 12, and the Burbank Bulldogs on April 28, by a score of 68-70. 
Senior Jacob Pofsky, who plays forward and is co-captain of the boys varsity team, said he couldn't be happier for the team to be off to such a great start. 
"We just need to continue to work together, have fun, play hard, be disciplined, and continue to develop the family bond," said Jacob in a text message after the team's eighth win. "Just happy to be back playing with such a great group of guys for my last year."
Meanwhile, the Firehawks' JV team played the Calabasas Coyotes on April 19 and lost 37 – 53. Their record is now four wins and two losses.