Candidates to lead Agenda, Fairness and SAC next year all running unopposed
Smaller junior class and Zoom learning blamed for lack of competition, but small classes have had multiple candidates in the past
All the juniors who are running in next month's Just Community election are running unopposed for the upcoming school year, meaning that leadership positions for the Agenda, Fairness and Student Activities will not be contested and have already been decided.
Current Agenda Vice Chair Kate Orlanski, who has won awards for the Firehawk debate team and the Boiling Point and is co-founder and co-chair of Shalhevet's Young Americans for Freedom chapter, is running unopposed for Agenda Chair and will thus be elected automatically to succeed current chair David Edwards.
The Fairness and Student Activities committees each have two chairs. Current 11th-grade Fairness representatives Evy Rosenkranz and Eitan Miro are the only ones running to lead Fairness and will both be elected.
Eleventh-grade SAC Representative Sophie Handelman and SAC Vice Chair Shani Menna similarly will be new co-chairs of the Student Activities Committee.
Kate Orlanski said she had mixed feelings about running unopposed for Agenda Chair.
"I definitely would have liked to have someone running against me," said Kate.
She said it would be nice not to have to worry about whether or not she was going to win, but would miss the excitement of a competitive race.
"I looked forward to Agenda Chair debates since like 9th or 10th grade, and I'm not gonna get to have that," she said. "It is a very anticlimactic win… But on the other hand, if there was someone running against me, maybe here would have been a chance I wouldn't have got to be Agenda chair. So it's a mixed situation."
According to Kate, when the deadline for signing up for Just Community elections passed on April 7 at midnight, no freshmen had chosen to run for Agenda Secretary. The deadline was extended, and after freshmen were told by Agenda leaders that no one was running, Yael Schechter and Keira Beller both decided to run. They will compete against one another.
There is also currently no freshman running for Fairness Secretary — a position that both 9th- and 10th-graders can run for, according to an email from the Fairness committee to the Boiling Point on April 24. Sophomores Talya Kukurudz and Isabella Sztuden are running for the position.
Just community leaders blamed the problem partly on the current away-from-school situation and partly on the size of next year's senior class.
Fairness co-chair Evan Rubel said that he thought it was about class size.
"I believe the juniors are the smallest class of the three grades that are involved in these elections so I think that is what it came down to," Evan said in an interview.
The class of 2021 is the smallest in several years with 57 students, while the class of 2020 has 73 students, the class of 2019 had 64, and the class of 2018 had 59.
However, the class of 2018, when the incoming senior class had 59 students — just two more than this year's — started with six candidates for Agenda chair. One dropped out prior to the debate and just after it, and there were still four candidates on the ballot.
Dean of Students and Just Community adviser Rabbi Ari Schwartzberg said if school were being held on campus instead, teachers would have reached out to students more and suggested they'd be good candidates.
"If you were in school there might have been a push or an interest or a certain energy that would attract people to running for some of these positions," Rabbi Schwarzberg said.
With school taking place only on Zoom, he said, "you might create a little bit more of a passive environment for people that are on the outside. So unless you are already involved in something [already], you may not decide to kind of go for it.
In addition to possibly discouraging candidates, the coronavirus pandemic is also altering this year's election format and campaign.
According to an April 22 email from the Fairness chairs to the candidates running, traditional speeches at Town Hall and on the turf will be replaced this year with two-minute mandatory candidate videos.
All candidates, including those running unopposed, will be required to submit the videos, the email stated.
"
If you were in school there might have been a push or an interest or a certain energy that would attract people to running for some of these positions.
— Rabbi Ari Schwarzberg, Dean of Students and Just Community adviser
The email also said that Schoology could be used as a campaigning platform, and that campaigning would open April 27 at noon and end at noon on Wednesday, May 6.
Fairness co-chair Evan Rubel said the videos would air on a Zoom call Tuesday May 5, and that each video would be followed by a question-and-answer period.
He said attendance on the Zoom call might be made mandatory for students to attend.
"That is something that is in discussion right now with administration and other student leaders," said Evan. "I mean obviously we'd like attendance, but whether it's going to be mandatory is something that is going to be decided."
Evan also said that he expected a slightly lower voter turnout this year, since students will be voting from home.
This year there are seven freshmen running for Just Community Officer positions, along with eight sophomores and five juniors.
Elections are scheduled for Wednesday May 7.
Here is list of candidates in this year's Just Community elections.
[su_box box_color="#e2e2e2″ title_color="#e2e2e2″ radius="4″ class="box-quote"]
Agenda Committee:
– Chair – Kate Orlanski
– Vice Chair – Jack Sanders and Anya Mendelson
– Secretary – Yael Schechter and Keira Beller
Fairness Committee:
– Co-Chair (two positions) – Evy Rosenkranz and Eitan Miro
– Secretary – Talya Kukurudz and Isabella Sztuden
Student Activities Committee:
– Co-Chair (two positions) – Sophie Handelman and Shani Menna
– Vice Chair – Jacob Kahtan, Haim Oliel, Liad Machmali, and Jacob Hoenig
– Secretary – Noa Talasazan, Evan Beller, Miriam Nektalov, Asher Taxon, and Eli Weiss
[/su_box]
Leave a Comment
Meet the Writer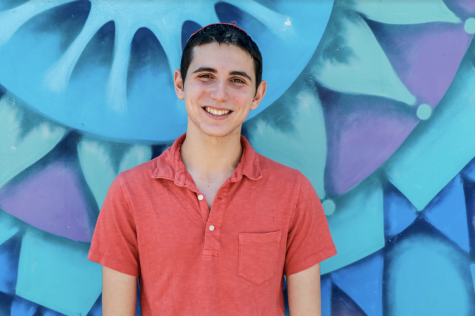 Benjamin Gamson, Editor-in-Chief
Benjamin Gamson, 12th grade, is in his second year as an Editor-in-Chief of the Boiling Point, having served last year as only the second junior to hold that post himself.  Benjamin joined the Boiling Point during his freshman year as a staff writer and became Polling Director during the second semester. As News Editor in his sophomore year, Benjamin managed and edited the Community, Torah and Outside News sections.

Benjamin has authored over 70 articles and podcasts and won awards from organizations including AJPA, JSPA and NSPA. Outside of Boiling Point, he is a member of the Model Congress team and an active participant in the Just Community. When not in school, Benjamin enjoys following politics, current events and baseball, and listening to music.