Schedule change hopes to restore more normal hustle and bustle to online school day
Meanwhile, state and city order lockdowns and closures of non-essential businesses; infection could reach 56 percent of Californians
As the school started its second week of online-only learning, administrators announced changes to the schedule that they hoped would restore more of the normal hustle-and-bustle of free periods, club meetings and of course, Town Hall.
A virtual Town Hall has been scheduled for today, Tuesday, though not during school hours. Town Halls will meet via the communication website Zoom from 7:30 to 8:30 p.m.
On Wednesday, a Flex period — a slot for office hours, advisory, club meetings and other purposes — has been added to the schedule from 11:25 a.m. to 12:05 p.m. And Thursday's schedule will have a second club meetings block from 1:55 to 2:25 p.m, where various clubs can meet.
Due to these added periods, school will end later — and at different times each day. On Monday, school ended at 3:50; Tuesday, at 2:15; Wednesday, at 3:55; Thursday, at 3:35; and Friday, at 12:45. Regular school would end at 4:35 p.m. Monday through Thursday, and at 12:45 on Fridays.
Morning start time, however, will stay the same. Last week, senior Zach Helfand posted a poll on Schoology to gauge support for having the school's start time pushed from 8:45 a.m. to 9:30. However, student reaction — in the form of a 118-56 vote — indicated a two-to-one preference for the original start time.
They also announced optional new after-school workout periods, to be held every other day after Mincha.
Dean of Student Life Dr. Jonathan Ravanshenas and Assistant Executive Director Mr. Nachum Joel will be leading an "Insanity" virtual workout for those students who wish to stay active.
"All you need is a 10 ft x 10 ft space – no weights or machinery, only your motivation and 30 minutes," wrote Dr. Ravanshenas in the email, which was also posted on Schoology.
The first workout was held Tuesday at 2:45 p.m.
The changes at school come amid major government efforts to reduce nonessential social interactions in public — efforts that have cancelled team sports, debate and robotics competitions and class and club trips and made it harder for clubs and other co-curriculars to meet, all in hopes of stemming the rapid spread of COVID-19, the sometimes fatal illness caused by the coronavirus.
Last Thursday, California Gov. Gavin Newsom issued a statewide "Safer at Home" directive, effectively ordering the state's 40 million residents to stay at home, in an effort to ramp up distancing and containment efforts.
The order was issued at midnight Thursday night and is set to last a month, until April 19. It includes the closure of nonessential businesses like shopping malls, barbershops, hair salons and most retail stores, but essential businesses like grocery stories, banks, gas stations, doctors' offices and pharmacies remain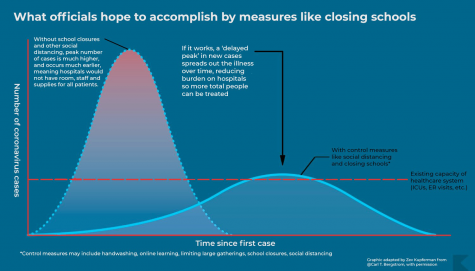 open, along with cannabis dispensaries and laundromats.
Governor Newsom said strict social distancing measures were needed to ensure that the state's health care system is not overwhelmed by a surge in cases of COVID-19. Preventing such a surge is known as "flattening the curve" — in other words, spreading the same number of cases over more months, reducing the demand for services at any one time.
"We need to meet this moment and flatten the curve together," said Governor Newsom, who was elected to succeed Governor Jerry Brown in 2018.
In other countries, sharp spikes in demand for treatment have resulted in devastating shortages of hospital staff, space and equipment, leading to higher death rates.
"Home isolation is not my preferred choice, but it is a necessary one," the governor said at a news conference on Thursday, which was broadcast via television and internet. "This is not a permanent state, this is a moment in time."
California officials have estimated that more than half of the state's population could contract the virus if the state fails to adequately contain it through social distancing measures.
"We project that roughly 56 percent of our population … will be infected with the virus over an eight week period," Governor Newsom wrote in a letter to President Trump last Wednesday.
At a news conference held yesterday, he said new projections showed the state would need an additional 50,000 hospital beds to treat coronavirus patients. And in addition to the 416 hospitals across the state, Newsom stressed the state will quickly need more medical facilities — even after all of the existing hospitals increase their capacity by 40 percent or more, contributing 30,000 of the needed 50,000.
The governor said President Trump had announced on Sunday that a 1000-bed hospital ship, the USNS Mercy, would be docked in Los Angeles Harbor to help during the crisis.
Also last Thursday, Los Angeles Mayor Eric Garcetti issued an order mandating the closure of nonessential businesses and banning all gatherings.
"Nobody is locked down, and we encourage you not to be locked," Mayor Garcetti announced.
In addition to banning crowds, the mayor's directive states that bars, nightclubs, restaurants, movie theaters, bowling alleys, arcades, gyms and fitness centers, along with other venues, must close.
A day later on Friday afternoon, Head of School Rabbi Ari Segal urged Shalhevet families to read and follow Los Angeles Mayor Eric Garcetti's order.
"God willing, the more successfully this is implemented, the more quickly the virus will be contained, and we can all return to our sorely missed ordinary lives," Rabbi Segal wrote In an email sent out to the community.